BWW Review: LEADING LADIES at Florence Community Theater is Uproarious Good Fun!
LEADING LADIES at the Florence Community Theater may be the funniest thing I've seen in a very long time. This uproarious farce written by two-time Olivier Award-winning Ken Ludwig is just one in a lengthy string of his often produced plays and musicals (CRAZY FOR YOU, LEND ME A TENOR). It has been said that his works are performed every night of the year throughout the world in more than 30 countries and 20 languages. That is quite possibly because he is such a gifted writer with a unique sense of humor that appeals to the toughest crowd.
But even a great script needs great actors to pull it off. Florentine Players successfully fills the bill. Under the direction of Guillermo J. Rosas, this cast of eight actors, "each better than the one before," cannot be any more suited to their characters. Their timing, precise enunciation, facial expressions, and body language are all just right.
Kaitlin Maher leads the cast as Meg Snider, a young woman engaged to the uptight Reverend Duncan Wooley, played by Stan Tracey. Matt Johnson (Leo Clark/Maxine) and Giovanni Quezada (Jack Gable/Stephanie) perfectly embody the ridiculous British actors-turned-con-artists who leave their failing "Scenes from Shakespeare" show after six members of the Moose Lodge resign their membership in the middle of the performance. Neal Herring is a stitch as he carries on as both the wacky head of the Moose Lodge and Doc Myers, who delights in tossing insults back and forth with Reverend Wooley.
His son Butch, charmingly played by Nathan Hunzeker, is in love with roller skating Audrey (Sara Scheidies) who has a brilliant smile but a dim brain. Her continuous stream of big words with their definitions is cute and illustrates her desire to be seen as smart. Bridget M. Mueting appears as the wealthy septuagenarian who has lost touch with her two missing nieces and wants to meet them so she can split her three million dollars with the missing duo and her very present niece Audrey.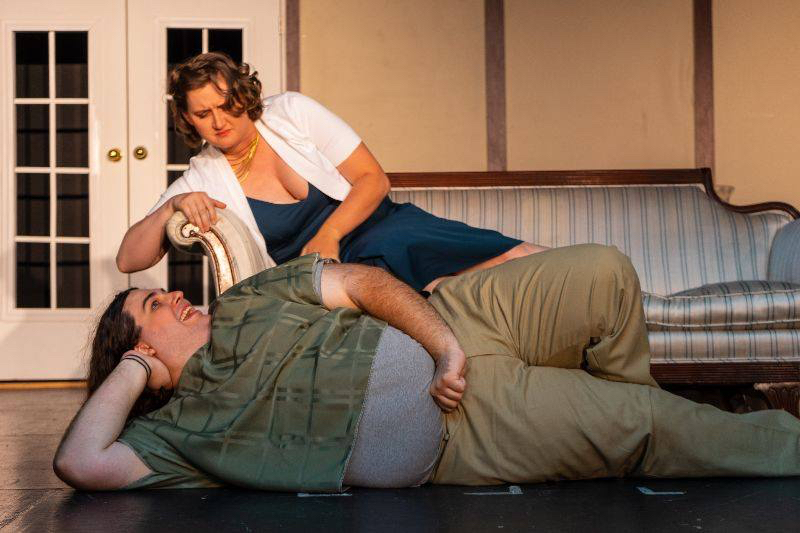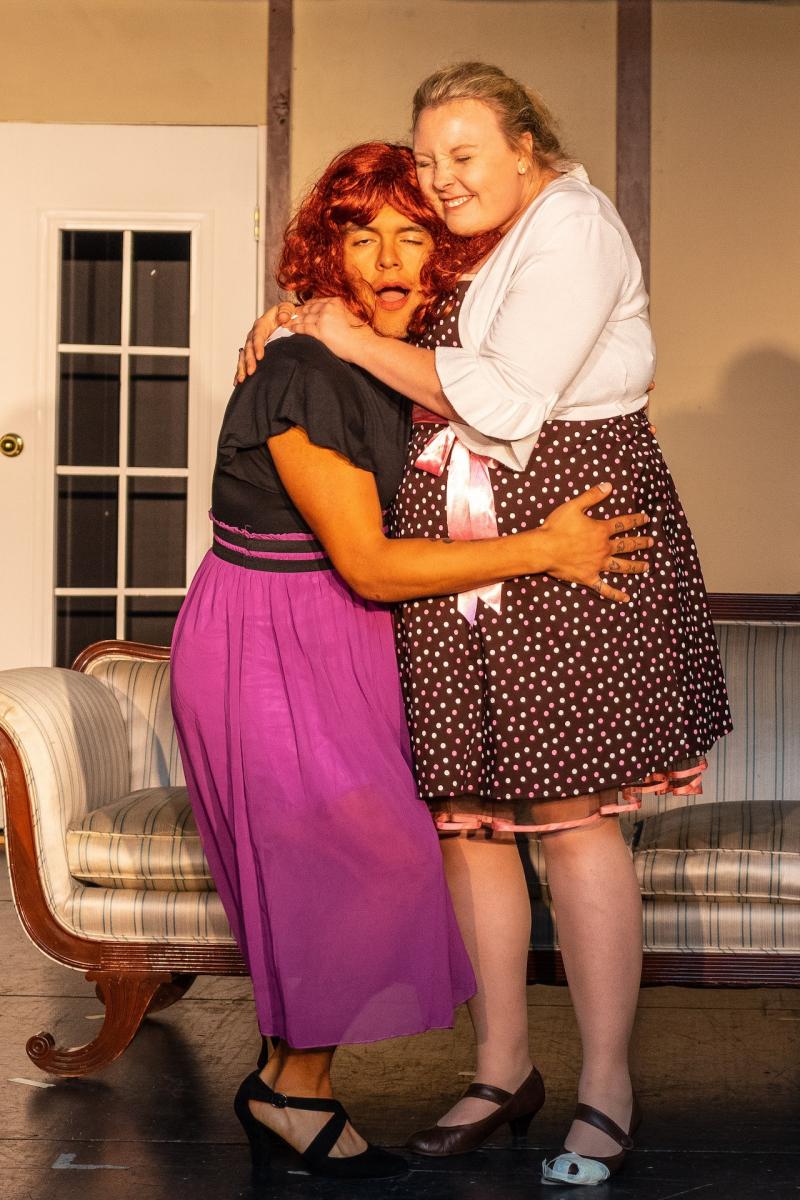 This is a problem with Reverend Wooley. He has plans for the entire $3 million for his non-profit organization.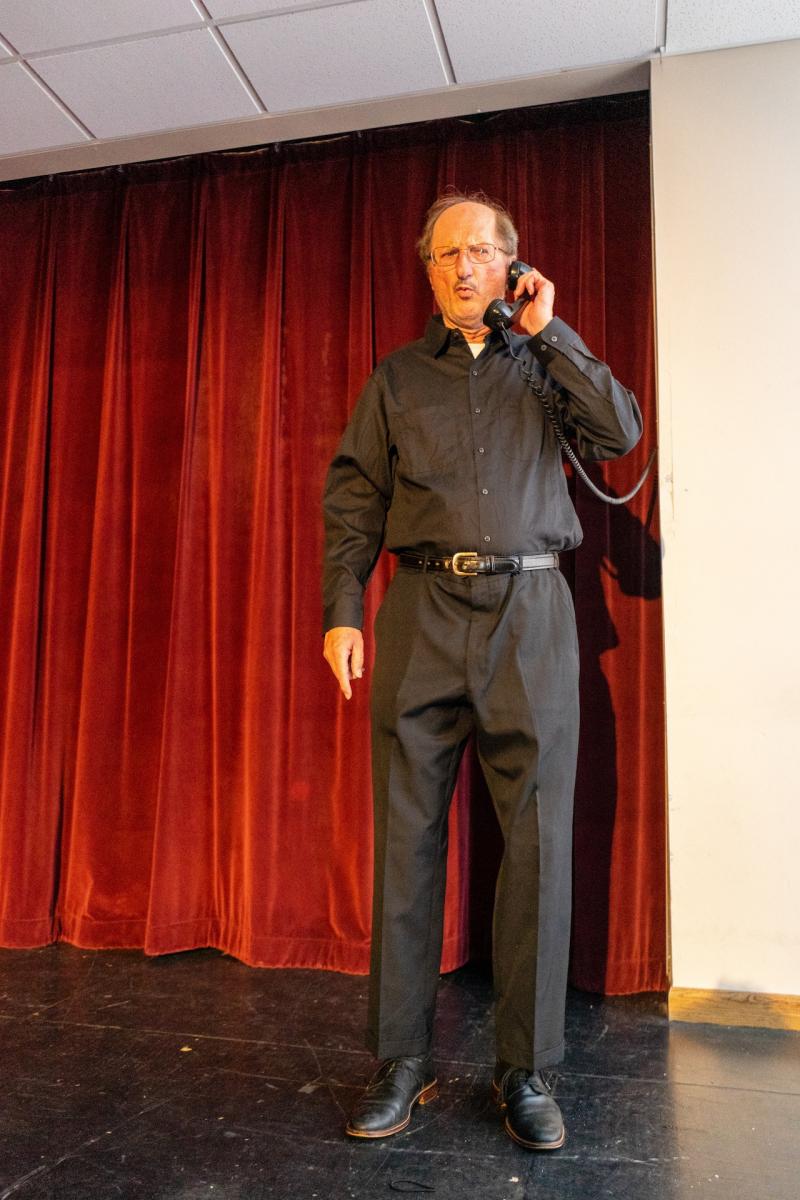 Penniless Clark and Gable make plans to fool the dying Florence into splitting the inheritance three ways. Doc urges his son to marry the heir Stephanie. Clark is falling for Meg. Gable is falling for Audrey. It's all very convoluted as good farces are and the results are hilarious. Oh! By the way. Clark and Gable mistakenly think "Max" and "Steve" are nephews, not nieces named Maxine and Stephanie. Improvise!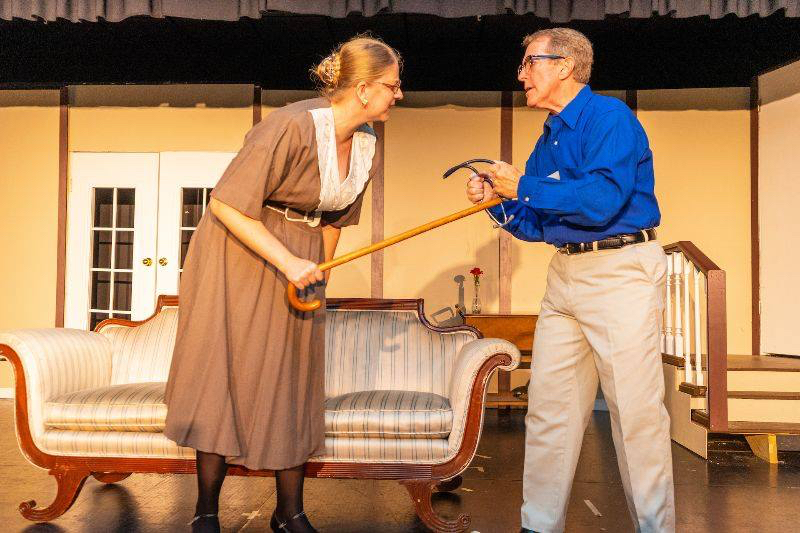 All of this takes place on a simple stage designed by Matthew Kischer. The doily and crocheted throw pillows are nice touches. The lack of an elaborate set with multiple backdrops and props makes it even more important for the actors to convey the story through their words and actions. I can't say enough how well these actors come through.
Opening tonight at the Florence City Hall, it is so worth a drive to this quaint northern neighborhood in Omaha. You may need a 20 minute drive home to get the giggles out of your system. It's the best $10 value in town.
Showing: AUG 1, 2, 3, and 7 at 7:00 pm and AUG 4 at 2:00 pm.
Florence City Hall, 2864 State Street, Omaha.
https://www.florencetheater.org
Related Articles View More Omaha

Stories

Shows