Yangtze Rep's JUNE IS THE FIRST FALL Makes NY Premiere March 31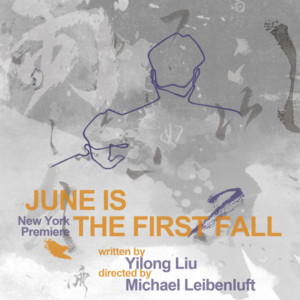 In a New York premiere that marks a new chapter for the 27-year-old company rooted in the New York City's vibrant Asian-American community, Yangtze Repertory Theatre tackles JUNE IS THE FIRST FALL, an award-winning contemporary play by Yilong Liu exploring the themes of identity, sexuality, and immigration. Directed by the 2016 OBIE winner Michael Leibenluft, the play tells a story of a gay Chinese man who comes back home to Hawaii and begins a journey of reconciliation between his chosen identity and the heritage he left behind. The production will be playing at New Ohio Theatre (at 154 Christopher Street, NYC); performances run from March 31 thru April 20. Tickets start at $20 and can be purchased through OvationTix (https://web.ovationtix.com/trs/pr/1005801/1551416400000) or by calling 866-811-4111.

What compels people to cross mountains and seas to another country, another continent, and another culture to find their true selves? What are the journeys we take to find home and belonging? In JUNE IS THE FIRST FALL, Don, a gay Chinese man, returns home to Hawaii to rediscover missing memories of himself and his family that he moved away from. His week-long stay opens wounds with his father and sister that never healed, aggravating Don's struggle to find love and belonging in his life. JUNE IS THE FIRST FALL - the second-prize winner at the 2017 Paula Vogel Playwriting Award, bestowed by the Kennedy Center - looks at sexuality, family, and immigration through a contemporary Chinese lens, yet its themes cross multiple cultural boundaries.
"Having served predominantly Chinese-American audiences for almost three decades, with JUNE IS THE FIRST FALL, Yangtze Repertory Theater is striving to reach beyond our established community and transcend what we already have explored in our past productions," says Chongren Fan, the company's Artistic Director. "We would not only like for this contemporary, multi-layered work to speak about many facets of the 21st-century Asian-American identity, but also touch upon the more universal and timely themes of immigration, sexuality, and the sense of belonging in our rapidly changing and globalizing world," he further explains.
By producing the play at New Ohio Theatre in the West Village, Yangtze Rep hopes to give more prominence to queer Asian and Asian-American narratives in tandem with this year's celebration of the 50th anniversary of the Stonewall Rebellion. "When we talk about coming out, mainstream gay narratives usually overlook cultural specificity," says playwright Yilong Liu, a New York-based Chinese writer. "More often than not, it's a far more challenging and complicated process for queer Asians because of the familial and cultural expectations. Sometimes, they are struggling to find language in their mother tongue to fully communicate the complex concepts surrounding sexual and gender identities."
The diverse creative team behind JUNE IS THE FIRST FALL is lead by director Michael Leibenluft (I'll Never Love Again (a chamber piece) by Clare Barron, The Bushwick Starr - 2016 OBIE Award for Direction; NYT and Time Out Critics' Picks) and features dramaturg Gaven D. Trinidad, set designer Jean Kim, costume designer An-Lin Dauber, lighting designer Cha See, and sound designer Michael Costagliola. Casting by Wayne Chang. The performers are Alton Alburo*, Chun Cho, Stefani Kuo, Fenton Li*, and Karsten Otto.
*Equity Member appearing with the permission of Actors' Equity Association without the benefit of an Equity contract in this Off-Off-Broadway production.
Yangtze Repertory Theatre celebrates and inspires artists who are global citizens through producing work that evokes conversations across cultures. The company, founded in 1992 by Maryknoll Sister Joanna Chan and currently led by Chongren Fan, Artistic Director, and Sally Shen, Executive Director, has been a welcoming home for artists (most notably of Chinese heritage) whose work is not readily seen in the U.S. and supported them to launch their professional careers in NYC. Yangtze Rep has been responsible for the New York debuts of many artists, most notably Gao Xingjian, the 2000 Nobel Laureate in Literature. The company sees the world through a contemporary perspective and produces work that has immediacy. By bringing a unique voice to the cultural dialogue, they enrich the experience of the community they serve and position themselves at the nexus of ideas from East and West, striving to bridge the cultural gap between artists and organizations from different cultures through partnerships and collaboration. https://www.yzrep.org
Michael Leibenluft (Director) is an OBIE-Award winning director originally from Chevy Chase, Maryland. His credits include I'll Never Love Again (a chamber piece) by Clare Barron at the Bushwick Starr (Obie Award for Direction, 2016; NYT and Time Out Critics' Picks), How I Learned to Drive by Paula Vogel with Drum Tower West Theater in Beijing, Lost Tribe by Alex Borinsky as part of Target Margin's Yiddish Theater Lab, The Subtle Body by Megan Campisi at 59E59 Theaters and the Shanghai Dramatic Arts Center, and other projects with LMCC, The Civilians, EST, and NYU/Tisch. Michael has assistant directed at Signature Theatre, Playwrights Horizons, Atlantic Theatre, P73, and American Theater Company. He is an alum of the Soho Rep Writer/Director Lab, the Lincoln Center Directors Lab, as well as a former Fulbright Fellow, SDCF Kurt Weill Fellow, and Drama League Fall Directing Fellow. Michael graduated from Yale as a double major in Theater Studies and East Asian Studies and completed his Masters in Performance Studies at the Shanghai Theatre Academy. He is the founder of Gung Ho Projects, an educational and cultural exchange platform dedicated to increasing understanding between the U.S. and China. http://www.leibenluft.com
Yilong Liu (Playwright) is a New York-based bilingual playwright, originally from Chongqing, China. Currently, he is a resident playwright at The Flea Theatre and a member of Ensemble Studio Theatre's OBIE-Award winning playwrights' group Youngblood. Awards include Kennedy Center's Paul Stephen Lim Playwriting Award (The Book of Mountains and Seas), Paula Vogel Playwriting Award (June is The First Fall, 2nd place), National Partners of the American Theatre Award for Playwriting, and Po'okela Award for Best New Play (both for Joker). He is an EST/Sloan New Play Commission recipient, a SPACE on Ryder Farm resident, and the Asian Pacific American Friends of The Theatre Playwright Scholarship awardee. His work has been produced or developed at SPACE on Ryder Farm, Stella Adler Studio of Acting, East West Players, Queens Theatre, FringeNYC, Union Theatre (London), CAATA, New Ohio Theatre, Kumu Kahua Theatre, New Conservatory Theatre Center, and others. Liu completed his MFA studies in Honolulu, Hawaii. http://www.yilongliu.com/
Gaven D. Trinidad (Dramaturg) recently finished his MFA studies in dramaturgy at the UMass Amherst Department of Theatre, and has also completed a graduate certificate in Advanced Feminist Studies at the UMass Department of Women, Gender, and Sexuality Studies. Interested in dance, drama, and queer aesthetics, he has worked in various positions at Jacob's Pillow Dance Festival, New York Theatre Workshop, the TEAM, Ma-Yi Theatre Company, Musical Theatre Factory, and Yangtze Repertory Theatre. Selected credits: The Lily's Revenge and The Happiest Song Plays Last (both dir. Jennifer Onopa), Snowflakes, or Rare White People (dir. Gabriel Harrell), benevolence (playwright and dir. Ifa Bayeza), Collidescope 2.0 (dir. Ping Chong and Talvin Wilks), Red Wednesday (dir. Sanaz Ghajar), Angels in America (dir. Irene Crist). He researches and writes about the work of theatre and dance artists of color. He is currently the Administrative Apprentice in the Drama Division at The Juilliard School. www.gaventrinidadtheatre.com.
New Ohio Theatre is a two-time OBIE Award-winning theatre under the leadership of Robert Lyons, Artistic Director, and Marc Stuart Weitz, Producing Director. New Ohio serves New York's most adventurous theatre audiences by developing and presenting bold work from today's vast independent theatre community. They believe the best of this community, the small artist-driven ensembles and the daring producing companies who operate without a permanent theatrical home, are actively expanding the boundaries of where American theatre is right now and where it's going. From their home in the West Village's historic Archive Building, New Ohio Theatre provides a high-profile platform for downtown's most mature, ridiculous, engaged, irreverent, gut-wrenching, frivolous, sophisticated, foolish and profound theatrical endeavors. The theatre is accessible from the #1 train to Christopher St. or A, B, C, D, E, F or M train to West 4th St. For info, visit NewOhioTheatre.org.