Vital Theatre's KID FRANKENSTEIN Musical Opens Tonight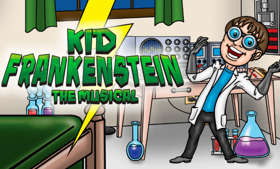 The award-winning Vital Theatre Company has announced the opening of the brand new, original musical KID FRANKENSTEIN with book and lyrics by Peter Charles Morris, music by David Mallamud and direction by Sam Viverito tonight, October 6th, at 7 pm.
Performances continue selected Fridays at 7pm and selected Saturdays and Sundays at 3pm and 7pm through November 5th. Ticket prices range from $25.00 to $59.50. For more information and to purchase tickets visit www.vitaltheatre.org or call (212) 579-0528. All performances will be presented at the Theater at Blessed Sacrament, 152 West 71st Street, just east of Broadway.
In Kid Frankenstein The Musical, it's Halloween and something strange is going on at Frankie Steiner's house. Day and night, the boy genius works on his entry for the annual robotics competition. But what he creates is more than he expected - and more than he can handle, making him a true Kid Frankenstein.
Featured in the cast are Seth Hatch, Matthew Krob, Jocelyn Lonquist, Chloe Voreis and Stephen Wagner. Frances Hughes is the stage Manager.
COMING UP:
Owen & Mzee The Musical is the inspiring true story of two great friends, a baby hippo named Owen and a 130-year-old giant tortoise named Mzee. When Owen was stranded after a tsunami, villagers in Kenya worked tirelessly to rescue him. Then, to everyone's amazement, the orphaned hippo and the elderly tortoise adopted each other. Now they are inseparable, swimming, eating, and playing together. Adorable photos e-mailed from friend to friend quickly made them worldwide celebrities. Here is a joyous reminder that in times of trouble, friendship is stronger than the differences that too often pull us apart. With book and lyrics by Michelle Elliott and music and lyrics by Danny Larsen, based on the book by Isabella Hatkoff, Craig Hatkoff and Dr. Paula Kahumbu, with photography by Peter Greste. Selected Saturdays and Sundays at 11:00 am, January 6 - February 11.
ALSO PLAYING:
In Pinkalicious The Musical, Pinkalicious can't stop eating pink cupcakes despite warnings from her parents. Her pink indulgence lands her at the doctor's office with Pinkititis, an affliction that turns her pink from head to toe - a dream come true for this pink loving enthusiast. But when her hue goes too far, only Pinkalicious can figure out a way to get out of this predicament. With book by Elizabeth Kann and Victoria Kann, music and lyrics by John Gregor and directed by Teresa K. Pond. Saturdays and Sundays at 11:00 am, through November 12. Featured in the cast are Amber Dickerson, Elora Daniels, Gabriella Marzetta, Sean R. Jones and Luke Doyle. Frances Hughes is the stage Manager.
The one-hour adaptation of The Wizard of Oz, the classic tale by L. Frank Baum that has been entertaining audiences for ages, features the Munchkin puppets and is tailored for audiences 2-7 years old. Rediscover the joy of following the yellow brick road with Dorothy, the Scarecrow, the Tinman, and the Cowardly Lion as they travel through a reimagined world of Oz. With music and lyrics by Harold Arlen and E. Y. Harburg, background music by Herbert Stothart, dance and vocal arrangements by Peter Howard, orchestration by Larry Wilcox, and adapted by John Kane for the Royal Shakespeare Company. Adapted, designed and directed for Vital Theatre Company by Michael Schloegl. Selected Saturdays and Sundays at 1:00 pm, September 30 - November 12. Featured in the cast are Morgan Bartholick, Amber Dickerson, Stephen Hohendorf, Sean Jones, and Catie Shelley. Jeffrey Campos is the musical director. Frances Hughes is the stage Manager.
Vital Theatre Company is dedicated to producing entertaining and educational theatre for young audiences. Since its founding in 1999, it has been honored with the Off-Broadway Alliance Award for Best Family Musical, two Awards for Excellence by the Off-Off Broadway Review, and has received high acclaim from audiences and critics alike for being "a wonderful place for parents to introduce their kids to the glories of live theatre, done well and at modest prices" (Off-Off Broadway Review). Vital Theatre Company has presented over 100 original productions for hundreds of thousands of children and their families.