Up Theater Company Announces Cast of DETAINED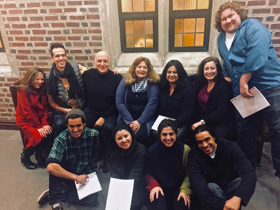 Northern Manhattan's UP Theater Company is pleased to announce the cast of the world premiere ofDetained. Written by Rose-Mary Harrington (Six Seconds, There is No Dash), and directed by Washington Heights resident Nancy Robillard(National Pastime, Four), Detained will begin performances on April 11 and run through April 28 at The Garret at Fort Washington Collegiate(729 W. 181 St).
Detained will star Julia Cavagna, Ken Dillon (The Miser), Laura Fois* (Epic Poetry, Broad Channel), Robert S. Gregory* (Bard at the Bar), Beau McGhee, Nina Mehta (Edvard Munch's Happy Painting, The Duck Pond), Nercido Mota (Love, Satire Off-Broadway), Natalia Plaza (Dorothy in Oz), and Thomas Vorsteg.
In 2006, the Department of Homeland Security opened the first family detention center for undocumented immigrants - at a former prison in Texas, surrounded by razor wire fencing and operated by the nation's largest for-profit corrections company. None of the detainees have criminal records, yet they are treated as if they do. They're required to wear orange prison jump suits. Their meals, recreation, and family time are rigorously regulated. Their communication with the outside world is strictly limited. There is no privacy. This is the world of Detained, in which Doug and Maria, teenagers from different lands, forge an alliance to help each other's families survive incarceration and escape deportation. In the face of oppression and humiliation, the teenagers unite against a deeply fractured system in their fight for freedom.
The creative team features set designer Duane Pagano (Jack Goes Boating, Getting Out), lighting designer Diana Duecker (Believers, The Chekhov Dreams), sound designer David Margolin Lawson (The Crusade of Connor Stephens, The Children of Salt), costume designer Brenna McShane (Merciful Father, The Elephant in Every Room) and stage manager Lisa Stafford (The Chekov Dreams).
THE GARRET at FORT WASHINGTON COLLEGIATE
729 W. 181st State
https://www.fortwashingtonchurch.org/
Tickets & Performance Schedule:
Tickets are on-sale now here. Performances run Wed-Sat at 7:30PM from Wednesday, April 11- Saturday, April 28.