The Flea Revives Controversial SOUTHERN PROMISES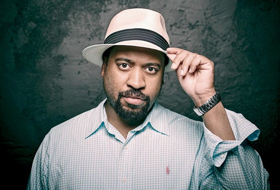 Provocateur Thomas Bradshaw revisits his incendiary 2008 play SOUTHERN PROMISES in a new production helmed by The Flea's Artistic Director, Niegel Smith. SOUTHERN PROMISES begins previews Monday, March 11 with opening night slated for Sunday, March 24.

On his deathbed, a plantation owner vows to set his slaves free, but when his wife rejects the request after his passing, chaos erupts on the plantation. Based on slave narratives, and featuring an all PoC company of actors, SOUTHERN PROMISES is a brilliant examination of the deeply disturbing and utterly corrupting power of American slavery and its lasting grip on our country's hearts and institutions. The Flea ends its Color Brave season bringing this haunting reality onto the stage of The Sam.

Says Carol Ostrow, The Flea's Producing Director, "We are thrilled to welcome Thomas Bradshaw back to The Flea as we revisit his searing and singular investigation of American slavery. With his confident theatrical voice, he dares us to turn our sights away from the legacy with which we all wrestle." Adds Artistic Director, Niegel Smith,"It's high time to revisit Bradshaw's SOUTHERN PROMISES. His play excellently lays bare the seductiveness of institutional power and how that power can corrupt us absolutely. I can't imagine staging it with a company more ambitious and brave than The Bats."

SOUTHERN PROMISES features The Bats, the resident acting company at The Flea including Adam Coy, Darby Davis, Marcus Jones, Timothy Park, Yvonne Jessica Pruitt, Jahsiah Rivera, Shakur Tolliver, Adrain Washington, Selamawit Worku, and Brittany Zaken. The creative team includes Jason Sherwood (Scenic Designer), Claudia Brown (Costume Designer), Jorge Arroyo (Lighting Designer), Fabian Obispo (Sound Designer), Nikiya Mathis (Hair and Makeup Designer), Arnold Mungioli, Mungioli Theatricals (Casting Director), Rocio Mendez (Violence/Intimacy Choreographer), Tyler Thomas (Assistant Director) and Anna Kovacs (Stage Manager).

Thomas Bradshaw's notable plays include: Thomas and Sally which premiered at Marin Theater Company in September 2017; Carlyle which premiered at The Goodman Theatre as part of their 2015-16 season; and Fulfillmentwhich co-premiered at The Flea and American Theater Company (Chicago) in fall 2015. His other plays include Intimacy andBurning(New Group); Mary (Goodman Theatre); Joband Dawn (The Flea); The Bereaved (Crowded Fire, Partial Comfort and the State Theater of Bielefeld in Germany); Southern Promises (PS122). He is the recipient of a 2009 Guggenheim Fellowship, the 2010 Prince Prize, a Foundation for Contemporary Arts award in 2012, a Doris Duke Implementation Grant in 2016, and a PEN/Laura Pels International Foundation for Theatre Award in 2017. Mr. Bradshaw has been featured as one of Time Out New York's 10 playwrights to watch and was named "Best Provocative Playwright" by the Village Voice. A compilation of his work Intimacy and Other Plays was recently published by TCG. Mr. Bradshaw is an Associate Professor at Northwestern University. He is currently under commission from The Royal National Theater in London, The Goodman/Second City in Chicago, and The Foundry Theater in New York.

Niegel Smith is a theater director and performance artist who sculpts social spaces into unique communal environments where we make new rituals, excavate our pasts and imagine future narratives. Directing credits include How to Catch Creation(Goodman Theatre, 2019), Scraps(The Flea, 2018), Father Comes Home From the Wars (Parts 1, 2 & 3)(Goodman Theatre, 2018), Syncing Ink(Alley Theater, 2017; The Flea, 2017), Take Care (The Flea, 2015-2016), Hir (Magic Theatre, 2014; Mixed Blood, 2015; Playwrights Horizons, 2015), A 24 Decade History of Popular Music... (New York Live Arts, et al., 2015), The Perils of Obedience (Abrons Arts Center, 2013-ongoing), and Neighbors (The Public Theater, 2010). His participatory performances have been produced by American Realness, Dartmouth College, The New Museum, Prelude Festival, PS 122, and the Van Alen Institute, among others. He is the Artistic Director of The Flea Theater in lower Manhattan; Associate Artistic Director of Elastic City; and ringleader of Willing Participant - an artistic activist organization that whips up urgent poetic responses to crazy stuff that happens. www.niegelsmith.com.

The Bats are the resident acting company members of The Flea Theater. Each season, over a thousand actors audition for a place in this unique company. The Bats perform in extended runs of challenging classics, as well world premieres of new plays. They are the lifeblood of The Flea.

The Flea Theater, under Artistic Director Niegel Smith and Producing Director Carol Ostrow, is one of New York's leading Off-Off-Broadway companies. Winner of several Obie Awards, a Special Drama Desk Award for outstanding achievement and an Otto Award for political theater, The Flea has presented over 100 theatrical, musical and dance performances since its inception in 1996. Past productions include premieres by Steven Banks, Thomas Bradshaw, Erin Courtney, Bathsheba Doran, Will Eno, Karen Finley, Amy Freed, Sarah Gancher, Sean Graney, A.R. Gurney, Jennifer Haley, Hamish Linklater, Enrique Gutiérrez, Ellen McLaughlin, Ortiz Monasterio, Itamar Moses, Anne Nelson, NSangou Njikam, Qui Nguyen, Adam Rapp, Jonathan Reynolds, Kate Robbins, Roger Rosenblatt, Todd Solondz, Elizabeth Swados, and Mac Wellman. Successes include Drama Desk nominated She Kills Monsters, New York Times Critics' Pick Inanimate, Syncing Ink, These Seven Sicknesses, Restoration Comedy, The Mysteries and ten World Premiere productions by A.R. Gurney, including the WSJ Best New Play of 2013, Family Furniture.

SOUTHERN PROMISES runs March 11 through April 14,Thursdays through Mondays at 7p.m., with Sunday matinees at 3 p.m. Tickets start at $17 with the lowest priced tickets available on a first-come, first-served basis. The Flea Theater is located at 20 Thomas Street between Church and Broadway, three blocks north of Chambers, close to the A/C/E, N/Q/R/W, 4/5/6, J/M/Z and 1/2/3 subway lines. Purchase tickets by calling 212-352-3101 or online at www.theflea.org.