The Assembly Announces World Premiere of SEAGULLMACHINE At La MaMa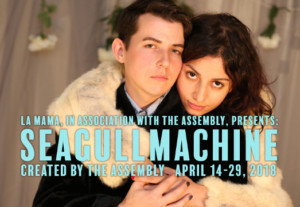 La MaMa, in association with The Assembly, presents the world premiere of SEAGULLMACHINE, created by The Assembly, conceived by Nick Benacerraf, co-directed by Jess Chayes (Lucille Lortel Award winner) and Nick Benacerraf, and text by Anton Chekhov, Heiner Müller and The Assembly. SEAGULLMACHINE runs from April 14 - 29, 2018 in a limited engagement at La MaMa's Ellen Stewart Theatre, located at 66 East 4th Street between 2nd Avenue and the Bowery in New York City. Previews begin April 14 for an April 16 opening.

Performances are Mondays at 8pm, Thursdays - Saturdays at 8pm, and Sundays at 3pm with an added show on Wed, April 25 at 8pm. The Sun, April 15 performance time is at 8pm. Tickets are $30 and $25 for students and seniors. A limited number of $10 tickets are available for each show. Tickets are $75 for the April 20 benefit performance and pre-show reception. Purchase online at http://lamama.org/seagull_machine or by calling 212-352-3101.

For more info visit http://lamama.org, Like them on Facebook at http://bitly.com/lamamaFB, and follow on Twitter (https://twitter.com/LaMaMaETC) and Instagram (https://www.instagram.com/lamamaetc) at @LaMaMaETC. For more info on The Assembly visit https://www.AssemblyTheater.org, Like them on Facebook at https://www.facebook.com/assemblytheater and follow on Twitter (https://twitter.com/assemblytheater) and Instagram (https://www.instagram.com/assemblytheater) at @assemblytheater.

Russia 1896. Germany 1977. USA 2018. In a world gone mad, when do you take arms against the sea of troubles?

In SEAGULLMACHINE, a diverse, multigenerational ensemble takes refuge in an abandoned theater. Caught in an endless rehearsal, they struggle with the pull between action and distraction on a planet where waters rise, wages stagnate, and visionary leaders are nowhere to be found. The Assembly's newest performance smashes together two iconic riffs on the Hamlet story - a new translation of Anton Chekhov's The Seagull by The Assembly and Heiner Muller's Hamletmachine - combining theatrical realism, immersive staging, live video, poetry, comedy and tragedy to excavate the legacy of 20th-century drama in the light of the present-day, and ask: What's the good of making theater anyway?

The cast includes Rolls Andre (Beardo with Pipeline Theatre, Let Us Now Praise Susan Sontag at Abrons Arts Center), Edward Bauer (Home/Sick with The Assembly, I Will Look Forward to This Later at New Ohio), Ben Beckley (Small Mouth Sounds national tour, Dying For It with Atlantic Theater Co.), Marvin Bell (NBC's "Law & Order: SVU," The Show-Off at Theatre at St. Clement's), Emily Caffery (Animal Wisdom at Bushwick Starr), Nehassaiu deGannes (Is God Is at Soho Rep, Intimate Apparel at Shakespeare & Co.), Anna Abhau Elliott (Whitney Biennial, Under the Radar), Christopher Hurt (3Christs with Peculiar Works Project, The Three Sisters with The Assembly), Jax Jackson (600 Highwaymen's The Fever tour & run at The Public's Under the Radar Festival, HBO's "High Maintenance"), Layla Khosh (Men on Boats at Playwrights Horizons, Wyoming with Lesser America), Daniel Maseda and Elena McGhee (USA's "The Sinner," FX's "Louie").

The creative team includes Nick Benacerraf & Emmie Finckel (Scenic Design), Asa Wember (Sound Design), Kate Fry (Costume Design), Miriam Crowe (Lighting Design), Ray Sun (Video Design), Jess Cummings (Props Design), Stephen Aubrey (Dramaturge), Ari Rudess (Casting Consultant) and Miranda Haymon (Assistant Director). The production team includes Lucy Jackson (Producer) and Emily Caffery (Associate Producer).

Select performances of SEAGULLMACHINE will be accompanied by a post-show talkback series with artists, academics and activists. Exact days and a roster of participants will be released at a later date.

THE ASSEMBLY is a collective of multi-disciplinary performance artists committed to realizing a visceral and intelligent theater for a new generation. Assembly members unite varied perspectives in service of wide-reaching, unabashedly theatrical and rigorously researched ensemble performances, crafted to spark conversation with their audiences. Their work embraces the complexities of our present moment; it is a call for empathy and engagement. Embracing collaboration as the core of the creative process, the company chooses projects through consensus and develops text, action and design side-by-side within the rehearsal environment. From workshops to productions to post-performance discussions, The Assembly is dedicated to rooting its artists, audiences, and peers in a profound sense of community.

The New York Times called The Assembly "A cutting-edge young theater collective...intense and thoughtful." The Wall Street Journal described them as "passionate, formally inventive theater makers who make much of delving into historical texts." Huffington Post called the group "makers of amazingly provocative theater."

SEAGULLMACHINE represents The Assembly's tenth original play, and the company's second engagement with the works of Anton Chekhov, after their critically acclaimed multimedia THREE SISTERS in 2010 ("Magical" - Show Business). The company's hit show HOME/SICK (New York Times Critics' Pick) was revived in 2017 for a sold-out run at JACK in Brooklyn. The production run was accompanied by a post-show discussion series Making Our Ideal America: Conversations on Coalition Building, featuring former Weathermen (now community organizers) and local community activists.

The company has performed at venues across New York such as New Ohio Theatre (Archive Residency Award), The Incubator, The Prelude Festival, HERE Arts Center, Horse Trade, and The Collapsable Hole, and has toured to the Odyssey Theatre in Los Angeles, Wesleyan University, the Edinburgh Fringe (Fringe First nomination) and the Philly Fringe. In 2016, this process was documented by Professor Cindy Rosenthal in the cover essay of the industry's leading academic journal, The Drama Review: "Circling Up with The Assembly: A Theatre Collective Comes of Age." The Assembly's educational workshops are designed to foster empowered and empowering collaborators. They train young artists in the ethics and techniques of their unique method of ground-up creation. The company has worked with students at Williams College Summer Theater Lab, The Atlantic Theater School, Stella Adler Conservatory, and Wesleyan University, as well as their annual weekend intensives in NYC.

The Assembly is Stephen Aubrey, Edward Bauer, Ben Beckley, Nick Benacerraf, Emily Caffery, Jess Chayes and Lucy Jackson.

La MaMa is dedicated to the artist and all aspects of the theatre. The organization has a worldwide reputation for producing daring performance works that defy form and transcend barriers of ethnic and cultural identity. Founded in 1961 by award-winning theatre pioneer Ellen Stewart, La MaMa has presented more than 5,000 productions by 150,000 artists from more than 70 nations. A recipient of more than 30 Obie Awards and dozens of Drama Desk, Bessie, and Villager Awards, La MaMa has helped launch the careers of countless artists, many of whom have made important contributions to American and international arts milieus.

La MaMa's 56th season highlights artists of different generations, gender identities, and cultural backgrounds, who question social mores and confront stereotypes, corruption, bigotry, racism, and xenophobia in their work. Their stages embrace diversity in every form and present artists that persevere with bold self-expression despite social, economic and political struggle, and the 56th season reflects the urgency of reaffirming human interconnectedness. La MaMa is accessible from the F train to 2nd Ave. or the #6 train to Bleecker St.

MEMBERSHIPS -- La MaMa continues its popular Experimental Theatre Club Memberships, offering $10 tickets to all shows and other perks to members for the full season. Memberships start at $56.

Nick Benacerraf (Conceiver, Co-Director, Co-Scenic Designer) is a Founding Co-Artistic Director of The Assembly, and a designer, director, organizer, and scholar. Nick recently served as Environment Designer and Co-Lead Artist on UP AND AWAY by Trusty Sidekick, an immersive theatrical experience for autistic children (returning to Lincoln Center this April/May). As a freelance set designer, Nick has collaborated with Judith Malina (The Living Theatre), Suzanne Lacy (Creative Time), Richard Foreman (Public Theater), BAM Poetry (WORD SOUND POWER), Waterwell (GOODBAR at Under the Radar), Christine Jones (QUEEN OF THE NIGHT), Meiyin Wang (La MaMa), Lars Jan (CNP), Goat in the Road (New Orleans), Ubuntu (Oakland), Kristin Marting (HERE), and Son of Semele (winner of the LA Weekly Set Design Award for The City). As an organizer and activist, Nick has collaborated with The Yes Men, and co-authored the Brooklyn Commune Project (2014), a yearlong, artist-driven study of Economics & the Performing Arts. Nick studied at Wesleyan (BA), CalArts (MA & MFA), and is currently a PhD candidate in Theatre and Performance at the CUNY Graduate Center. https://www.nickbenacerraf.com

Jess Chayes (Co-Director) is an award-winning Brooklyn-based director and a Co-Founder and Co-Artistic Director of The Assembly. Recent directing includes Holidays In/Coyote (The Tank), Lipstick Lobotomy (Juilliard), The Providence of Neighboring Bodies and Latter Days (Dutch Kills), I Will Look Forward to This Later (The Assembly), Half Moon Bay (Lesser America), Primal Play (New Georges), The Bachelors (Williamstown Theater Festival) and The Netflix Plays (Ars Nova). She has developed work with The Vineyard Theatre, The Playwrights Center, NYTW, P73 and Prelude Festival, among others. Jess is a founding member and co-facilitator of the New Georges Jam and a NYTW Usual Suspect. Recent affiliations: The Civilians R&D Group, The Soho Rep Writer/Director Lab, Associate Director on Peter and the Starcatcher (Brooks Atkinson & New World Stages) and Misery (Broadhurst Theater). Jess is the 2017 recipient of the League of Professional Theatre Women's Lucille Lortel Award. https://www.jesschayes.com

SEAGULLMACHINE was developed as part of Lower Manhattan Cultural Council's Process Space program, at The Williams College Summer Theater Lab, and as part of the undergroundzero festival. This program is supported, in part, by public funds from the New York City Department of Cultural Affairs in partnership with the City Council.

Photo credit (L-R): Jax Jackson (Konstantin) & Layla Khosh (Nina) in The Assembly's SEAGULLMACHINE. Photo by Marina McClure.