THE TRUTH ABOUT SANTA Celebrates 10th Anniversary at The Tank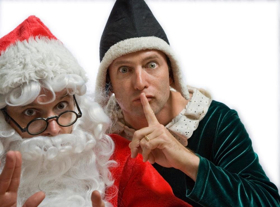 The Tank in association with Theater of the Apes will present the 10th anniversary production of the dark holiday comedy, The Truth About Santa, written by Greg Kotis (Winner of 2002 Tony Award, 2001 Drama Desk Award, and 2001 Obie Award for Urinetown), directed by Ilana Becker at The Tank (312 West 36th Street between 8th and 9th Avenues), December 5-20. Performances will be on Wednesday, December 5 at 8pm.Thursday, December 6 at 8pm, Friday, December 7 at 8pm, Saturday, December 8 at 8pm, Sunday, December 9 at 4pm & 8pm, Tuesday, December 11 at 8pm, Wednesday, December 12 at 8pm, Thursday, December 13 at 8pm, Friday, December 14 at 8pm, Saturday, December 15 at 8pm, Sunday, December 16 at 4pm & 8pm, Tuesday, December 18 at 8pm, Wednesday, December 19 at 8pm, and Thursday, December 20 at 8pm. Tickets ($35 VIP; $25 General; $15 Student) are available for advance purchase at www.thetanknyc.org. The performance will run approximately 70 minutes, with no intermission.
The Truth About Santa is an apocalyptic, holiday romp (with music). Many people think they know the truth about Santa, but they are wrong. Ho ho ho, children! Santa has some shocking unadvertised powers, a couple of half-mortal offspring his wife hasn't found out about yet, and a lot on his mind. He's tired of those damn singing elves. He's tired of the lies. This is the Christmas Santa will reveal his true self. Prepare for the Ragnarök, urm, Santa Claus' RETURN TO OFF-OFF-BROADWAY.
"If you cringe at the ads for White Christmas on Broadway or roll your eyes at the plaintive pleas of Tiny Tim, then have I got a jolly good time for you. The Truth About Santa, a giddy, pleasingly sloppy downtown satire...is a holiday show for people sick of holiday shows. It stars Santa, but this isn't the happy man at Macy's. He doesn't just slip down the chimney, bearing gifts. He also sleeps with your wife, smokes magic weed and chuckles 'ho ho ho' with a leer that suggests more than good cheer." The New York Times
Greg Kotis (Playwright) is the author of many plays and musicals including Urinetown (Book/Lyrics), The Sting (Lyrics), Lunchtime, Give the People What They Want, Michael von Siebenburg Melts Through the Floorboards, Yeast Nation (Book/Lyrics), Pig Farm, Eat the Taste, and Jobey and Katherine. Future projects include ZM, an original musical about teenaged fast-food workers trying to survive a zombie plague. Greg co-founded Theater of The Apes with his wife Ayun Halliday, and is a member of the Neo-Futurists, the Cardiff Giant Theater Company, ASCAP, and the Dramatists Guild. He grew up in Wellfleet, Massachusetts, where he celebrated Christmas with his secular Jewish family, and now lives in New York City where he waits each year for Santa's return.
Ilana Becker (Director) is a director and producer specializing in new play and musical development, community-driven projects, and arts education. She is a member of The WP Theater Producers Lab, The Civilians' R&D Group, Lincoln Center Theater Directors Lab, DirectorsLabChicago, Fresh Ground Pepper's PlayGroup, a Playwrights Horizons Robert Moss Directing Fellow, and an Emerging Leader of NY Arts Fellow. Ilana is Artistic Director of Argument Sessions, a series of immersive events weaving SCOTUS transcripts with collaboratively developed original material. She returns to New York after a year at Company of Fools/Sun Valley Center for the Arts, where she directed Life Sucks, Bright Half Life, and Striking 12, and developed Pal by Tasha Gordon-Solmon and a commissioned TYA short musical by Maggie-Kate Coleman and Erato Kremmyda. www.ilanabecker.com
The Tank is a non-profit arts presenter and producer. Our mission is to remove economic barriers from the creation of new work for artists launching their careers and experimenting within their art form, and to do so in an environment that is inclusive and accessible. We serve over 2,000 artists every year in over 800 performances, and work across all disciplines, including theater, comedy, dance, film, music, puppetry, and storytelling. The heart of our services is providing free performance space in our two-stage theater complex Manhattan, and we also offer a suite of other services such as free rehearsal space, promotional support, artist fees, and much more. We support work at all phases of development, from readings and residencies to fully-produced world premieres. We keep ticket prices affordable and view our work as democratic, opening up both the creation and attendance of the arts to all.

Recent Tank-produced work includes Drama Desk-nominated productions Ada/Ava (2016), youarenowhere (2016), The Paper Hat Game (2017), the ephemera trilogy (2017), and The Hunger Artist (2018), as well as New York Times Critics' Picks The Offending Gesture by Mac Wellman, directed by Meghan Finn (2016) and Red Emma & The Mad Monk by Alexis Roblan, directed by Katie Lindsay (2018). Since its founding in 2003, artists who have come through The Tank include Alex Timbers, Amy Herzog, Lucy Alibar, Kyle Jarrow, Reggie Watts, Kyle Abraham, Andrew Bujalski, We Are Scientists, and tens of thousands of others. www.thetanknyc.org
Photo: Santa & his Elf, Greg Kotis Photo credit: Lisa Pines