Strange Sun Theater Presents The World Premiere Of WICKEDEST WOMAN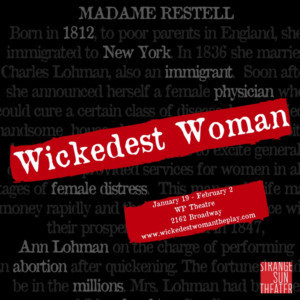 Strange Sun Theater will present Jessica Bashline's new play, WICKEDEST WOMAN, at the WP Theater on the Upper West Side, January 19 - February 2. The World Premiere is directed by Melissa Crespo with Opening Night slated for January 19. The limited run features a gender bending cast of 7 actors who have numerous Broadway and Off-Broadway credits.
Inspired by the true story of New York City midwife and abortionist, Ann Trow Lohman, WICKEDEST WOMAN follows the epic story of Lohman's life in the 1800's. Known as "Madame Restell," when Lohman started performing abortions in 1838, they were legal in the US. When she committed suicide, almost 40 years later at the end of her career, they were illegal. WICKEDEST WOMAN follows Lohman's rise to notoriety and her struggle to keep her life intact as the scrutiny and even physical danger became ever more intense. A story about the history of abortions, reproductive rights, and a forgotten legacy.
Playwright Jessica Bashline shared what inspired her to write WICKEDEST WOMAN, "A few years ago, I read Ann's story when I saw an article in the NY Times about the midwife and abortionist who outbid the Catholic Church for land adjacent to St. Patrick's Cathedral. At that point I was hooked. When I began to do my research, I learned that nothing had ever been written in Ann's voice. Throughout a 40-year career, there was nothing left for posterity that told her story from her point of view. So, I made a promise to help find her voice and share her story."
In addition to the production, Strange Sun Theater will host post show "Wicked Discussions," after select performances of WICKEDEST WOMAN. Partnering with organizations such as Physicians for Reproductive Health, The International Women's Health Coalition, The New York Historical Society, National Institute for Reproductive Health and others, to contextualize Ann's story in the past and give our audiences concrete steps to take to ensure our future. The talk back schedule will be announced next week.
The cast features Jose-Maria Aguila (Pulse/The Guthrie), Jessica O'Hara-Baker as Ann Trow Lohman (Usual Girls, you do not look/Signature Theatre), Evan Daves (Coast of Utopia/Lincoln Center Theater), Dawn McGee (High Maintenance/HBO & The Tick/Amazon), Emily Gardner Xu Hall (Nell Gwynn/Chicago Shakespeare), Jasmin Walker (Avenue Q/New World Stages), and Luke Zimmerman (Masculinity Max/The Public).
The creative team includes scenic design by Anna Driftmier, costume design by Emily White, lighting design by Christina Watanabe, with Brett Kristofferson serving as music supervisor.
Tickets are $35 and are available at www.wickedestwomantheplay.com. Performances take place at the WP Theater, 2162 Broadway (between 76th & 77th Street), New York, NY, 10024. Subways: 1/2 to 79th Street, B/C to 81st Street. Running time: 90 minutes.
For more information visit www.strangesuntheater.com or www.wickedestwomantheplay.com
Strange Sun Theater is entering its sixth year as a company devoted to the creation of new work. WICKEDEST WOMAN marks Strange Sun's sixth full production. In addition, Strange Sun has yearly playwriting development opportunities and education programs.
Jessica Bashline (Playwright) is the Artistic Director of Strange Sun Theater. A director and actor by trade, Jessica teaches acting at NYU. WICKEDEST WOMAN has been through 3 years of development with Strange Sun Theater, Goddard College, and Scrap Mettle Theater. The play was a finalist in Scrap Mettle Theater's Inaugural Emerging Artist Series.
Melissa Crespo (Director) is a New York City based director of theater, opera and film with a focus on new work. Upcoming projects include Native Gardens co-produced by Syracuse Stage, Geva Theatre Center, and Portland Center Stage. Recent credits include graveyard shift by Korde Arrington Tuttle (San Francisco Playhouse).