Strange Sun Theater Announces Post Show Talkbacks For WICKEDEST WOMAN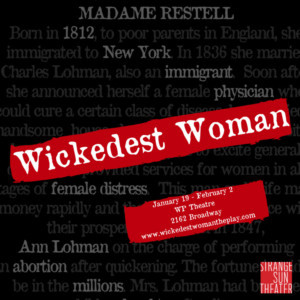 Strange Sun Theater is pleased to announce the post show talkback schedule for their new production of WICKEDEST WOMAN by Jessica Bashline. The talkbacks will focus on reproductive rights, women's health and help contextualize Ann Trow Lohman's life. Guests from various organizations including Choices Women's Medical Center, The New York Historical Society, Physicians for Reproductive Health, among others, will take part in the discussions.
WICKEDEST WOMAN, runs January 19 - February 2 at the WP Theater and coincides with the 45th anniversary of the Roe V. Wade Decision. Melissa Crespo directs.
The talkback schedule is as follows:
January 20: A Discussion with Ashley Jacobson, Founding Artistic Director of The Dirty Blondes, and Head of Fundraising & Development at New York Women in Film & Television, about the challenges and triumphs of making art as a women in 2019. www.thedirtyblondes.org & www.nywift.org
January 22: The Anniversary of the Roe V. Wade Decision. Talkback guest, Andrea Miller, the President of the National Institute for Reproductive Health and its Action Fund, which build power at the state and local level to change public policy, galvanize public support, and normalize women's decisions about abortion and contraception. www.nirh.org
January 23: A conversation about women's worldwide reproductive rights with Jessie Clyde, Director of Grantmaking and International Partnerships at the International Women's Health Coalition. www.iwhc.org
January 27: A discussion with Sarah Gordon, a curatorial scholar in Women's History at The New York Historical Society. www.nyhistory.org
January 30: Dr. Meera Shah, representing Physicians for Reproductive Health will join us after the show to talk about the NYS Reproductive Health Act. www.prh.org
January 31: Merle Hoffman from Choices Women's Medical Center and Toni Cockerham from Spence-Chapin will discuss reproductive options and their ramifications. www.choicesmedical.com & www.spence-chapin.org
Inspired by the true story of New York City midwife and abortionist, Ann Trow Lohman, WICKEDEST WOMAN follows the epic story of Lohman's life in the 1800's. Known as "Madame Restell," when Lohman started performing abortions in 1838, they were legal in the US. When she committed suicide, almost 40 years later at the end of her career, they were illegal. WICKEDEST WOMAN follows Lohman's rise to notoriety and her struggle to keep her life intact as the scrutiny and even physical danger became ever more intense. A story about the history of abortions, reproductive rights, and a forgotten legacy.
The cast features Jose-Maria Aguila (Pulse/The Guthrie), Jessica O'Hara-Baker as Ann Trow Lohman (Usual Girls, you do not look/Signature Theatre), Evan Daves (Coast of Utopia/Lincoln Center Theater), Dawn McGee (High Maintenance/HBO & The Tick/Amazon), Emily Gardner Xu Hall (Nell Gwynn/Chicago Shakespeare), Jasmin Walker (Avenue Q/New World Stages), and Luke Zimmerman (Masculinity Max/The Public).
The creative team includes scenic design by Anna Driftmier, costume design by Emily White, lighting design by Christina Watanabe, with Brett Kristofferson serving as music supervisor.
Tickets are $35 and are available at www.wickedestwomantheplay.com. Performances take place at the WP Theater, 2162 Broadway (between 76th & 77th Street), New York, NY, 10024. Subways: 1/2 to 79th Street, B/C to 81st Street. Running time: 90 minutes.