Stefani Kuo's DELICACY OF A PUFFIN HEART Comes to Corkscrew Theater Festival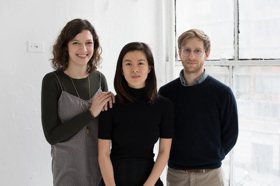 Corkscrew Theater Festival presents delicacy of a puffin heart, written by Stefani Kuo and directed by Theo Maltz. Running July 25-August 5, delicacy of a puffin heart traces the stories of two pairs of immigrant/first generation women living in the same San Francisco apartment, twenty years apart: in the 1990s, a lesbian couple hoping to have a child, and in the present, their adult daughter living with her best friend. Both pairs of women struggle to maintain their intimate connection while facing mental and physical illness. Performed by Dominique Brillon, Diane Chen, Cleo Gray, Drita Kabashi, and O'mer Koren, delicacy of a puffin heart is the fourth production in the second annual season of Corkscrew Theater Festival, a new summer theater festival that provides early-career artists with a high level of production support.
In a small San Francisco apartment in the 1990s, Meryl and Ana Sofia, a lesbian couple, attempt to conceive a child through in-vitro fertilization while managing Meryl's bipolar disorder II. Two decades later, in the same apartment, their daughter Robyn and her roommate Hadley are forced to navigate their friendship through Robyn's cancer treatment. As they struggle to take control of their lives, all four come to experience the unique weight and loss of female friendship. A wrenching, tender portrait of characters who are complicated the way real women are, delicacy of a puffin heart considers what it means to love someone honestly even when they are incapable of telling the truth.
"Audiences at delicacy of a puffin heart will see women interacting with women, sometimes involving confrontation," said Kuo. "I think we are afraid to see and acknowledge confrontational women, but confrontation is actually not a negative thing. It's something that is really essential to maintaining and creating relationships. How do you go deeper into a friendship without confronting our flaws or insecurities, the things we want to hide?
"I find that stories of female friendships are almost never told on stage, and there isn't a lot of importance in society or in the media placed on what friendship means as opposed to romantic relationships. So I thought it was really important to write a story that I have experienced so many times -- about women, immigrants, people of color, different kinds of women, different ages, different generations -- and what it means to be really heartbroken, but not from romance."
Corkscrew Theater Festival features five world premieres and four readings performed in repertory over four weeks. Special attention has been given to theater makers who are developing work through innovative and robust collaborations. A majority of the participating artists identify as women or trans.
The creative team for delicacy of a puffin heart includes Jessie Chen (set design), Sammy Ross (lighting design), Iliana Paris (costume design), Megumi Katayama (sound design), Eloia Peterson (stage manager), and Razan Al Sarraf (social media manager).
Performances of delicacy of a puffin heart will take place July 25-August 5 (see schedule above) at Paradise Factory (64 E 4th St, Manhattan). Critics are welcome as of July 25, which serves as the official opening. Tickets are $24 and can be purchased at corkscrewfestival.org or by calling 347.954.9125.
About the Artists
Stefani Kuo is a native of Hong Kong and received her B.A. from Yale. She is a playwright, poet, translator, and performer based in New York. Her play, Architecture of Rain, premiered at the Iseman Theatre at Yale and received a reading in the DVRF Roundtable series and Checkmark Theatre Company reading series. She was a 2017 artist-in-residence at the Centre of Substructured Loss, Berlin. She was a finalist for the Van Lier New Voices, DVRF, BRIClab, and Ground Floor at Berkeley Rep. For more, see www.stefanikuo.com
Theo Maltz is a Brooklyn based director and performer. He has developed new works at Williamstown Theatre Festival, Dixon Place, HERE, and Access Theater. He is also a teaching artist for Big Green Theater at The Bushwick Starr, a program that teaches 5th graders about environmentalism and playwriting. When not working you can find him dancing in his room to old disco records or wandering around the city daydreaming.
Coral
Elizabeth Smith
is a writer and producer from Merritt Island, Florida. She has been living and working in New York City as a Production Assistant for companies including: Vertigo Theater Company (Artistic Associate),
Playwrights Realm
, Dixon Place (Administrative Intern), Hivewild and Y.A.H. She is also the co-founder of a creative art journal "Oh Dear Beast," which released its first printed issue in January. She is very excited to be working with such a talented group of individuals devoted to diverse, contemporary storytelling.
Catherine Woodard is a native New Yorker (by way of LONG ISLAND) and has fully embraced the backslash career life. As a Producer/Theater Artist, Catherine has produced for Story Pirates, The Flea Theater, and The Peoples Improv Theater. This summer she will be the Production Coordinator at Williamstown Theatre Festival. Catherine received her BFA in Theatre Arts from Boston University. She likes naps and the Hudson River.
Dominique Brillon: Select NYC/regional credits: Trigger (Leviathan Lab), Park Plays (
Queens Theatre
), Our Town (
Long Wharf Theatre
), A Midsummer's Night Dream (FoxWolf), The Mysteries (The Flea). Select workshops: Fellowship by
Gracie Gardner
(EST), Road Trip Play by
Lauren Yee
(The Lark), The Climb by C.A. Johnson (59E59), The Place We Built by
Sarah Gancher
(
Playwrights Realm
), 10 out of 12 by
Anne Washburn
(
Soho Rep
). She is an actor with Story Pirates. B.A. UC Berkeley.
Dominiquebrillon.com
Diane Chen
is an award-winning multidisciplinary filmmaker and theater artist based in NYC. Her award-winning series Here We Wait has garnered 31 nominations - including a win for Diane as Best Supporting Actress at Brooklyn Webfest and a Best Lead Actress: Drama nomination at the IAWTV Awards. As director and/or performer: Dixon Place, The PIT, IRT Theatre, Exquisite Corpse Company, Corkscrew Theater Festival, JACK, Columbia, Exponential Theatre Festival, Frigid Festival. Education: Dartmouth College, LAMDA, BLCU
diane-chen.com
Cleo Gray
is a member of The
Ensemble
Studio Theatre
. She's a former Bat at The
Flea Theater
, where she produced #serials@theflea w/
Crystal Arnette
, her Co-founder for their arts non-profit @weareSEQUIN. Credits: The Place We Built, JOB, a cautionary tail., These Seven Sicknesses, Soldier X. She is currently seeking representation.
Drita Kabashi: Recent theatre credits - Bernadine Dohrn- Weatherman (La Jolla Playhouse's DNA Series/Christopher Ashley), Zoe/Co-deviser in Aplomb (Actors Fund Theater presented by The Habitat/ Alex Keegan), Rasputin in Red Emma & The Mad Monk (Ars Nova ANT Festival/Katie Lindsay), Player/Music Director in Fountain of Oldth (Village Zendo/Elena Taurke), Anima in Three Bitches (Hudson Guild Theatre/Kate Moore Heany), Nurse in Romeo and Juliet (Shakespeare Downtown/Geoffrey Horne), Nina in A Dying Breed (Judson Memorial Church/Alex Keegan). Film: "Self" in LubDub (co-author/Yonatan Weinstein), Elizabeth in The Waiter (Short/Lee Percy), Love in Fishhook & Eye (Best in Show, Fusion Film Festival/Chloe Aktas). Developing works: "Tall Order" (web series). Undergraduate Degree: New York University Tisch School of the Arts, BFA. dritakabashi.com
O'mer Koren is an actress, composer, and freelance-translator, trained at the Atlantic Theater Company's Conservatory. She performed and presented work at Classic Stage Company, Rockaway Theater Company, The New Ohio, Columbia Stages, Dixon Place, PopUp Theatrics, Lincoln Center NYPL, 2017 TRU Musical Theater Series and Atlantic Stage 2. She appeared on Nickelodeon-Israel, and in the IndieFEST Film award-winning feature- The Mountain. She feels very fortunate to have been a part of the developing process of this beautiful piece, and to have the privilege to share it with the world! www.omer-koren.com
About Corkscrew Theater Festival
Now in its second year, Corkscrew Theater Festival showcases original productions by early-career artists who are creating work through robust and innovative collaborations. Corkscrew aims to advocate for underrepresented artists and viewpoints while mounting a festival that offers a unique mix of work at various stages of development, promoting dialogue among artists and building community around a season of theatre. In its inaugural 2017 run, Corkscrew was featured in The New York Times, The Village Voice, Playbill, WNYC, and more. "Packed with young talent. In the risk-taking venture that is summer festival-going, encountering talent you want to see more of is a worthy payoff." www.corkscrewfestival.org
Photo: Catherine Woodard, Stefani Kuo, and Theo Maltz
Related Articles View More Off-Off-Broadway

Stories

Shows
More Hot Stories For You