SOPHIE SCHOLL - THE FINAL DAYS to Open In NYC This August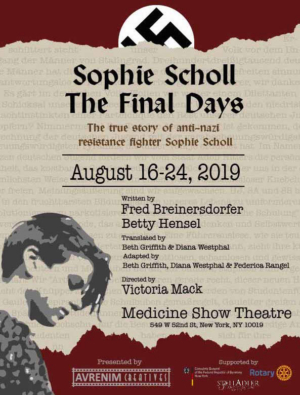 Avrenim Creatives brings to the New York theater the English translation world premiere of Sophie Scholl - The Final Days, written by Betty Hensel and Fred Breinersdorfer.
Based on the Academy Award nominated movie of the same name, the play Sophie Scholl - The Final Days tells the true story of siblings Hans and Sophie Scholl, who form an anti-nazi resistance group in 1943, called The White Rose. Together with a group of college friends, they secretly print and distribute anti-nazi leaflets, calling for a peaceful overthrow of Hitler.
The play starts just before Sophie and Hans are apprehended while distributing leaflets at the University of Munich, and follows them through days of interrogation and imprisonment, all the way to their final trial. Most of the dialogue is taken directly from transcripts of the real interrogation protocols.
In this provocative play, we witness Sophie and her friends as they are confronted with the choice of saving their own lives or standing up for what they most believe in.
"When we began this project we felt that the Sophie Scholl story was valuable because it would allow us to educate people about how the Nazis operated. It's very important to learn from this film-not just simply to know the historical dates and things like that-but to understand how the terrorist Nazi state system worked. I also wanted to show Sophie's determination, and that of the Resistance, and in this way provide an example for others." - Fred Breinersdorfer
Written by Betty Hensel & Fred Breinersdorfer
Fred Breinersdorfer, born in 1946 in Mannheim, Germany, is a lawyer and one of Germany's most politically influential writers. In 2015, he was honored with the Federal Cross of Merit. His credits include 12 novels, a formidable list of short stories, theatrical productions, radio plays, and now 75 movies, prime-time TV movies, series and shorts. He created more than 20 episodes of "Tatort", Germany's most successful crime show for 45 years with about 10 million spectators every Sunday on prime time. His own law crime series "Anwalt Abel" was brought on air between 1988 and 2001 by ZDF/ARTE, the biggest German public television channels. Since 2006, he also works as a film producer and director. He became world renowned as a writer and co-producer of Sophie Scholl- The Final Days, when the movie was nominated for the 2006 Academy Award (Best Foreign Language Film). www.breinersdorfer.com
Betty Hensel is German actor, dramaturg and director, having adapted and directed over 80 plays over the course of her career. Most important credits include adapting and directing of Sophie Scholl, die letzten Tage at Schauspielhaus Salzburg, Große, kleine Schwester at Theater Rampe Stuttgart, Szenen einer Ehe at Spielraum 33 Ludwigsburg, Wave at Ludwigsburg department of culture and art, Akte Oppenheimer at Ludwigsburg Karlskaserne, and Harry and Sally at Theaterschiff Bremen. betty-hensel.de
Translated by Beth Griffith and Diana Westphal
Beth Griffith is an American singer, writer, actor and musician, who's worked in the performing arts between Germany and the U.S. for over 35 years. As an internationally acclaimed soprano, Griffith has collaborated with composers such as John Cage, Morton Feldman, Mauricio Kagel and Karlheinz Stockhausen. Her recording of Feldman's Three Voiceswon the German Record Critics Prize. Recent acting credits include BARE at TBG Mainstage Theater and The Voire Dire Project 4.0 at Medicine Show Theater.
Diana Westphal is a German actor and producer, and holds a degree in International Relations from Sciences Po Paris. As a quadrilingual performer, she's worked in Germany, Mexico and the U.S. Recent acting credits include Caligula at Medicine Show Theater NYC, The Women and Beautiful Bodies at the Stella Adler Studio NYC, The Imaginary Invalid at Foro Contigo América, Mexico-City and The Merry Nibelungs at Theater Ulm, Germany. Beth, as the American English native speaker, and Diana, as the German native speaker, complemented each other in the translation process.
Directed by Victoria Mack
Victoria Mack is a Professor of Performing Arts at the Savannah College of Arts and Design. Professional directing credits include an immersive downtown theatre piece in New York City (The Lacy Project) and Noel Coward's Blithe Spirit at the Shakespeare Theatre of NJ. She's also directed extensively at the Stella Adler Studio and SCAD. As an actor she's worked on Broadway and extensively off-Broadway. She's also done considerable regional work, including two world premiere Theresa Rebeck plays, starring roles at Syracuse Stage, Milwaukee Rep, Cincinnati Playhouse, Denver Center, Pittsburgh Playhouse, and 14 productions at the Shakespeare Theatre of NJ; and a self-produced collection of ten-minute plays that played in New York City and then traveled to Santiago, Chile. Victoria has shot two pilots as well as many television shows and films, including "Boardwalk Empire," "The Good Wife," "Orange is the New Black," and most recently Julie Taymor's film The Glorias. She received her MFA in Acting from
NYU's Tisch School of the Arts and divides her time between Savannah and New York City. www.victoriamackcreative.com
To purchase tickets, go to:
www.sophiescholltheplay.com/tickets