Red Bull Continues Revelation Readings with NY Premiere of THE BOOK OF WILL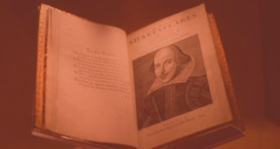 Red Bull Theater today announced the cast for the next REVELATION READING, The Book of Will by Lauren Gunderson, directed by Davis McCallum: Marco Barricelli, Thaddeus Fitzpatrick, Jennifer LeBlanc, Orlando Pabotoy, Linda Powell, Kurt Rhoads, Antoinette Robinson, Triney Sandoval, Richard Thieriot, Reggie D. White and Nance Williamson. This will take place on Monday December 1oth at 7:30 PM at the Lucille Lortel Theatre (121 Christopher Street, between Bleecker and Hudson Streets).
"To be or not to be, Aye there's the point..." Shakespeare has only been dead three years and already they're botching his lines at the local playhouse, and it's up to his old friends to set the record-and all of literary and theatrical history-straight. Aging actors Henry Condell and John Heminges take on a money-hungry publisher, a drunken poet laureate, and Heminges' own strong-minded daughter, as they piece together a little book we call the First Folio. Lauren Gunderson, one of the most-produced playwrights in America, tells this tale of human emotion and historical importance in what the Chicago Tribune described as " a most humorous, entertaining and irreverent fashion."
According to playwright Gunderson: "The Book of Will is a play about many things - friendship, legacy, words, paper, and the very point of theatre - but the most meaningful moment of this story for me comes in a reference to comedy. Rebecca, friend of Will Shakespeare's, says that she finds herself needing comedies the older she gets: 'Laughter is death's greatest defiance, I think.' Death cringes when we laugh. We can't stop it, but laughter helps death's survivors thrive."
As Richard Burbage says in the opening scene of The Book of Will, he knew all of Shakespeare's plays by by heart, for "that's the only way you get to tell everyone else what to do." Burbage was the leading actor of the King's Men, known to have played the roles of Richard III, Hamlet, King Lear, Othello, and probably many others. In Gunderson's play, it's 1619, three years after Shakespeare's death, and the senior shareholders of the King's Men, Richard Burbage, John Heminges, and Henry Condell, are sitting in a tap house near the Globe grumbling about a shoddy performance of Hamlet based on a pirated "bad quarto" of the play. Quartos, inexpensive texts often printed shortly after early performances, might be based on The Acting Company's own script. But they could also be stolen, perhaps by actors based on what they can remember of their own lines and the lines of other characters. In The Book of Will the quest for Shakespeare's authentic texts begins when Burbage dies suddenly and Heminges, Condell, and Heminges' daughter Alice realize with a start that no one else knew the lines of the plays the way he did.
Lauren Gunderson is the most produced playwright in America of 2017, the winner of the Lanford Wilson Award, the Steinberg/ATCA New Play Award and the Otis Guernsey New Voices Award, she is also a finalist for the Susan Smith Blackburn Prize and John Gassner Award for Playwriting, and a recipient of the Mellon Foundation's 3-Year Residency with Marin Theatre Company. She studied Southern Literature and Drama at Emory University, and Dramatic Writing at NYU's Tisch School where she was a Reynolds Fellow in Social Entrepreneurship. Her work has been commissioned, produced and developed at companies across the US including South Coast Rep (Emilie, Silent Sky), The Kennedy Center (The Amazing Adventures of Dr. Wonderful And Her Dog!), Oregon Shakespeare Festival, The O'Neill, The Denver Center, San Francisco Playhouse, Marin Theatre, Synchronicity, Berkeley Rep, Shotgun Players, TheatreWorks, Crowded Fire and more. She co-authored Miss Bennet: Christmas at Pemberley with Margot Melcon, which was one of the most produced plays in America in 2017. Her work is published at Playscripts (I and You, Exit Pursued By A Bear, The Taming, and Toil And Trouble), Dramatists (The Revolutionists, The Book of Will, Silent Sky, Bauer, Miss Bennet) and Samuel French (Emilie). Her picture book Dr Wonderful: Blast Off to the Moon was be released from Two Lions/Amazon in May 2017.
For tickets and more information about Revelation Readings, or any of Red Bull Theater's productions and programs, visit www.redbulltheater.com.
Related Articles View More Off-Off-Broadway

Stories

Shows
More Hot Stories For You