Photo Flash: The Queen's Co. Presents TWELFTH NIGHT at Urban Stages
The Queen's Company (all female! all the time! no apologies!) proudly presents William Shakespeare's classic comedy, Twelfth Night, directed by The Queen's Company Artistic Director Rebecca Patterson. The play opened November 8th and continues through November 23rd in a limited engagement at Urban Stages, located at 259 West 30th Street between 7th & 8th Avenues in NYC.
Welcome to Illyria, a land of blind and hungry lovers dancing an age-old dance of love & cruelty. The Queen's Company brings you an exciting and innovative production of Shakespeare's delightful comedy of mistaken identity and obsessive love. Featuring their celebrated all-female cast, Twelfth Night interweaves lip-synched musical numbers with Shakespeare's witty words of danger & desire. A comedic masterpiece that is bound to delight, happy ending guaranteed!
The Queen's Company is a non-profit organization dedicated to innovative productions of classical plays featuring an all-female ethnically diverse company of actors which puts a contemporary spin on Shakespeare's brand of transgender casting. Their productions interweave contemporary music and movement sequences with top-notch Shakespearean performances.
The Queen's Company was founded by Artistic Director Rebecca Patterson, who emphasizes that their mission also offers female artists a broader range of roles with less focus on gender and race. Says Patterson, "Fifty percent of the actors in equity are female and they get only forty percent of the roles and the numbers are even lower for actors of color. I think it's our responsibility as a New York theater company to reflect our city's diversity. I want to see a stage that looks like a New York City subway stop."
Rebecca Patterson is Artistic Director of The Queen's Company (NYC), known for its innovative productions of classical plays featuring all-female casts. Past Queen's Company productions include The Taming of the Shrew, Edward II, School For Scandal, Much Ado About Nothing, The Lucky Chance, Antony & Cleopatra, The Feign'd Courtesans, The Duchess of Malfi, The Rover and Macbeth. Patterson's other NYC directing credits include Wapato (Women's Project), Greeks & Centaurs (Women's Project), The Gabriels (SPF) and The Imaginary Invalid (Resonance Ensemble).
The cast includes Dionne Audain, Virginia Baeta, Karen Berthel, Aysan Celik, Amy Driesler, Meredith Forlenza, Natalie Lebert, Gisele Richardson, Indika Senanayake, Carey Urban and Kari Washington.
The design/production team consists of Jeanette Aultz Look (Costume Design), Raquel Davis (Light Design), Kip Marsh (Set Design), Amanda McCroskery (Fight Director), Jane Shaw (Sound Design) and Annalee Fannan (Stage Manager).
Performances run Tuesdays-Saturdays at 7:30pm and Sundays at 3pm with additional matinees on Sat Nov 15 & Sat Nov 22 at 2pm. A post-show discussion will follow the Nov 15 2pm matinee with Ms. Patterson and members of the cast. Tickets are $18 and can be purchased online at http://www.SmartTix.com or by calling 212-868-4444. For more info visit http://www.QueensCompany.org.
Photos by John Santerre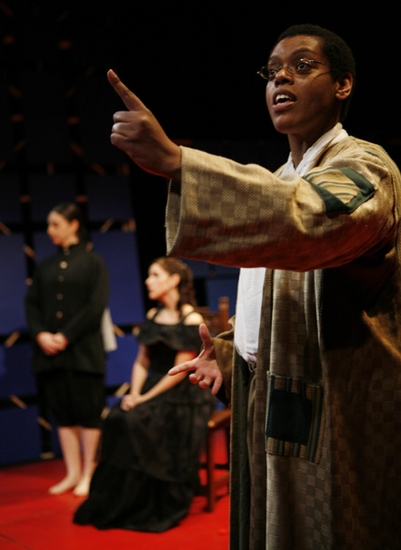 Natalie Lebert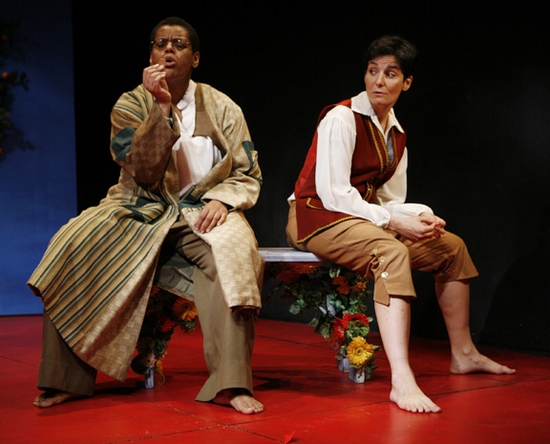 Natalie Lebert and Virginia Baeta

Valerie Redd, Carey Urban, Kari Nicole Washington, Gisele Richardson and Karen Berthel

Indika Senanayake, Kari Nicole Washington, Gisele Richardson and Aysan Celik