Photo Flash: Pace New Musicals Presents Zoe Sarnak's A Lasting Impression
Pace University's Pace New Musicals program, dedicated to the discovery of new theater works, has selected Zoe Sarnak's A Lasting Impression from over 50 submissions as its 2012 most promising show.
Amy Rogers, Associate Professor of Musical Theater and creator of the BFA Musical Degree program at the Dyson School of Arts & Science at Pace University, and Robert Meffe, Musical Director, are collaborating with Sarnak on a staged reading of her musical.
A Lasting Impression will be presented at Pace's Schaeberle Studio, 41 Park Row, 10th Floor from January 18-22, 2012. For reservations call (212) 346-1352 or email performingarts@pace.edu
In A Lasting Impression, each of the three lead characters chose their own artistic medium - book, music or visual design – to express one shared story. Josh Blanche, a once guarded journalist, acts as the play's narrator, using old taped interviews and pictures to guide us through his memory of his two sisters. Kali Blanche, a manic musician, is the piece's composer, moving in and out of "her" band as the story unfolds. Simone Blanche, a young painter, controls the evolution of what begins as a blank set, and comes to life through the addition of her visual art. A Lasting Impression is about impressions that we make through love, on those close to us, and through art, on those we may never meet.
The eight Pace Musical Theater students who will be bringing A Lasting Impression to life without costumes or scenery are (in alphabetical order, with hometown and their character roles):
Aaron Albert (Los Angeles, CA) as Josh Weinstein
Bethany Jeffery (Cincinnati, OH) as Mother
Taylor Noble (Glastonbury, CT) as Kali Blanche
Danny Quadrino (East Rockaway, NY) as Josh Understudy
Krista Pioppi (Succasunna, NY) as Kali's Band
Cailan Rose (Sarasota, FL) as Simone Blanche
Kevin Shotwell (Wilmington, DE) as Franklin
Emily Thomas (Pittsburgh, PA) as Kali's Band
The actors will be supported by Alex James (Schwenksville, PA) as Stage Manager and Dylan Bustamante (Babylon, NY) as Assistant Director.
The Pace New Musicals Program was developed in 2007 to nurture the creation of new musical theater in New York City, while at the same time providing an invaluable educational opportunity for students to work directly with top professionals in the field. Perhaps most importantly, the program allows students to experiment with new, untested works without precedent-setting productions, a rare opportunity in theater education.
The BFA Musical Theater Program at Pace University began with six majors in 2002, and has grown to more than 90 majors. In 2006, Pace became only the second school in New York City to offer a BFA in Musical Theater.
Past works in the Pace New Musicals Program include staged workshops of Factory Girls by Creighton Irons, Sean Mahoney, and Maggie-Kate Coleman; Quanah by Larry Gatlin, Anthony Dodge, Marcia Milgrom Dodge; Darling by Ryan Scott Oliver and B.T. Ryback's; Luck!, by Mark Waldrop and Brad Ross; and College: The Musical, which was later selected for a production with the New York Musical Theatre Festival where the authors, Scott Elmegreen and Drew Fornarola, won the NYMF award for Excellence In Writing (Lyrics).
Zoe Sarnak (Writer) is a composer, lyricist, and playwright. She graduated magna cum laude from Harvard University where her first show, The Quad, was produced in 2009. In addition to numerous concert/cabaret features and performances with her band, TheWD, Sarnak has written two new musicals including A Lasting Impression, and Mixtape, which will be featured in Silent Street Productions 2011/2012 season.
Amy Rogers (Director) is a tenured Associate Professor of Musical Theater at Pace University where she created the BFA Musical Theatre degree program. Originally from Canada, Amy received her degree in musical theatre from Arizona State University, and her MFA from San Diego State University. NYC directing credits include: Carousel, College: The Musical, Ragtime, The Wild Party (Lippa), Little Women and Violet. Amy has assisted director Lonny Price on Can-Can and Kismet at Encores at City Center, Candide with the New York Philharmonic and the Emmy Award winning Passion for Live at Lincoln Center.
Robert Meffe (Music Director) is a professional music director, pianist, orchestrator, and vocal coach. On Broadway he was the Associate Conductor of Little Women as well as Les Miserables for the last six years of its run. Off-Broadway: Violet, The Prince and the Pauper, and Gutenberg! The Musical!. He was the Music Director for the National Tour of The Phantom of the Opera and has played keyboards for Mamma Mia, Hairspray, Avenue Q, The 25th Annual Putnam County Spelling Bee, Grey Gardens, and Bombay Dreams. Meffe is the Director of Music for the Musical Theater Program at Pace University.
About Dyson College of Arts and Science's Performing Arts Programs at Pace University:
Undergraduate: Dyson's Performing Arts Department (PAD) offers Bachelor of Fine Arts Degrees in Acting and in Musical Theater and a Bachelor of Arts degree in Theater Arts with specialized focuses in Acting, Directing, Commercial Dance or Design/Technical Theater. On average, there are 1,000 applicants for every 100 new openings each year. PAD presents over 50 performances every year. Performance spaces range from the Michael Schimmel Center for the Arts, Schaeberle (black box) Theater, and Studio 501, home to many student-directed productions. http://www.pace.edu/dyson/academic-departments-and-programs/performing-arts
Graduate: The Actors Studio Drama School at Pace University, also located in Dyson College, is the only MFA (Acting, Directing and Playwriting) theatre program officially sanctioned by the legendary Actors Studio (co-presidents Ellen Burstyn, Harvey Keitel and Al Pacino). All MFA students participate in the Craft Seminars known to the world as the Bravo Network television series Inside The Actors Studio (taped at Pace's Schimmel Theater and open to students), hosted by James Lipton, Dean Emeritus and Co-Founder of The Actors Studio Drama School. www.Pace.edu/ASDS
About Pace University: For 105 years, Pace University has educated thinking professionals by providing high quality education for the professions on a firm base of liberal learning amid the advantages of the New York metropolitan area. A private university, Pace has campuses in New York City and Westchester County, New York, enrolling nearly 13,000 students in bachelor's, master's, and doctoral programs in its Lubin School of Business, Dyson College of Arts and Sciences, College of Health Professions, School of Education, School of Law, and Seidenberg School of Computer Science and Information Systems. www.pace.edu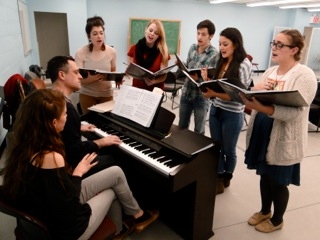 Zoe Sarnak seated at piano, with Robert Meffe (playing). Gathered around the piano, standing and singing (left to right) Krista Pioppi; Emily Thomas, Danny Quadrino, Cailan Rose; Taylor Noble

Emily Thomas; Krista Pioppi; Zoe Sarnak; Robert Meffe; Cailan Rose; Taylor Noble; Danny Quadrino