Click Here for More Articles on SHAKESPEARE SPOTLIGHT
Photo Flash: First Look at The Gallery Players' High-Voltage JULIUS CAESAR in Park Slope
The Gallery Players present a new production of William Shakespeare's JULIUS CAESAR directed by James Dean Palmer, and featuring Erin Anderson, Elyana Aronow, Patricia Black, Erin Capistrano, Russell Linzy Carpenter, Sergio Fuenzalida, David Glover, Jenny Jarnagin, Drew Ledbetter, Bibi Mama, Cory McCants, Kevin McGuire, Victoria Morales, Elisha Mudly, Philip Schneider, Griffin Sharps and Eric Ryan Swanson.
Palmer's environmental production compresses Shakespeare's story of ambition, duty and political intrigue into 16 high-voltage scenes using every corner and crevice of the 99-seat Park Slope venue. Julius Caesar begins performances tonight, July 13, 2017. This is a limited engagement through Sunday, July 30, 2017 at the Gallery Players Theatre (199 14th Street, Brooklyn, NY).
In Julius Caesar, we see how easy it is for well-intentioned patriots to let disagreement slip into bloody, civil war. Celebration of the end of a long war welcomes Julius Caesar back to the loving arms of Rome. But fear of the citizens unchecked devotion to Caesar pushes many of his closest friends to wonder how far will he go with such populist support? Those who fear tyranny and enslavement find themselves at odds with their neighbors who want security. The whole city becomes embroiled in the controversy. And after the fateful assassination on the ides of March, Marc Antony's prophecy comes to pass: "Caesar's spirit, ranging for revenge, With Ate by his side come hot from hell, Shall in these confines with a monarch's voice Cry 'Havoc!' and let slip the dogs of war."
The creative team also includes Sarice Olson (Sets), Susanne Houstle (Costumes), Kate McGee (Lights), Almeda Beynon (Sound), Ana Esposito (Fights), Myah Shein (Movement), Andrus Nichols (Voice & Text Coach), Drew Ledbetter (Associate Director), Irene Lazaridis (Production Stage Manager), Katharina Windemuth (Associate Costume Designer) and Anthony Stultz (Associate Sound Designer.)
Tickets for Julius Caesar are $25 (general admission) or $20 (seniors and children 12 & under), and are on sale now at bleedingpieceofearth.com or by calling OvationTix at 212.352-3101. Julius Caesar plays July 13 - 30, 2017, with performances Thursdays - Saturday at 7:30pm, and Sunday at 3pm.


Bibi Mama as Titinius and Erin Anerson as Cassius

David Glover as Brutus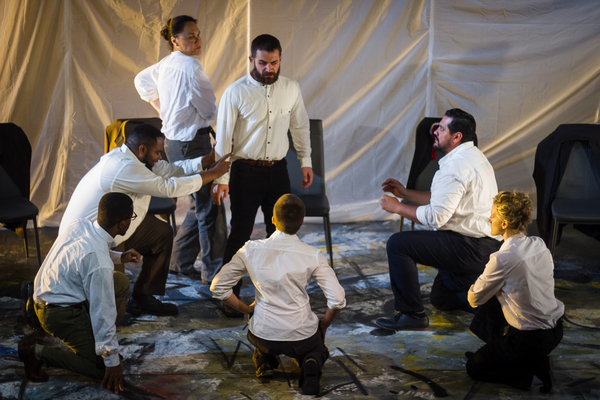 David Glover, Cory McCants, Patricia Black, Griffin Sharps, Jenny Jarnagin, Sergio Fuenzalida, Erin Anderson

Erin Anderson as Cassius and David Glover as Brutus
Related Articles
More Hot Stories For You