Photo Flash: First Look at New York Gilbert & Sullivan Players' RUDDIGORE at NYU Skirball
The New YorK Gilbert & Sullivan Players (NYGASP), America's preeminent professional Gilbert & Sullivan repertory company, continues its 40th Anniversary Season on November 1st and 2nd with the G&S spooky classic, Ruddigore featuring dark souls & curses playing for a limited Halloween weekend run at NYU Skirball Center for the Performing Arts (566 LaGuardia Place). Scroll down for a sneak peek at the cast in action!
Ruddigore will be staged & conducted by
Albert Berg
eret with choreographer & co-direction by
David Auxier
. The production will feature a set design by Albère (based on the art of
Edward Gore
y), costume designs by Gail J. Wofford and a lighting design by Benjamin Weill. Ruddigore or, the Witch's Curse: Thanks to an ancestor who loved torturing witches, the Baronet of Ruddigore is cursed - if he doesn't commit a crime every day, his life will end in agony, and the curse will be handed down to the next in line. No wonder he doesn't stick around to follow through with his destiny. In fact, the Baronet poses as timid farmer Robin Oakapple instead, leaving the title and the curse with his younger brother. But when the ghosts of Baronets past reveal themselves in the Ruddigore Castle picture gallery, he's forced out of hiding and back into the role of daily criminal. To stall his ancestors as long as he can, the Baronet comes up with silly excuses and non-criminal acts like "forging" his own will. But destiny and curses aren't the most flexible of things, so the clever Baronet must figure out a way to make everyone happy in the end, especially himself. Casting:
Sarah Caldwell
Smith will bring charm to the village's most sought after beauty, Rose Maybud. The trio of witty and agile comic singing actors (
Daniel Greenwood
,
David Macaluso
, and
Richard Holmes
) will portray the men she attracts at various moments while
Caitlin Burke
will muster a wacky flair to the scene-stealing role of Mad Margaret. Dashing bass
David Wannen
brings to life, literally, the ghost of Sir
Roderic Murgatroyd
and this season's recipient of the coveted Isaac Asimov Award,
Erika Person
, will warm everyone's heart as the sweet old lady Dame Hannah.
Family Overtures --- ticket holders for the Saturday, November 1stmatinee are invited to a free musical introduction (12:45 in the theater) and plot summary led by Artistic Director Albert Bergeret and select cast members - entertaining and informative for the entire family! Your ticket to the production is your ticket to Family Overtures!
Ruddigore, at NYU Skirball Center for the Performing Arts (566 LaGuardia Place), will play on Saturday, November 1 (2PM & 8PM)and Sunday, November 2 (3PM). Tickets prices are $89, $79, $69 & $59 with 50% off for children 12 and under (accompanied by an adult) and 10% off for seniors 65 & older. Tickets may be purchased by calling NYU Skirball Center for the Performing Arts Box office at 212-998-4941 or by visiting
www.nygasp.org
.
Photo Credit: David Sigafoose

David Wannen center portrays the ghost of Sir Roderic Murgatroyd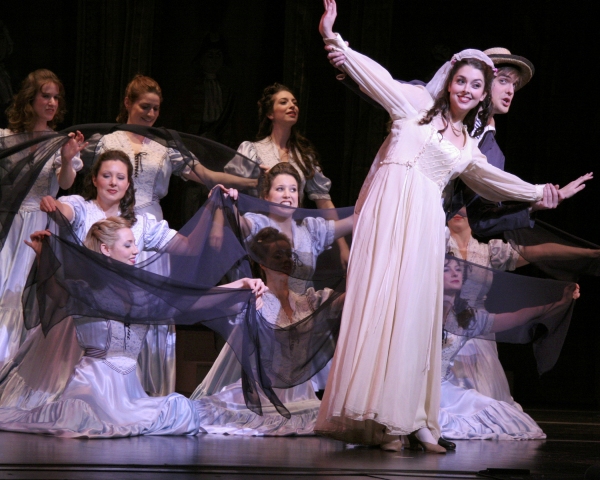 Sarah Caldwell Smith in the role of Rose Maybud and Daniel Greenwood in the role of Richard Dauntless -- sing 'Happily coupled are we' backed by the Bridesmaids Chorus

Daniel Greenwood (right) in the role of Richard Dauntless, does some fancy foot work with the Bridesmaids Chorus

Sarah Caldwell Smith, David Macaluso and Daniel Greenwood 'In sailing o'er life's ocean wide'
| | |
| --- | --- |
| Vote Now for the 2022 BroadwayWorld Off-Broadway Awards | |
| voting ends in | |