Photo Flash: First Look at Hip-Hop Theater Festival's HOW TO BREAK
In their first co-producing endeavor, HERE and the Hip-Hop Theater Festival in association with Collective Consciousness Theatre present the world premiere of How to Break, a new play fueled by human beat-boxing, breaking, popping and locking, linguistic flow and multimedia graffiti art. This production will play a limited engagement at HERE, opening tonight, October 23rd and running through November 4, 2012. Get a first look at the production in the photos below!
A collaboration between playwright Aaron Jafferis, director Christopher V. Edwards, breaking pioneers Kwikstep and Rokafella, beatboxers Adam Matta and Yako 440 and composer Rebecca Hart, How to Break tracks a socially awkward pediatric hematologist, a music therapist/yoga teacher and a nurse with a beatboxing problem, doing their best not to screw up two hospitalized teenagers, Joel and Keisha. Meanwhile, Joel – an impulsive but intuitive b-boy living with sickle cell anemia – and Keisha, a fiercely independent b-girl recently diagnosed with leukemia – chart their own course, along the way finding surprising connection and a radically new definition for what it means to be "ill."
How to Break was developed at the 2010 and 2011 Oregon Shakespeare Festival Mixing Texts convening. Further development occurred in a 2012 Critical Breaks workshop produced by HERE and the Hip-Hop Theater Festival (HHTF). This premiere is being presented as part of HERE's startHERE Program: Innovative Theatre for Young People, through which HERE presents works for youth and family audiences.
Writer Aaron Jafferis' musicals Kingdom (Richard Rodgers Award, NYMF Most Promising New Musical), Stuck Elevator (Creative Capital Award, NEFA National Theatre Pilot), Blood Magic, Shakespeare: The Remix and No Lie have been produced, presented, or developed by The Old Globe, The Public Theater, Sundance Theatre Lab, Atlantic Theater, Oregon Shakespeare Festival, and others. He was honored with the 2012 Thomas Barbour Playwright's Award for How to Break. He has written poetry for the Urban Bush Women and The Nation, and performed at the Kennedy Center and the National Poetry Slam Championships, where he is a former Open Rap Slam champion. Jafferis received a BA in Arts & Social Change from the University of California at Berkeley, studied at the Universidad Nacional Autónoma de México, and received an MFA in Musical Theatre Writing from NYU, where he was an Alberto Vilar Global Fellow in the Performing Arts. He teaches poetry and hip-hop theater in schools, hospitals, health centers, community organizations, and detention centers in his hometown of New Haven, CT.
Director Christopher V. Edwards is the Associate Artistic Director and Director of Education for the Hudson Valley Shakespeare Festival. He is the co-founder of Point of Entry Theater in NYC. He has acted in London's West End, Off-Broadway, internationally and in regional theaters. He has directed work at Capital Rep., Vermont Stage Co., Nevada Conservatory Theater, Lincoln Center's "Meet the Artists" Program, St. Michael's Playhouse, Hudson Valley Shakespeare Festival, and Oregon Shakespeare Festival. Directing credits include: Seven Guitars, I Have Before Me A Remarkable Document Given To Me By A Young Lady From Rwanda, Master Harold…and the boys, Shakespeare the Remix, The Bomb-itty of Errors, Around the World in 80 Days, Hamlet, Julius Caesar, A Winter's Tale, Macbeth and Romeo and Juliet. Originally from Las Vegas, he received his MFA from the U. of MN.
Gabriel "Kwikstep" Dionisio (choreography) is a hip-hop dancer/choreographer/director born and raised in New York City. He has won a Bessie Award for choreography, was a principal dancer in Rhythm Technicians and GhettOriginal (creators of Jam on the Groove, Off-Broadway), and established the non-profit hip-hop collective Full Circle Productions with his wife Rokafella.
New York-bred hip-hop pioneer Ana "Rokafella" Garcia (choreography) is known for her high-impact dance style and as an educator and community leader. She runs the hip-hop collective Full Circle Productions with her husband Kwikstep, and has performed around the world and in NYC (New Victory, The Apollo, BAM).
Adam Matta is a human beatboxer and vocal performance artist from New York City who fuses elements of hip-hop, rock, electronica, jazz, contemporary and Middle Eastern music. He has performed at Carnegie Hall, Madison Square Garden, Apollo Theater, Town Hall, Jazz at Lincoln Center, and many other venues around the world.
Kiriakos "Yako 440" Prodis is a musician whose sonic arsenal of human beatbox, turntables, bass, guitar, keys, and percussion has been heard on 6 continents, primarily with MC/beatboxer Baba Israel, and improvisational hip-hop theater troupes Playback NYC and Hip-Hop Commedia. He co-founded the label/Production Company Subphonik Music.
Rebecca Hart is an actor and musician based in NYC. Composing credits include: All's Well That Ends Well (2008 Public Theatre Shakespeare Lab), STRUCK (HERE Summer Sublet, Ice Factory Festival), and her solo piece Jazz Desert: the life & death of an american band (Culture Project, Druid Theatre Ireland). NY acting credits: Target Margin's Uncle Vanya (HERE), Son of a Gun (Beckett Theatre), Love Sucks (NYMF), Vendetta Chrome (Clubbed Thumb), Dead City (New Georges). Regional: Anne Washburn's A Devil at Noon (O'Neill and Humana Festival 2011), Son of a Gun (O'Neill), Anne Washburn's ORESTES (Folger & Two River Theatres), The Great Immensity (The Civilians, Kansas City Rep), Rock & Roll: The Reunion Tour (Actors Theatre of Louisville), A Midsummer Night's Dream (Stonington Opera House). Training: Maggie Flanigan Studio, Public Theatre Shakespeare Lab, Brown University.
How to Break features performances by Roberta Burke, Dan Domingues, Pedro Morilla, Amber Reauchean Williams, and Yako 440.
This production includes Set Design by Nick Vaughan, Lighting Design by Lucretia Briceno, Costume Design by Arnulfo Maldonado, and Video Design by Imaginary Media Partners. Graffiti Art is by Enrique "Part One" Torres.
Since 1993, the OBIE-winning HERE, Kristin Marting, Artistic Director and Kim Whitener, Producing Director, has been one of New York's premier arts organizations and a leader in the field of producing and presenting new, hybrid performance viewed as a seamless integration of artistic disciplines—theater, dance, music and opera, puppetry, media, visual and installation, spoken word and performance art. Standout productions include Basil Twist's Symphonie Fantastique and Arias with a Twist, Hazelle Goodman's On Edge, Trey Lyford & Geoff Sobelle's all wear bowlers, Young Jean Lee's Songs of the Dragons Flying to Heaven, Corey Dargel's Removable Parts, Taylor Mac's The Lily's Revenge and Yoav Gal's Mosheh, among many others. HERE's core program is the HERE Artist Residency Program (HARP) which commissions, develops and premieres new hybrid performances. startHERE: Innovative Theatre for Young People offers standout programming for young people as an annual highlight within HERE's season. Recognizing young people as imaginative and active participants in the performance experience, startHERE affords these audiences the opportunity to experience challenging contemporary multidisciplinary productions from top caliber artists. startHERE showcases the integration of puppetry, object theatre, multimedia and live music in dramatic storytelling, allowing younger audiences, primarily tweens and up, access to the latest trends in the performing arts. At the same time, parents – many of whom may have attended HERE in the past – enjoy the series' inventive original productions as much as their kids. startHERE launched with Sofie Krog Teater's DIVA in 2009. Since then, the program has delivered outstanding productions including Aunt Leaf, written by Barbara Wiechmann and directed by Jeffrey Mousseau, and 2010's Sleeping Beauty by internationally celebrated artist Colette Garrigan.
Hip-Hop Theater Festival (HHTF)'s goal is to elevate hip-hop theater into a widely recognized genre by empowering artists to develop new works and build coalitions with artists and institutions around the world, while presenting high caliber live theater written by and about the hip-hop generation. Over the past decade, Hip-Hop Theater Festival has earned international recognition as one the most influential outlets showcasing hip-hop performing arts. Since its inception, HHTF has presented hundreds of artists including: Danny Hoch, Aya de Leon, Baba Israel, Kristina Wong, Marc Bamuthi Joseph, Liza Colon Zayas, Chad Boseman, Ase Dance Theater Collective, The Suicide Kings, Rha Goddess, Kris Diaz, Ben Snyder, Holly Bass, Jerry Quickley, Sarah Jones, Will Power, Alan Ket, Enrique PART ONE Torres, Jennifer Armas, olive Dance Theatre, Ishle Park, The Beatnuts, The Roots, Common, Kanye West, Rubberbandance Company, Kelly Zen-Yi Tsai, Rennie Harris Puremovement, Nilaja Sun, Frank Ejara, Eisa Davis, Niels Storm, Rabitsky, Psalmayen 24, Universes, J. Kyle Manzay, and many more.
Collective Consciousness Theatre is a multicultural theater company based in New Haven, CT, dedicated to social change through the art of live theater. Led by Executive Director Dexter Singleton, the company has six productions available to tour year-round to schools, youth facilities, prisons, communities, and theaters across the country. Each production has a study guide, and can be enhanced with a workshop or residency.
For scheduling, tickets and more information, visit www.here.org.
Photo Credit: Benjamin Heller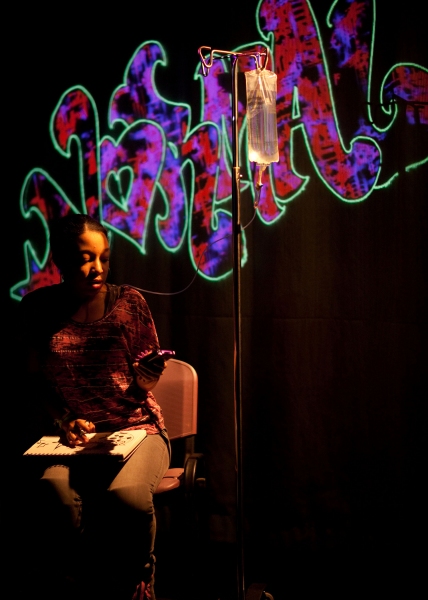 Amber Williams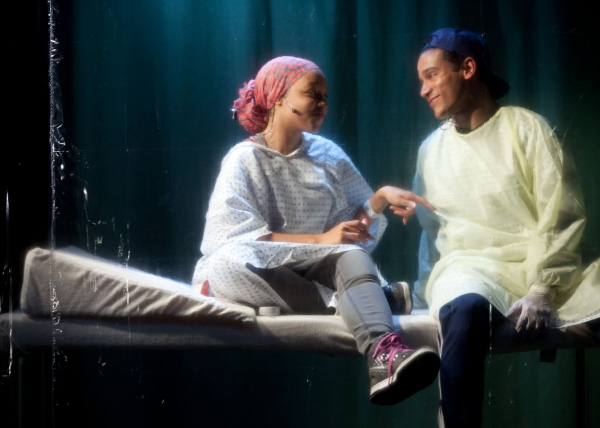 Amber Williams and Pedro Morillo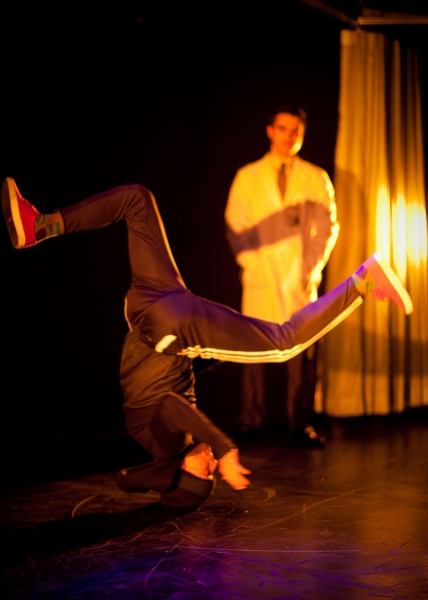 Dan Domingues and Pedro Morillo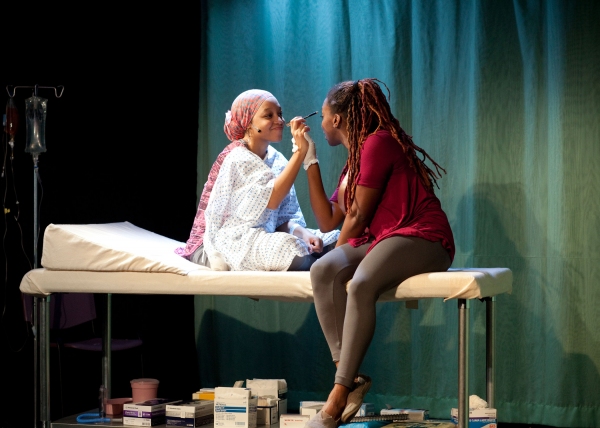 Amber Williams and Roberta Burke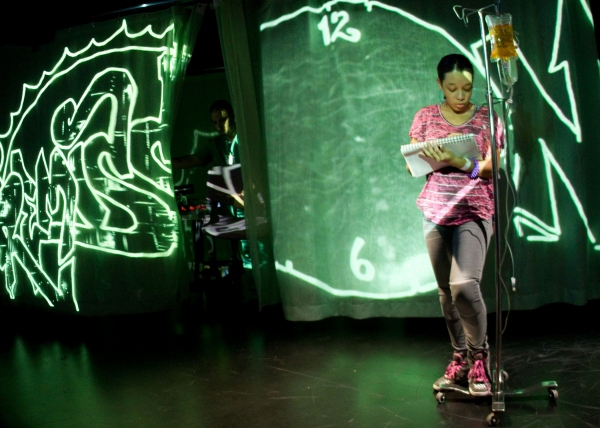 Amber Williams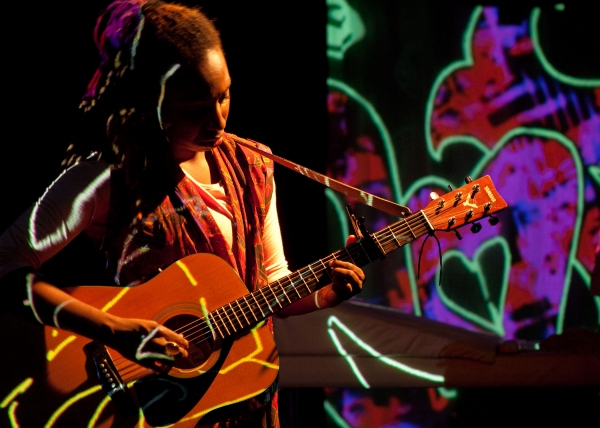 Roberta Burke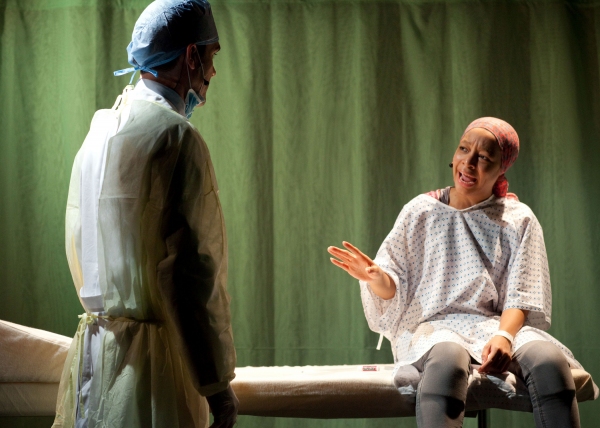 Dan Domingues and Amber Williams

Related Articles View More Off-Off-Broadway

Stories

Shows
More Hot Stories For You