Photo Flash: Female/genderqueer Shakespeare Adaptation R+J Premieres
Hypokrit Theatre Company and Access Theater present R + J, a female/genderqueer adaptation of Shakespeare's classic Romeo and Juliet. Adapted and directed by Molly Houlahan featuring a diverse cast of 6 women/ gender-nonconforming actors playing all of the roles, runs through October 14 at Access Theater in Tribeca.
R + J is set in a not-too-distant future in a society that has been purged of cisgender men. It's 50 years past the extermination of the male sex and the government is still relying on martial law for order amongst the factions. The Montagues, the militaristic warmongers who executed the extermination, and The Capulets, the controllers of information and media, fight to regain dominance against the tightening grip of the Sovereign State. In this world of turmoil, the heirs of each faction stumble upon each other and fall in unexpected, passionate love.
Molly Houlahan's R + J examines what happens when a new society relies upon the patriarchal structures of the past. Can a better world truly be reimagined anew if it relies on old systems of power, money, and love? Houlahan uses Romeo and Juliet to explore mainstream feminism and those who are in danger of being left behind in its wake. R + J stars Charlie Aleman as Romeo and Briana Sakamoto as Juliet with Jillian Geurts, Chelsea Fryer, Ania Upstill, and
Tsebiyah Mishael
. The production team includes Marisa Kaugars (set), Dallas Estes (lighting),
Lux Haac
(costumes), Renee Yeong (sound design) and Madeleine Goldsmith (line producer). The cast and crew are 100% women or gender non-conforming, 62% queer, and 50% are people of color. Molly Houlahan is a queer theatermaker and director. Her directorial work has been featured at The Araca Project, Castillo Theater, the Habitat, NYTW's
Jonathan Larson
Lab, TinyRhino, and The New York International Fringe Festival. Past assistant directing credits include: Songs For A New World (Encores! NYCC), Sweat (The Public,
Arena Stage
, Oregon Shakespeare Festival), For Peter Pan on Her 70th Birthday (
Playwrights Horizons
, Berkeley Rep), Latin History for Morons starring
John Leguizamo
(Berkeley Rep),
Daniel Sullivan
's Macbeth starring
Frances McDormand
(Berkeley Rep),
Mary Zimmerman
's Treasure Island (Berkeley Rep), and Pirates of Penzance (Berkeley Rep). A graduate of Yale University, she has worked with companies including The Public, Berkeley Rep, and Steppenwolf.
www.mollyhoulahan.com
Congressional Award winning Hypokrit Theatre Company's mission is to encourage artistic inquiry by providing artists from underrepresented voices and minority communities a platform for their voices and work. Hypokrit is entirely run by and dedicated to members of minority communities: people of color, the LGBTQ community, women, and TGNC folks. Hypokrit combines a dedication to new work with a passion for reimagining classics of the past. In the 2018-2019 Season, Hypokrit is featuring three main stages and a new play festival. Tamasha, Hypokrit's South Asian Performing Arts Festvial, this year is featuring nine female identifying South Asian playwrights. Their new work is produced in collaboration with theater companies around New York including The Public,
Playwrights Horizons
, and
New York Theater
Workshop. Tamasha also featured a sold-out weekend of music and comedy hosted by
Danny Pudi
("Community") and
Parvesh Cheena
("Outsourced") at
Lincoln Center Theater
/ LCT3. The spring mainstage Eh Dah?: Questions for my Father at Hypokrit will be mounted at
New York Theater
Workshop as a part of the Next Door Series. Hypokrit is also proud to be the 2018-2019 Domestic Partner of WP Theater.
www.hypokritnyc.org
Since 1992, Access Theater has been a home to New York City's leading downtown artists. It's 26-year history is rich with the early works of then-unknown theater artists, including
Stephen Belber
,
Brian Dykstra
,
Tom McCarthy
,
Peter Dinklage
,
Amy Redford
,
Aasif Mandvi
,
Michael Hollinger
,
David Foley
, and Bedlam. Access supports emerging artists through our curated and subsidized rental program, the Access Association Series, and the Access Residency Program, which provides an artistic home for ten companies and artists annually. Access Theater leadership includes Jacqueline Christy (Executive Director), Taylor Norton (Artistic Director), and Chris Phan (Technical Director). The artistic community of Access Theater is grateful to have benefitted from the support of the New York Department of Cultural Affairs and the Broadway Green Alliance.
www.AccessTheater.com
R + J runs through October 14, Thursday - Sunday at 8pm. (Note: October 14 is at 3 PM.) Access Theater is located at
380 Broadway
at White Street -- accessible from the A/C/E/N/Q/R/6 trains at Canal Street or the 1 train at Franklin. Tickets are $35, available at
www.hypokritnyc.org
.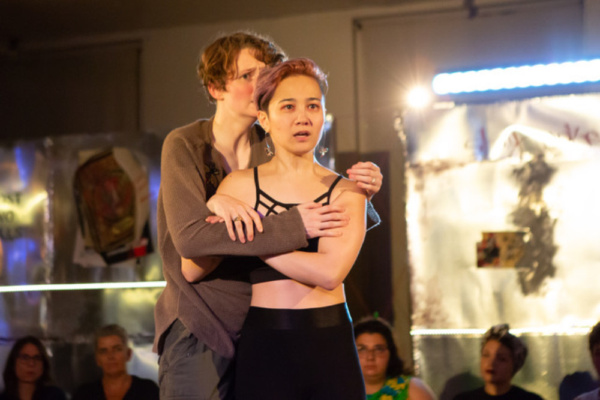 Charlie Aleman & Briana Sakamoto in R+J. Photo by Hunter Canning.

Chelsea Fryer & Tsebiyah Mishael in R+J. Photo by Hunter Canning.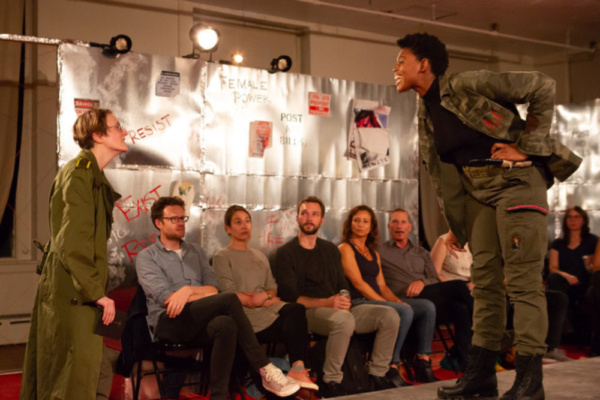 Charlie Aleman & Chelsea Fryer in R+J. Photo by Hunter Canning.

Ania Upstill & Chelsea Fryer in R+J. Photo by Hunter Canning.

Briana Sakamoto & Charlie Aleman in R+J. Photo by Hunter Canning.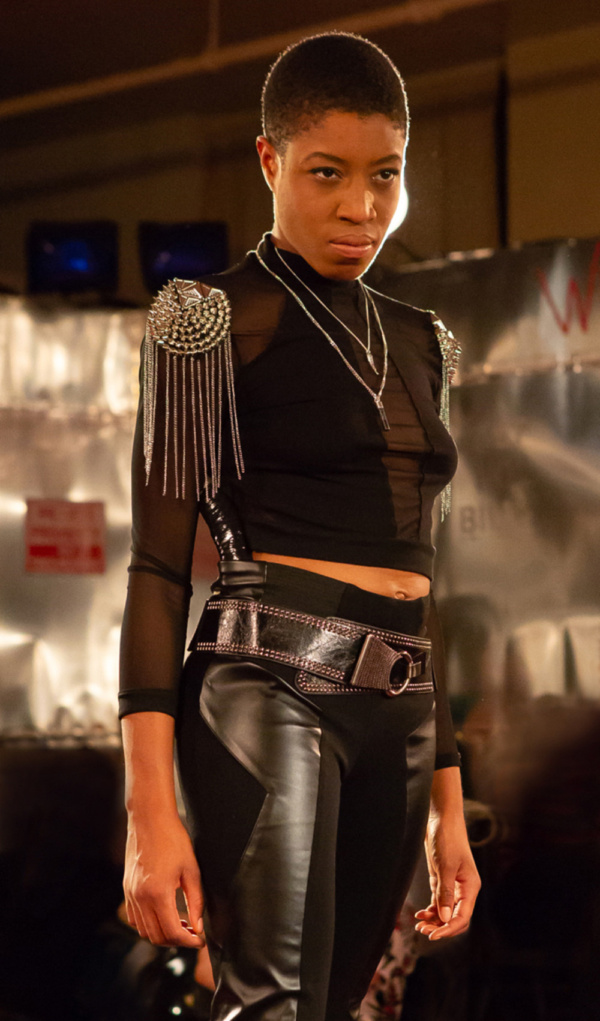 Tsebiyah Mishael in R+J. Photo by Hunter Canning.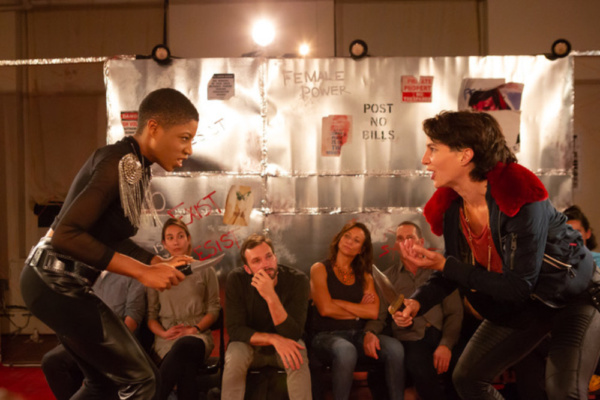 Tsebiyah Mishael & Ania Upstill in R+J. Photo by Hunter Canning.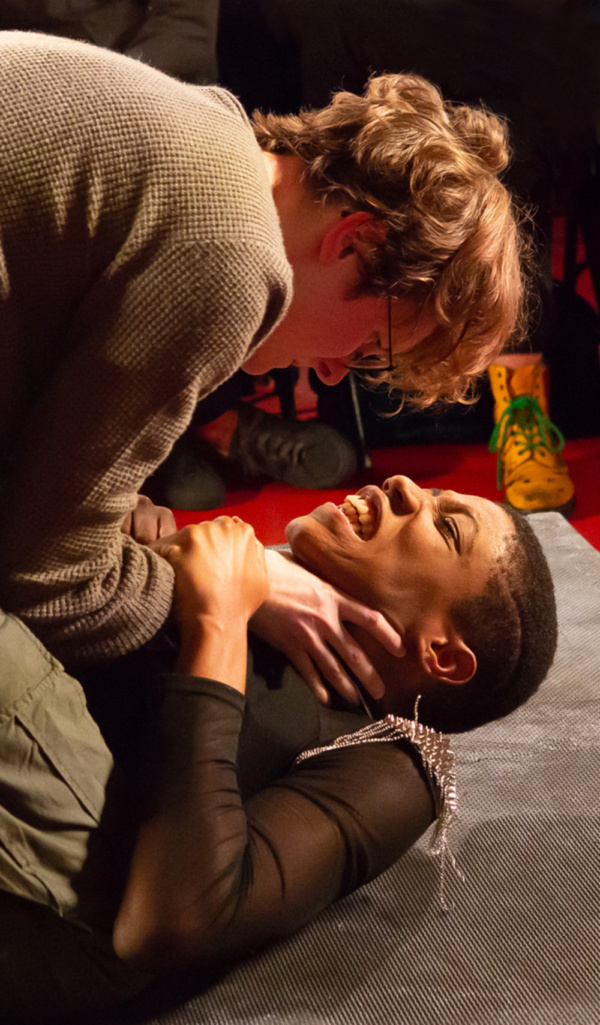 Charlie Aleman & Tsebiyah Mishael in R+J. Photo by Hunter Canning.

Jillian Geurts & Briana Sakamoto in R+J. Photo by Hunter Canning.
More Hot Stories For You