POETIC LICENSE: RENEWAL, The 9th Annual Festival Of New Poetic Theater, is Coming To The Wild Project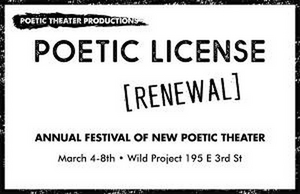 Poetic Theater Productions has announced their annual festival of new poetic theater, Poetic License: Renewal. In honor of a new decade, and in celebration of 10 years of poetic theater, this year's festival will feature live performances from Wednesday, March 4th through Sunday, March 8th at the Wild Project, located at 195 East 3rd Street. The 2020 Poetic License festival will highlight poetry and theatrical collaborations that place an emphasis on this year's theme - renewal - evoking that which makes us new, fresh, or strong again.
The Poetic License festival begins on Wednesday, March 4th at 8:00pm with PTP's 8th annual showcase of queer poetic theater, Breaking Our Silence: Shaping Our Future. Inspired by the legacies of queer artists and activists of the past, these bold new works answer the question of what these artists want the future of queer art and queer liberation to look like. Featuring new poetic short works written by Mickey Bolmer, Maya N. Carter, Mika Kauffman, Janelle Lawrence, and Maurisa Li-A-Ping and poetry by Joanna Hoffman and Lynae DePriest AKA "Thoughtress", the showcase envisions a path to dismantling cisnormative, heteronormative, white supremacist structures.
Friday, March 6th at 8:00pm will feature The Brobot Adventure: Wrath of the Wackness, presented in association with Hi-ARTS. The Brobot Adventure, written and performed by Darian Dauchan, is a follow up show to the New York Times Critics' Pick The Brobot Johnson Experience. The Brobot Adventure follows the alien Hip Hop android Flobot Owens, legendary Brobot MC, as he "abducts" an audience of humans from Earth for a Sci Fi Hip Hop dance party to eradicate the wacknesss that's slowly plaguing his planet. The piece includes intricate live looping that combines verses with beatboxing, vocal melodies, and sound effects while mixing socially conscious lyrics in the genres of Hip Hop, Afrofuturism, and Afrobeat. Developed through Hi-ARTS' Critical Breaks residency, this performance of The Brobot Adventure will also feature guest artist Craig 'muMs' Grant (HBO's Oz).
Poetic License: Renewal continues on Saturday, March 7th at 2:00PM with Veteran Voices, co-curated by veterans J.A. Moad II and Jenny Pacanowski, and producers Jeremy Karafin and Ellen Mischinski. Poetic Theater Productions' 5th annual showcase of original work by veterans, Veteran Voices calls upon the traditions of past warrior cultures such as the Greeks, Romans, and Native Americans, who welcomed their military home in rituals of storytelling. Reviving these practices, military veteran artists take the stage to share their stories and experiences in a way that is both healing and informs others, sharing the moral burden of war. Following the showcase, Moad and Pacanowski will lead post show discussion on the movement to support existing and new programming in New York which highlights veteran voices.
Saturday, March 7th at 8:00PM is Poetic Lyricism: Body Language, co-presented with Musical Theatre Factory, featuring new collaborations merging poetry, music, and choreography. Poetic Lyricism explores the intersection of poetry and musical theater, and serves as an experimental lab for developing new work. Artists will present short devised pieces set to live music in an environment that supports and enhances collaboration as well as the lyrical possibilities of spoken word and body.
Poetic License will conclude with Generation NOW! on Sunday, March 8th at 2:00pm. The performance will feature performances by Developing Artists' Ensemble, Urban Word NYC, Girl Be Heard, viBE Theater Experience, Co-op Theatre East Youth Ensemble, EarSay Youth Voices, Climate Museum, and City Lore Urban Explorers. These organizations provide youth with spaces of empowerment through engaging with poetic performance. This showcase seeks to amplify the voices of youth as they navigate their relationship with various communities and reckon with the realities of a politically turbulent world. In doing so, these performances vocalize a spirit of youth collaboration that rebels against structures that render youth voiceless in everyday life.
Throughout the week, the Wild Project will feature an art gallery exploring the theme of renewal from visual artists Jennie West, Jacqui Martinez, Brys Peralta Grant, Daniel Marcellus Givens, Ada Reso, and Ruben.
Tickets can be purchased at www.poetictheater.com/upcoming-events/.
Poetic License: RENEWAL is produced by Jeremy Karafin and Ellen Mischinski with associate producing by Julian Sky, marketing by Garrett Gray and Becca Travis, with graphic design by Sean Devare. Festival projection designers are Lisa Renkel and Brian Paccelli, lighting design by Christina Tang, and technical direction by Ori Bensimhon.