New York Live Arts Presents Remount of Kaneza Schaal's JACK Accompanied By Premiere Of New Companion Installation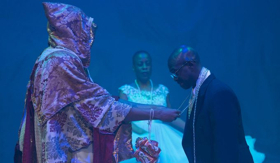 New York Live Arts (Live Arts) to present the world premiere of Kaneza Schaal's installation The Cotillion with the remount of JACK &, April 17-20 & 24-27, 2019, having commissioned the works as part of the Live Feed Residency Program. JACK & returns to NYC after its sold out run in BAM's Next Wave Festival. JACK & is a theatrical performance considering reentry into society after prison, featuring actor Cornell Alston with text and design from artist Christopher Myers. The Cotillion, a companion piece to JACK &, is a multi-channel audio and video installation in Live Arts lobby, and a post-show on-stage experience exploring ceremonial entrances into society, such as debutante balls and rituals that welcome ancestors back into communities.
JACK & is a performance that considers the metric-less damages of being in prison; not the time one has served but the measure of one's dreaming that is given to the state. The performance explores markers of transition and transformation, and draws on aspirational class stories like those in The Honeymooners and Amos & Andy; the paintings of Agnes Martin, Ellen Gallagher and Ruth Azawa; tigers in Harlem; John Canoe traditions, and the mirroring and mimicry found in African American dance pageantry of the late 19th Century. The main character "Jack" whirls through a dance - part dream, part ritual - re-entering his own internal life.
Framing the theatrical show is Schaal's new pre and post show companion installation The Cotillion. When arriving to Live Arts lobby, audience members enter a video installation designed by Christopher Myers. Quilting the walls with murals of imagery that provide a glimpse into the technique with which JACK & and its lexicons were developed, the installation features storytelling, dream sequences and portraits, and live vocal performances. The installation continues after the performance with a post-show invitation for the audience to join on stage for a cake reception.
The performances at New York Live Arts theater feature performers Cornell Alston, Modesto Flako Jimenez, Stacey Robinson and live sound design by Rucyl Frison. Directed by Kaneza Schaal, with text and design by Christopher Myers.
Performances of JACK & with The Cotillion take place at New York Live Arts (219 West 19th St New York, NY 10011) April 17, 18, 19, 20, 24, 25, 26, and 27, at 7:30pm. Tickets start at $15/$25 and can be purchased here. The running time is approximately 75 minutes.
The Live Feed creative residency program is a laboratory for the development of new commissioned work directed toward the Live Arts theater. The Live Feed program is supported in part by the Rockefeller Brothers Fund National Endowment for the Arts, New York City Department of Cultural Affairs, and Partners for New Performance.
JACK & is a project of Creative Capital, the New England Foundation for the Arts' National Theater Project, and The Map Fund, supported by the Doris Duke Charitable Foundation and the Andrew W. Mellon Foundation; a National Performance Network (NPN) Creation Fund Project co-commissioned by the Contemporary Arts Center (Cincinnati) in partnership with On the Boards (Seattle), Portland Institute for Contemporary Art, Walker Art Center (Minneapolis), REDCAT (Los Angeles), and NPN; a commission by Hartford Stage through the Aetna New Voices Fellowship; and with support from BRIClab, the Baryshnikov Arts Center, the Center for Performance Research, Foundation for Contemporary Arts Emergency Grant, LUMBERYARD Center for Film and Performing Arts, and New York Live Arts.
Located in the heart of Chelsea in New York City, New York Live Arts produces and presents dance, music and theater performances in its 20,000 square-foot home, including a 184-seat theater and two 1,200 square-foot studios. New York Live Arts offers an extensive range of participatory programs for adults and young people; it supports the continuing professional development of performing artists. New York Live Arts serves as home base for the
Bill T. Jones
/Arnie Zane Company; it is the company's sole producer, providing support and the environment to originate innovative and challenging new work for the Company and New York's creative community.
Photo Credit: Nathan Keay