Metropolitan Playhouse Opens Arthur Kopit's INDIANS Tonight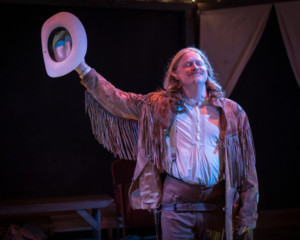 Arthur Kopit's 1968 critically-acclaimed play INDIANS opens tonight at the Obie Award winning Metropolitan Playhouse. Staged by Artistic Director Alex Roe, performances continue through December 16 at Metropolitan Playhouse at 220 E. 4th Street, New York City.
Tickets are $30 general; $25 students/seniors; $10 children, and may be purchased online at www.metropolitanplayhouse.org/tickets or by phone 800.838.3006.
From 1968, the story of 19th Century European Americans' settlement of western North America and displacement and confinement of the Native American population, as well as its subsequent mythologizing of that time...and told as a Wild West Show starring none other than Buffalo Bill Cody! Written as a protesting inquiry into the Vietnam War, Indians resonates anew with today's confrontations between cultures foreign and domestic. "One of the most theatrical evenings of contemporary American drama... moves daringly and adventurously through the mists and myths of the past, to bring us face to face with History" (Philadelphia Bulletin)
Arthur Kopit is the author of the plays Oh Dad, Poor Dad, Mamma's Hung You in the Closet and I'm Feelin' So Sad; Indians (Tony Nominee, Finalist for Pulitzer Prize); Wings (Tony Nominee, Finalist for Pulitzer Prize); End of the World, with Symposium to Follow; a new translation of Ibsen's Ghosts; the book for the musicals Nine and Phantom (both with scores by Maury Yeston); the book for the musical High Society; Road to Nirvana; BecauseHeCan (originally entitled Y2K); A Dram of Drummhicit (written with Anton Dudley); and numerous one act plays. Mr. Kopit is a member of the Dramatists Guild and the Lark Play Development Center, where he heads the Lark Playwrights' Workshop.
The cast of Indians features Joe Candelora, Jef Canter, Thomas Daniels, Jamahl Garrison-Lowe, Michael Hardart, Charles Jeffries, Ron Moreno, David Logan Rankin, Jay Romero, Anthony Simone and Erin Leigh Schmoyer. Costumes by NYIT Award winner Sidney Fortner, set design is by Michael LeBron, lighting design by Patrick Mahaney, sound design by Jacob Subotnick, with choreography by Rachael Kosch.
METROPOLITAN PLAYHOUSE explores America's theatrical heritage through forgotten plays of the past and new plays of American historical and cultural moment. Now in its 26th season, the theater received a 2011 OBIE Grant from The Village Voice for its ongoing productions that illuminate who we are by revealing where we have come from. Called an "indispensable East Village institution" by nytheatre.com and "invaluable" by Back Stage, Metropolitan has earned accolades from The New York Times, The Village Voice, and The New Yorker. Other awards include Outstanding Performing Arts Group from the Victorian Society New York, and 18 nominations for NYIT Awards since 2010, with winners Lenore Wolf for short script, Sidney Fortner for costumes, Frank Anderson for lead actor. Recent productions include THE CLIMBERS , ON STRIVERS ROW, LEAH, THE FORSAKEN, END OF SUMMER, O'NEILL (Unexpected), WALK HARD, ALISON'S HOUSE, INJUNCTION GRANTED, THE MAN OF THE HOUR, ICEBOUND, WITHIN THE LAW, THE HERO, A MAN'S WORLD, BOTH YOUR HOUSES, THE HOUSE OF MIRTH, DEEP ARE THE ROOTS, THE JAZZ SINGER, ONE-THIRD OF A NATION, UNCLE TOM'S CABIN, and DODSWORTH, as well as the Alphabet City and East Village Chronicles series.
Performance Schedule:
Nov. 26 - 3pm
Nov. 29 - 3pm
Nov. 30 - 7:30pm
Dec. 1 - 7:30pm
Dec. 2 - 3pm & 7:30pm
Dec. 3 - 3pm
Dec. 6 - 3pm
Dec. 7 - 7:30pm
Dec. 8 - 7:30pm
Dec. 9 - 3pm & 7:30pm
Dec. 10 - 3pm
Dec. 13 - 3pm
Dec. 14 - 7:30pm
Dec. 15 -7:30pm
Dec. 16 - 3pm & 7:30pm