Italians Do It Tastier: CIAO BAMBINO-THE MUSICAL Is Back, Starring Italian American Actor Andrea Galata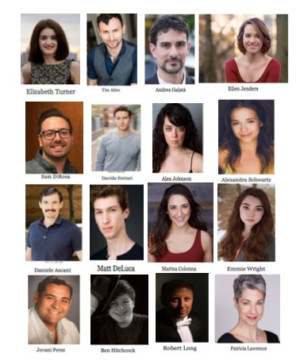 "It feels good to be Italian... I want to be in Italy"... and who can take you there better than an Italian actor like Andrea Galata? Music, fun, love and family matters - that is Ciao Bambino - The Musical, debuting April 8th at the 13th Street repertory Theatre with three dates that already sold out.
Awarded as "Best Staged Reading" at the 2016 Midtown International Theatre Festival in New York City, Ciao Bambino is an original play by Liz Turner with music composed by Andreas Haberlin, the story of Elizabetta, an Italian girl coming to New York City. Love, dreams and the pursuit of a better life are at the center of the story of this young girl (played by Turner herself), who, through the support of her family (uncle Salvatore, played by Galata, and aunt Giuseppa, Ellen Jenders) and the love of the community growing around her, Elizabetta will find love, happiness and a way to fully live her passion for music in the Big Apple.
Ciao Bambino, a new 1950's Italian-American Musical, is an original family-friendly show filled with the sounds of the Mediterranean, to celebrate and acknowledge the accomplishments and struggles of Italian-Americans and their path to a new life in New York City during the 1950's.
Written and Composed by: Elizabeth Turner and Vince Pelligrino
Director: Vince Pelligrino
Musical Director: Andreas Haberlin
Set Designer: Joshua Warner
Costume Designer: Jessa Raye Court
Lighting Designer: Allison Hohman
Hair/makeup: Erica Sorum
Associate producer: Andrea Marano
Produced by EAT Creations, LLC.
Cast: Elizabeth Turner, Andrea Galata, Ellen Jenders, Tim Allen, Sam DiRosa, Davide Ferrari, Bob Long, Daniele Ascani, Patricia Lawrence, Alex Johnson, Alexandra Schwartz, Marina Colonna, Emmie Wright, Jovani Perez, Benjamin Hitchcock.