Hudson Warehouse Presents THE MERRY WIVES OF WINDSOR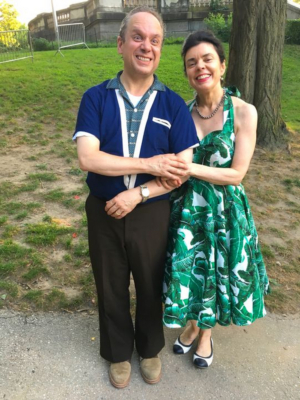 For Hudson Warehouse's 16th Season, they presenting a very unique adaptation of The Merry Wives of Windsor. This production is set in the 1960's at The Windsor Resort, a tourist hotel in the Borscht Belt of the Catskills.
At The Windsor Resort, you're either a guest or the help. In either case, drama and hilarity follows. The Director and Producing Artistic Director of Hudson Warehouse, Nicholas Martin-Smith, says, "Growing up in Upstate New York, I learned the names of all the resorts of the "Borscht Belt" when my family took our yearly vacations. Passing the signs, I became so familiar with each resort and hotel in the Catskill region. Later, I discovered what a haven the resorts were."
Susane Lee, Executive Director of Hudson Warehouse, adds, "What Nicholas has done with the production is simply delightful. By setting it in the early '60's, amid all the sitcoms and variety shows, he is able to highlight Shakespeare's farcical elements that really set Merry Wives apart from his other comedies."
Within this world, to have the head of housekeeping be Mistress Quickly (Rosie Mahon) who is in everyone's business, and Peter Simple (Matt Mezzacappa) as the Concierge who basically finds himself at the wrong place at the wrong time, and Jack Rugby (Justin Scymanski) a bellhop? It all really works within the context of Shakespeare's play.
"And within this world," Ms. Lee continues, "it only makes sense that Sir John Falstaff is the entertainment."
Comedian Sir John Falstaff is the center of all the action. Who wouldn't want a "Knight on the Town" with Alice Ford and Margaret Page?
Company Member Roxann Kramer plays Mistress Alice Ford. She and her best friend, Mistress Meg Page (Lisa LaGrande) conspire to humiliate Falstaff (Roger Stude) who dares attempt to seduce both of them. Roxann says, "Merry Wives of Windsor is a play that focuses on the strong friendship between two determined women, who take matters into their own hands. It's a play with heart, humor and bold female characters. It may be a man's world, but you wouldn't know it in Windsor!"
Her husband, Master Francis Ford, is played by Greg Horton, who was last seen as Benedick in Hudson Warehouse's very funny and successful Much Ado About Nothing. Greg's turn as Master Ford and Mr. Brook is both hilarious and touching. Master Ford's best friend is Master Page (Bruce Barton) who tries to reason with him out of his jealousies of Falstaff. A player and ladies' man at the resort is Falstaff's manager, Pistol (Hunter Rothstein) who also enjoys fooling Falstaff.
Amid the drama of the Windsor Wives and Falstaff is Anne Page (Patrina Caruana), daughter of Master and Mistress Page. Anne has three suitors: her father's favorite, Slender, Esquire (Ryan Cooper); her mother's favorite: Dr. Caius (Christopher Elia), and Fenton (Linda Elizabeth). Fenton loves Anne truly, but their relationship is deeply frowned upon by Anne's parents.
Behind the scenes, Sir Hugh Evans (Ryan Knight) plays matchmaker, trying to marry Slender to Anne Page, knowing how much money is involved. Rounding out the staff at the Windsor resort is Robin (Azumi Tsutsui), the resort staff drafted to being everyone's messenger.
Falstaff's dreams of seducing the Merry Wives of the Windsor Resort leads him into the woods for one last romantic rendezvous - and what ensues is a night of mistaken identities, more drama, and true love winning the day.
Nicholas adds, "Having Fenton being played by a woman was a take I really loved exploring. I cast two women who had worked with each other more than once and had already a built-in trust. I knew they were so comfortable with each other that their chemistry on-stage would be palpable. So, in the end, the two suitors end up with boys and these two women become the Merry Wives of Windsor."
The Merry Wives of Windsor, Written William Shakespeare. Directed by Nicholas Martin-Smith.
The Merry Wives of Windsor previews on August 1st, and opens on August 2nd. Performances are August 1st - 25th, Thursdays - Sundays at 6:30pm at The Soldiers' and Sailors' Monument on West 89th and Riverside Drive. Performances are on the north patio, behind the monument. All performances are "Pay What You Can," with a basket being passed at the end of each show. There are no tickets; just show up and grab a seat on the benches or steps of the monument. It is strongly suggested that you arrive no later than 6:15pm.
Performances are wheelchair accessible. Please email hudsonwarehouse89@gmail.com to request a wheelchair spot reservation.
Photo Credit: Susane Lee

Related Articles View More Off-Off-Broadway

Stories

Shows
More Hot Stories For You