Hedgepig Ensemble Theatre Presents Friedrich Schiller's MARY STUART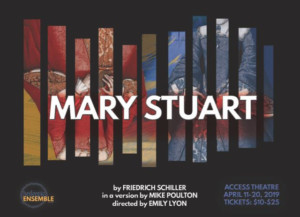 Hedgepig Ensemble Theatre celebrates female leadership with Schiller's classic, Mary Stuart, in a version by Mike Poulton, April 11th-20th at The Access Theater in Manhattan.
After successful runs of Shakespeare's All's Well that Ends Well and Mary Zimmerman's The Secret in the Wings, Hedgepig returns with a timely drama about powerful women and the men that doubt them.
Director, Emily Lyon, says, "as more candidates join the field for the 2020 election, we hear the refrain, 'I'm ready for a woman president...but not that woman.' The narrative of Mary Stuart-set more than 400 years earlier-is much the same as two powerful female leaders from history are challenged to prove their worth. I'm interested in exploring these judgments and how it affected female leader then and still affects them now."
"Often strong opinion holds mastery over justice." -Mary Stuart
Hedgepig will host pre-show panels on topics ranging from the unique judgments imposed on female leaders to tips on being the best ally of the feminist movement. Dates and panelists to be announced shortly.
Hedgepig's ensemble of actors are the foundation of the cast with Olivia Williamson*+ as Queen Elizabeth, Mary Candler*+ as Mary Stuart, Thomas Valdez+ as Mortimer, and Jory Murphy+ as Davison. Guest artists include Debra Lass* as Hannah Kennedy, Jason Guy* as Paulet, Greg Carere as Leicester, Zia Lawrence as Margaret, Atticus Cain* as Shrewsbury, and Mark Weatherup Jr.* as Burghley.
The production team includes Emily Lyon+ (director), Lauren Jackson (stage manager), Andy Baldeschwiler*+ (dramaturg), Mike Magliocca*+ (fight director), Somie Pak (costume design), Charlotte McPherson (lighting design), Mike Mroch (scenic/property design), Carsen Joenk (sound design), Monica Furman (associate producer), Mary Candler*+ (producer), Glory Walsh (assistant stage manager).
Hedgepig Ensemble Theatre
Mary Stuart by Friedrich Schiller, in a version by Mike Poulton
The Access Theater, 380 Broadway, 4th Floor, New York, NY 10013
April 11-20, 2019
Tickets available at bit.ly/HedgepigMaryStuart (case sensitive)
Information about Hedgepig: hedgepigensemble.org/
Performance Times: 4/11 at 8PM, 4/12 at 8PM, 4/13 at 8 PM, 4/14 at 2 PM, 4/17 at 8 PM, 4/18 at 8 PM, 4/19 at 8 PM, 4/20 at 2 PM, 4/20 at 8 PM
Founded in 2012, Hedgepig Ensemble Theatre elevates the voices of womxn by reimagining the classics. By investing in the growth of our artists, we nurture an inclusive and collaborative community that creates artistically excellent work.
+member of Hedgepig's ensemble
*appearing courtesy of Actors' Equity Association