FASTER THAN SHADOWS Premieres In August with NYSummerFest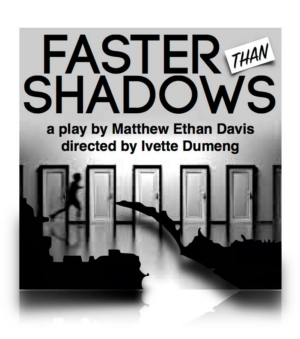 Matthew Ethan Davis, who kept them laughing a month ago with Sleep At Your Own Risk, now scares us with Faster Than Shadows, directed by Ivette Dumeng and featuring Meghan E. Jones, Alfredo Diaz and Bryan James Hamilton; with lighting by Gilbert Pearto and sound by Bryan James Hamilton. A featured event at NYSummerFest, the play performs at the Hudson Guild Theatre, 441 West 26th Street, between 9th & 10th Avenues on August 27 @ 9:00 p.m. August 28 @ 6:15 p.m., and August 31 @ 4:00 p.m.
Tickets at https://www.brownpapertickets.com/event/4242357.
Davis' thriller introduces us to Olivia - a beautiful young business woman who thinks she has pulled her life all together ... until someone from her dark past comes knocking at her door ... literally. Gideon, an old romance - more like a sexual obsession - returns. He brings with him a homeless youth named Tyler. Olivia may have gotten passed her issues but Tyler hasn't gotten past his. He traps her in her own apartment, terrorizing her for rejecting his advances. What must she do to save her life and what effect does that have on her own sanity?
Matthew Ethan Davis (Playwright), Productions include; Dangerous Walk, NY Theatre Fes., dir. & co-produced by Gerald vanHeerden. Sleep At Your Own Risk, The International Solo Fes., & published, The Queerly Theatre Fes., The Midtown International Theatre Festival, and Falling Awake, (Nominated for Most Outstanding New Play.) Eddie, Ticket to Eternity, NY Fringe Fes., all co-produced by T2E.
Meghan E. Jones (Olivia) is an actor and playwright from the Show-Me State. Her NYC/Regional theatre credits include Helen Jones in Machinal, Annie in The Real Thing, Fifi in John Patrick Shanley's The Big Funk (presented by Nylon Fusion Theater Company), Kate in the Shelter's Red Room (NYIT Nom for Best Actress) and Edna Pontellier in Ugly Rhino's critically acclaimed original adaptation of the Kate Chopin novel, The Awakening. In addition to the stage, Meghan can be seen in numerous national and international commercials, short films, including the award winning Notes From the Acrid Plain, and the recent feature, Only Fear of Death. She would like to thank her family at the Shelter for keeping the fire burning bright.
Alfredo Diaz (Gideon) - Alfredo Diaz is an actor and a writer born in Jersey City, New Jersey. He spent his childhood in Puerto Rico with his grandmother where he became a storyteller and lover of all art forms. Some of his Television credits include: Power on Starz, The Affair on Showtime, All My Children, in the role of Vlad, and The Following on FOX. He also loves theater and film. His play I Saved a Sewer Rat made its debut at The Barrow Group Theater in 2012. He also played 'Jerry' in a special off Broadway production of At Home At The Zoo and his most recent film credit is from an award winning indie film called Lucky where he plays Fernando the leader of an underground organization. (Mr. Diaz appears courtesy of Actors Equity Association)
Bryan James Hamilton (Tyler) is a graduate of The Neighborhood Playhouse. Recently appeared on Bull on CBS. David Jones in Psycho Analysis. Theater: Sinead in Leviticus by Mandi Riggi (59E59, Edinburgh Festival) Andy in Quack by Patrick Gabridge and Jordan in Hands Onby Janet Bentley (Nylon Fusion Theatre Company) Humayun in Guards of The Taj by Rajiv Joseph. Bryan is founder of Pseudonym Productions.
Ivette Dumeng (Director) an award winning director. Recently directed I'm Going To Touch Your Neck by John Patrick Shanley. Jack In The Box / Medusa by Don Nigro. Stranger In A Stranger Land by Karen Macklin at TBO This Round's On Us. She is the Producing Artistic Director and founding member of Nylon Fusion Theatre Company, a member at The Actors Studio Playwrights Directors Unit, League of Professional Theatre Women, SAG/ AFTRA, and TRU.
Gilbert "Lucky" Pearto (Lighting Design) Some of his credits Includes Broadway Dance Lab '2018 Gala'; Planet Connections '2018 Award Ceremony'; Recording Artist- Neycha, 'Albulm Release Party' & Onomatopoeia Theater Company's 'The Picture of Dorian Gray'. He typically does whatever he can to get his name out working with over two dozen companies simultaneous. Although, mainly a Lighting Designer, he also dabbles as a Master Electrician, Technical Director, and even a Producer now-a-days as he create events for all types of artists can emit their creativity. He is very pleased to be a part of this production and its success and endeavors.