Exquisite Corpse Company Presents August Festival THIS IS A DISTRACTION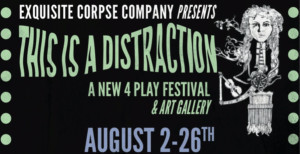 Exquisite Corpse Company is thrilled to announce upcoming festival, THIS IS A DISTRACTION. The festival, a culmination of the ECC's innaugural Playwrights-in-Residence cycle, offers up perspectives of distractions in our modern world. Presented within non-traditional performance space, The Parlour, the festival will feature an art gallery curated by ECC Artistic Director, Tess Howsam, and performances of four original one-act plays, including:
Phillip Chrisitan Smith's The Chechens, directed by Tess Howsam
Blake Bishton's Buffalo Buffalo, directed by Katie Pedro
Alexis Roblan's Liliya*,directed by Julia Sears
Alisa Zhulina's Killjoy, directed by Jillian Carucci
Performances will run Thursdays-Sundays throughout August at 6 PM and 8 PM. Sunday performances will be at 3 PM and 6 PM. Single show tickets and festival passes are currently on sale.
*Equity Approved Showcase
---
Buffalo Buffalo
by Blake Bishton
directed by Katie Pedro
featuring Juan Arturo, Matthew Bovee, Blaire O'leary, and Vanessa Lynah
August 2-12, 2018
Opening Night: Thursday, August 2, at 6 PM
No one likes to find themselves stuck in a relationship they no longer want to be in. Richard and Elizabeth have been stewing in stagnation, slowly calcifying into outright resentment, torn between the part of them that wants to stay in the relationship and the part of them that wants to get the hell out. But what do you do when those two sides disagree so fiercely that you find yourself in open warfare with yourself?
"It is easy to see the world as populated by individuals, but take a moment of introspection and you will hear the many different voices churning inside you, disagreeing and debating with one another. This play is an attempt to dramatize those inner hidden conflicts we all experience; to bring internal experiences into the external." - Blake Bishton
Blake Bishton is a Brooklyn-based playwright and founding member of the Exquisite Corpse Company. His plays have been performed at HERE Arts Center, the 4th Street Theater, The Lark, and Cherry Lane, in addition to various venues in upstate New York and at the Williamstown Theatre Festival. As Literary Director of ECC, he has served as a producer and overseen their Writers' Lab. He is a graduate of Bard College, the British American Drama Academy, and holds an MFA in playwriting from the New School for Drama. He is proud to be a Usual Suspect at New York Theatre Workshop.
---
The Chechens
by Phillip Christian Smith
directed by Tess Howsam
featuring Ruslana Sokolovskaya, Tatyana Kot, Alen Klapija, Ivica Marc, and Polina Ionina
August 2-12, 2018
Opening Night: Thursday, August 2, at 8 PM
In modern Chechnya homosexuals are rumored to be held in camps. Can one family protect their brother suspected of being gay, or will they honor kill him to protect the name of the family? What prevails in the end-religion, politics, or love?
"I wrote The Chechens to shine a light on the suffering and inhumanity being inflicted on my LGBT family far and near, and also as an beacon to let them know they are not alone; they are not forgotten. This play is not just about a small country or people in the Caucasus, it's about all of us. We are all The Chechens." - Phillip Christian Smith
Phillip Christian Smith is a semifinalist and finalist respectively for The American Shakespeare Center's Shakespeare's New Contemporaries for his play Comedy, Errors, Vanity, and Stupidity, a sequel to The Comedy of Errors, and Trustus Playwrights' Festival. He is Co-Artistic Director of The Playwriting Collective, a playwright-driven initiative designed to support writers from lower economic backgrounds, and playwright in residence at Exquisite Corpse Company for which he co-wrote last summer's A Ribbon About A Bomb also directed by Artistic Director Tess Howsam. His work has also been supported by Fresh Ground Pepper, The Cherry Lane, ESPA, Forge, and NY Madness.
---
Liliya
by Alexis Roblan
directed by Julia Sears
featuring Kristin Condon*, Spencer Hamp*, Ana Mirabal, John-Paul Stewart*
August 16-26, 2018
Opening Night: Thursday, August 16, at 6 PM
*Equity Approved Showcase. These actors appear courtesy of Actors Equity Association.
Moscow, 2005. Lillian, an American college student, falls ill with a mysterious disease. At the private "American" clinic, her first doctor is Spanish and the second is Russian, and soon her British ex-boyfriend has arrived through the window. As accents and cultures collide almost farcically, and time slips forwards and backwards in loops, Lillian's disease begins to mutate, causing new and different symptoms in each person it infects, turning the world topsy-turvy in its wake.
"For years, friends and family have been telling me to write a play about the time I was quarantined in a Russian hospital in 2005. Finally, in 2018, the world seems weird enough to warrant it. This is a play about the feeling of the world changing around you in rapid, confusing, and unsettling ways; and the impulse to passively adapt to those new norms rather than struggle against them." - Alexis Roblan
Alexis Roblan's plays have been produced and developed by and at Clubbed Thumb, Ars Nova, Dixon Place, Project Y, FringeNYC, New Perspectives Theatre Company, The Blank Theatre (Los Angeles), Theatre 503 (London), Edinburgh Fringe, Festival de Teatro Alternativo (Bogotá), World Interplay (Australia), and more. Originally from Coos Bay, Oregon, she is a graduate of the University of Southern California's MFA in Dramatic Writing program, and she is currently a playwright-in-residence with Exquisite Corpse Company in Brooklyn, NY. Alexis has been a Finalist for the Clubbed Thumb Biennial Commission (SAMUEL), Seven Devils Playwrights Conference (AND IT SPINS TWICE), Nashville Rep's Ingram New Works Lab and The O'Neill National Playwrights Conference (YOU FEEL SO FAR AWAY RIGHT NOW), and she is the recipient of the 2018 Thomas Barbour Playwrights Award (THE ANDREW PLAY). Her work as a screenwriter can be seen on the Go90 series Guidance (2017) and Love Daily (2018), and her play RED EMMA & THE MAD MONK will be headlining The Tank's LADY FEST, August 17 - September 1, 2018. www.alexisroblan.com
---
Killjoy
directed by Jillian Carucci
Featuring Isuri Wijesundara, Robyn Unger, Lee Collins, and Tim Marriott
August 16-26, 2018
Opening Night: Thursday, August 16, at 8 PM
Welcome to the post-truth era. You're a CIA agent investigating a mysterious catastrophe that has changed the world. All is fair in love and war. So be on your guard. Find out what's real and what's not. Trust no one. Stay alive. Good luck.
"I wanted to explore the notion of trust. Killjoy is about what would happen if our world were so awash with fakes news and alternative facts that no one could trust anyone. On a deeper level, the play asks how we trust the things we know and the people we love." - Alisa Zhulina
Alisa Zhulina is a playwright and Assistant Professor of Drama at NYU Tisch. Her work has been produced by Exquisite Corpse Company, New Perspectives Theatre, the Theatre Project, Downtown Urban Arts Festival, and at the Festival de Teatro Alternativo in Bogotá, Colombia. She holds a Ph.D. in Comparative Literature from Harvard University.
The festival production team includes Tess Howsam (Artistic Director), Liz Frost (Producer), Blaire O'Leary (Casting Director/Associate Producer), Lee Collins (Technical Director), Sonia Plenefisch (Scenic Designer), Adrianna Covone (Costume Designer), Lizzie Mahoney (Lighting Designer), EK Quinn.
The art gallery will feature pieces by visual artists Andrea Caldarise, Laurel Adams, Lillian Henehan, Justine Marosi, Rachel Long, Matt Chalk, and Lavinia Roberts.
All shows will occur at The Parlour - 144 5th Ave Suite 2 New York, NY 10011
For tickets, please visit https://www.artful.ly/store/events/15670.
More information available at www.exquisitecorpsecompany.com.
---
Exquisite Corpse Company is a Brooklyn based, integrated performance art collective. ECC's latest production follows last summer's The Enchanted Realm of Rene Magritte. The company's work has previously appeared on Governors Island & The Pearl NOLA (Secession 2015), (the Colorado Springs Fine Arts Center (Untitled #3), HERE (WareArt Festival), Galapagos Arts Space (WareArt: Subterra), Arts@Renaissance (Odd.A.See), and in the NY International Fringe Festival & Encore Series (Below). ECC is committed to creating original multi-disciplinary work through large-scale collaboration. The company aims to give voice to the stories of women and the LGBTQ community.