Broadway Stars Slated for GIVEBACK CONCERT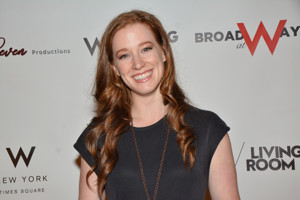 Broadway Unlocked founder Jessica Ryan announced today the talent lineup for the seventh annual #giveback concert slated for Sunday, April 7, 2019 at 7.30pm at The Jerome L. Greene Performance Space (44 Charlton Street). A VIP Reception begins at 6pm, doors open at 6.45pm. The evening will feature new and original work, including a host of debut songs inspired by the writings of survivors who have found help at CVTC.
Artists contributing their talents across the event's digital content and concert cast include performances from Broadway Inspirational Voices (Last Week Tonight, The Today Show), Sidney Dupont (Beautiful: The Carole King Musical), Paradise Square), Diana Huey (The Little Mermaid, Miss Saigon), Kennedy Caughell (Beautiful: The Carole King Musical, Great Comet), LaQuet Sharnell (Unbreakable Kimmy Schmidt, Lysistrata Jones), Gabriel Violett (The Voice, Spring Awakening), Michelle Beth Herman (Les Miserables), Julia Johanos (Forum, Beauty & the Beast) Greg Kamp (Catch Me If You Can, MT Shorts, Founder) and a special opening number featuring The Bathhouse Boys (Jake McKenna, Michael Fisher, Magnus Tonning Riise and Peter William Dunn), presented by Innovative Theatrics (Director, Steven Cardona); original music by Nathan Tysen (Amelie, Tuck Everlasting) & Jason Howland (Beautiful, Little Women); Bobby Cronin (Mary and Max, The Concrete Jungle), Joey Contreras (Young Kind of Love, Lights, Camera, Lexi), Jeff Daye and Laura Kleinbaum(Cleopatra), Kinosian and Blair (Murder for Two, Dragons Love Tacos), Ben Scheur (The Lion) (who is also performing) and Selda and Derek (Modern, Grind); and digital appearances from Cara Buono ("Stranger Things," "Mad Men"), Chris Weaver ("The Voice"), Eric McGriff (Prevention Coordinator, CVTC),Christopher Bromson (Executive Director, CVTC), Kathryn Boswell (Anastasia, Gigi), Miguel Cervantes (Hamilton, American Idiot), Antuan Raimone(Hamilton, In the Heights), and The Yard Theatre Company (Columbinus, Blood at the Root). The House band will feature Apartment Sessions membersElena Bonomo on drums, Luis D'Elias on guitar, and Jamie Mohamdein on bass. Maddie Bowden, Sam Disney, Ellie Frances, Andrew Gordon, Julia Johanos, Greg Kamp, Leah Koklanes, Yuko Kudo, Monique Owens and Zach Sutton make up the Giveback Choir. Participating talent is subject to change.
Theatre and technology collide for good at the concert, as theatre artists around the world connect, mobilize and amplify their voices to impact change in their communities. In New York, Broadway, TV, Film and YouTube stars come together to empower survivors of violence and fund the groundbreaking work of Crime Victims Treatment Center (CVTC), where anyone can receive life-saving treatment - completely free of charge. Ryan serves as showrunner of the evening. The concert is directed by Nathan Tysen, Jermaine Blackwell (Phantasmagoria, The World According to Pretty Toney) serves as the digital creative director, and they are supported by lead producer Kelly Glenn (Single Rider, Blue Maybe), Partnerships Director Courtney Smith (Cleopatra, The Bad Years), and a team of theatre and digital creators from around the world.
General admission tickets are $37-125, VIP tickets which include house seats, a private pre-concert champagne reception, and luxury gift bag are $250. For more information and to purchase tickets, visit thegivebackconcert.com. S.N.O.B. (Sunday Night on Broadway), a new monthly theatre industry party, will host the private after party following the concert.
Broadway Unlocked's #giveback concert is presented with support from SongSpace, Broadway Cares/Equity Fights AIDS, with additional support from SELECT Black Card and 14th St Y. VIP gift bags are provided by Pratima Skincare, Co Beauty, SELECT, Enlightened, Just Salad and Brew Dr. Kombucha. Wine provided by @Sommvivant. Food is provided by Amali, with non-alcoholic beverages from HEYDAY Cold Brew and Brew Dr. Kombucha.
Photo Credit: Genevieve Rafter-Keddy