Broadway Alum Lead Cast of DOG SEES GOD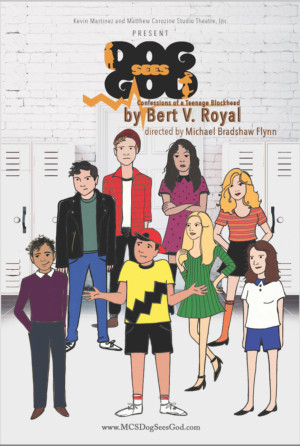 Broadway Associate Director Michael Bradshaw Flynn [The Front Page, It's Only A Play] leads a talented cast, including Broadway Alums Autumn Guzzardi [9 to 5, Escape to Margaritaville (Pre-Broadway Tour)] and Danielle Sue Jordan [Follies (w/Bernadette Peters), Cinderella and The Music Man (1st National Tours)] in the 2004 Award-Winning play, Dog Sees God: Confessions of a Teenage Blockhead written by acclaimed Stage, TV and Film writer Bert V. Royal (Easy "A" (w/Emma Stone), Recovery Road (ABC)]. The play runs Feb. 2-4 | 9-11, 2018, at the Matthew Corozine Studio Theatre, located at 357 West 36th St., #202, New York, NY, just a few blocks from the heart of Times Square.
Flynn has worked under 8x Tony-Nominated, 3x Tony Award-Winning Director Jack O'Brien [Carousel, Charlie and the Chocolate Factory], and can't wait to bring his take on Dog Sees God to the NY stage. He has served as an Assistant to Playwright and 5x Tony Award-Nominee, Douglas Carter Beane (Lysistrata Jones, Sister Act) in the production of The Nance (Starring Nathan Lane) and Associate Directed the 8x Tony-Nominated Director Scott Ellis (She Loves Me) in Dada Woof Papa Hot.
Producer Kevin Martinez, who plays the lead role of CB, presents the production alongside Co-Producer Matthew Corozine Studio Theatre, Inc. (MCS), which is led by Meisner-based Teacher and Director, Matthew Corozine, a 2015 Tony Nominee for the Excellence in Theatre Education Award. In addition, MCS has been producing some of the best actors in NY for over 18 years, with the studio represented by actors in a total of 13 Broadway Shows on the Great White Way heading into 2018.
Guzzardi, as Marcy, Jordan, as Van's Sister, and Martinez [The Chalice (w/Tony Nominated Austin Pendleton), Waste, Fraud & Abuse: The Musical (13th St. Rep)], are joined in the cast by Sam Morales [Measure for Measure, Pericles and The Skin of Our Teeth (Off-Broadway)], as CB's Sister, Andrew O'Shanick [Sunday In the Park ..., A Little Night Music (Huntington Theatre)], as Van, Haulston Mann (David Adjmi's Marie Antoinette, Three Musketeers), as Matt, Levin Valayil, [Monsoon Wedding (Berkeley Rep), Poster Boy], as Beethoven, and Genvieve Johnson, [Tales of Malfunction and Happy Birthday Rachel] as Tricia. Male Swing and Fight Captain Joe Marx [Molasses in January (NY Theatre)] and Female Swing Chelsea Stavis [Heathers The Musical, How to Succeed ... (TUTS, Tx.)] round out the cast. This cast also continues the tradition rich history of MCS, as each of them are either a current student or they previously studied under the tutelage of Corozine and his staff.
Dog Sees God is an unauthorized parody of the lovable Peanuts characters that have donned comic strips, TV and Film since their creation in 1950. But in the world that Royal has created, he imagines them all grown up, and they have done so by failing to escape the scars and hurdles that life can inflict. Those hurdles include dealing with drugs, drinking, violence, sexual enlightenment and questioning, bullying, and suicide. The plot is navigated by a gang of characters that include an enlightened pothead, a homophobic jock, two drunk cheerleaders, a hospitalized best friend, an abused musician, a gothic kid sister, and a popular but lost adolescent. From the first 5 minutes on, you quickly realize that these are not the Peanuts characters that you thought you knew.
The show is set to run 90 minutes, with no intermission, and tickets are selling for $18 on Brown Paper Tickets by clicking HERE.
"The beautiful thing about this show," said Martinez, "is that you get to meet characters who are unapologetic about who they are and what they say. That opens the audience up to what I think is one of the most relevant meanings of this play in today's climate and culture versus that of the mid 2000s when it was written. It is the idea that my teacher Matthew Corozine always told us in class, 'Hurt people, will Hurt People.' And I think it's us making that next step of recognizing that we will never get rid of hurt, but we have to stop passing it along - no matter how big or small."