BWW Review: RENASCENCE Shines as Bright as the Soul at the Abrons Art Center
As people, we attempt to understand the meaning of life as we are living it; it is hard to understand what the human soul desires without first having the experience to know the difference. We are given the privilege to understand that which makes our hearts beat faster in anticipation and pursue it with all that we have within us; we are given a glimpse of what it means to transcend basic humanity when this need is as important to us as breathing. This purpose, this gift is not given to everyone, it is unfortunate to say; we cannot all have the innate wisdom of self, and release the spark of life within us as did Edna St. Vincent Millay. She was precocious, emitting a natural light that illuminated her life, and the life of others; she was talented and brilliant, an essence so strong in a dim world. In Renascence, Vincent's life begins to unfold after writing a poem that shakes the literary world. It is a poem that catapults her into both dream and disorder - a poem that causes as much as it necessitates her soul's reawakening.
With a book by Dick Scanlan, score by Carmel Dean and lyrics taken from the works of Edna St. Vincent Millay, Renascence celebrates its World Premiere at the Abrons Arts Center; there, it is pushing the boundaries of theater towards something transcendent, not only witnessed but experienced in as close a way as Vincent experienced her truth. This new musical does not necessarily take place in a predefined moment in time (even if based on Millay's life); it seems to float in the ether of the known and what is yet unknown - someplace beyond a finite understanding of the world, with a kind of fluidity which mixes what we know and what lies waiting in the realm of possibility. A metaphysical understanding of the world is sought by an eighteen year-old woman, who is inspired by her family and dreams of attending college, while also set back by convention and disadvantage. Once the publication of her poem "Renascence" provides her with boundless opportunity, she is given the chance to write as one affected by experience - yet, is the pleasure of the world the same as pleasure of one self?
Renascence tells the story of Edna St. Vincent Millay, who lives with her mother and two sisters; although the family struggles financially, and Vincent with the endless yearning to find her father, they are happy. Vincent is a gifted poet who is confident that her new poem will win the thousand-dollar prize put forth by a contest in The Lyric Year that seeks the best literary talent from around the world. She has dreams of attending Vassar and experiencing the world that she can only capture so well through her words. Her poem, given the title "Renascence," dazzles editor and public alike and places Vincent's groundbreaking work in the spotlight - the perfect place for it to be noticed and merit her the prize she so confidently seeks. She ultimately comes in fourth place, which even the contest's winner didn't believe was just. As both the poem and scandal gain notoriety, Vincent is funded by wealthy arts patron Caroline B. Dow to attend Vassar and moves away from the roots of what once so inspired her. While her spirit soars, her poetry falters and she begins to question if what she always sought was truly within her all along.
Renascence is such a unique and fascinating musical - not only because of the stellar cast and overall quality of the production (which are obvious givens), but because of its ethereal, almost intangible nature; the significance of the show is so easily felt. Such stories of self-discovery and "answering questions not yet asked" relinquish to the audience the profound, where we are able to live vicariously through a character and then collectively come upon those moments of soulful clarity. We do not simply witness this as Vincent transforms from an innocent child to an uninhibited young woman; we truly feel the nostalgia for her father, the love she has for her family and especially the confidence and zeal with which she seeks the right words for "Renascence."
Vincent's story is told through fellow cast-mates playing different characters, reinforcing this fluidity that makes the show that much more indefinite; it is less focused on costumes and gender and instead on principles and the fullness of possibility. Towards the end, the audience is even given the chance to hear the entire poem sung and invited by the Editor's soft, welcoming voice to experience the magic of Vincent's poetry on the stage itself. Playing with time and space, Renascence is a captivating production that allows the audience moments of complete understanding and clarity, experienced through the intense emotion of its parts; it is ethereal and timeless, and beautiful.
Credit must go to everyone involved in this production, cast and crew alike; they are all nothing short of brilliant. Mikaela Bennett, Hannah Corneau, Jason Gotay, Danny Harris Kornfeld, Katie Thomson and Donald Webber, Jr. round out an incredibly talented cast that allows this story to be conveyed on the otherworldly, deeply emotion level the audience has the privilege of experiencing each night. From Hannah's beautiful voice and character's striking conviction, to Jason's charm which compels the audience from the cellphone announcement at the very start to listen to Vincent's story, this cast is like watching a true family on stage, torn apart by circumstances they are not in control of. A beautiful orchestra accompanies them, made up of Geraldine Anello, Nathan Perry, Sylvia D'Avanzo, Emily Brausa, Lynette Wardle, Deborah Avery, Rheagan Osteen and Lauren Hendrix.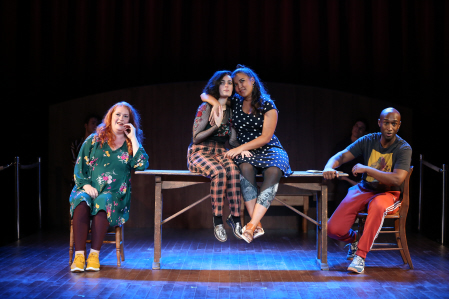 Brett J. Banakis as Scenic Designer, Asta Bennie Hostetter as Costume Designer, Jen Schriever as Lighting Designer and Kai Harada as Sound Designer do very well in the wings to complete the quality and thrill of this production.
Renascence, presented by the Transport Group, Jack Cummings III, Lori Fineman and in association with Anne L.Bernstein, celebrates its World Premiere at the Abrons Art Center (located at 466 Grand Street). The production officially opened on October 25th, and will run through November 17th. Performances are Tuesday through Saturday at 7:30 pm, with a Sunday matinee at 3:00 pm. Tickets range in price and can be purchased by visiting the box office or www.transportgroup.org.
Enjoy the show!
Photo Credit: Carol Rosegg
Related Articles View More Off-Off-Broadway

Stories

Shows
Kristen is a graduate of both Saint Francis College and Hunter College, with degrees in English and Musical Theatre. She enjoys going to any show, (read more...)