Kristen Morale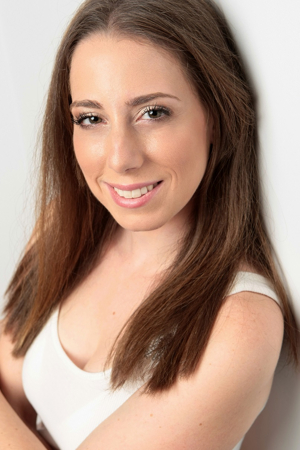 Kristen was born and raised in Brooklyn, and is a graduate of both Saint Francis College and Hunter College, with degrees in English and Musical Theatre. She enjoys going to any show, from community theater to Broadway productions, and especially loves musicals; "The Phantom of the Opera" and "Sweeney Todd" are among her favorites. By day, Kristen is an HR Coordinator but continues to pursue her interest in theater by seeing great performances and writing a bit about them; she's also been in a few shows within both NY and MA. She admires the theater community, and is happy to continue writing for BroadwayWorld. 
MOST POPULAR ARTICLES
LAST 365 DAYS
BWW Feature: Quarantine Creations with Maks Kubis and Claude Solnik

April 18, 2020

Take a break from watching the news and look at the creativity still running rampant through the theater community. Featured this week are actor/musician Maks Kubis, who shares his coronavirus-inspired rendition of 'Empty Chairs at Empty Tables,' and playwright Claude Solnik, who brings us some poetic inspiration.
---
BWW Feature: A Three-Time Cancer Survivor's Inspirational Perspective on the Coronavirus by Performer Valerie David

April 17, 2020

As we hunker down and wait for the world to return to what it was, many have refused to remain stagnant or let discouragement overtake them. This is especially true for Valerie David, a playwright, performer and three-time cancer survivor who now shares her beautiful story and gives us a new perspective on life in the midst of temporary darkness.
---
BWW Review: Comically Raging Politicians Take the Stage in 13th Street Rep's THE JERRY DUNCAN SHOW

March 10, 2020

Are you a fan of politics and the constant tension of these dueling sides - tension that is comparable to that of the Coronavirus? Are you tired of keeping a straight face while watching said politicians duke it out? Do you happen to revel in seeing these people brought to shame by an instigative radio host who [in the meantime] must endure ongoing visits from his deceased mother? Then you're in luck! If the current (and future) state of affairs is enough to drive you slightly bonkers, where else to go for some comic relief than the theater - specifically the 13th Street Repertory Theater, where The Jerry Duncan Show is doling out much needed laughs at the iconic West Village venue for two weeks only.
---
BWW Review: Brooklyn's Theater2020 Celebrates The Best Of The Boro And Stage With SONDHEIM ON SONDHEIM

February 25, 2020

Theater 2020, Brooklyn Heights' only professional and award-winning theater company, presents the first NYC revival of the Sondheim/ Lapine musical Sondheim on Sondheim, a revue that brings many of this musical genius' works together to create quite a show in itself. With a magnificent cast and crew, director David Fuller brings a very noteworthy production to audiences who, whether or not they were familiar with Sondheim to begin with, will wind up loving him.
---
BWW Review: Trouble Never Looked So Cute in Rockefeller's PADDINGTON GETS IN A JAM

February 10, 2020

Created and directed by Jonathan Rockefeller, written by Doug Smiotek and presented by Rockefeller Productions, Paddington Gets into a Jam began its twelve-week run at the DR2 Theatre on December 13th. For over sixty years, Michael's Bond's loveable bear has been delighting audience both in print and on screen; this NY Times Critic's Pick now marks Paddington's stage debut. And what an impression this show has already made!
---
BWW Review: Romeo Captures the Heart of Brooklyn in Saltzman's ROMEO & BERNADETTE

January 28, 2020

With a book and lyrics by Mark Saltzman and presented by Amas Musical Theatre (Donna Trinkoff, and in association with Eric Krebs), Romeo & Bernadette makes its Off-Broadway debut under the direction of Justin Ross Cohen. Turning traditional Italian melodies into songs that are the perfect mix of heartfelt ballad and slick Brooklyn confidence, Romeo & Bernadette is one of those rare shows that posits this brave, new idea to the world and then simply doesn't just follow through a?' it storms ahead with the foul-mouthed grace of a Brooklyn girl who knows no boundaries when it comes to getting what she wants.
---
BWW Review: Thomas Walters' Debut of the Dead At 13th Street Repertory Theater

January 21, 2020

So you've found your family a nice plot in the middle of a cemetery, right where dear Grandpa Isaac was recently laid to rest. With nerve-wracking moments brought to you by the family TV set, a son who has little discretion when it comes to public acts of sexual affection and townsfolk who stop by as a reminder of how crazy life has become (or possibly always been), the Goats family has its hands full with matters of life and death. Faced with the mundaneness of life but with a foot in the underworld, Joe, Mary, Jesus and Mavis wait patiently for the resurrection of Isaac, who is expected to rise from his beautiful marble grave any day now. Botched prophesies, religious confusion, wacky characters a?? there is surely nothing not to love about this wonderful new play called HELP A HANDICAPPED GOD...TROT ACROSS THE UNIVERSE.
---
BWW Review: Righting Expectations in Nuance Theatre Co.'s DANNY AND THE DEEP BLUE SEA

December 23, 2019

Directed by John DeSotelle, Nuance Theatre Co. brings John Patrick Shanley's DANNY AND THE DEEP BLUE SEA to the Nubox - an intimate blackbox theater in the heart of Hell's Kitchen where (in my experience) theatrical magic always happens. Presented as an Equity stage production, DeSotelle brings two incredibly talented actors to the stage for a limited two-week run.
---
BWW Review: Now is the Perfect Time to Fall in Love with LOVE ACTUALLY?

December 16, 2019

Love Actually?: The Unauthorized Musical Parody is the hilarious new show by Bob and Tobly McSmith, now in performances at the Jerry Orbach Theater. Bob and Tobly, who are also responsible for such productions as Friends! The Musical Parody and Full House! The Musical (starring Perez Hilton), can now be credited with yet another success in the form of Love Actually?, which takes the characters from Richard Curtis' original film and, under the direction of Tim Drucker, gives them a bit more flare than would have otherwise been deemed appropriate.
---
BWW Review: Shuffle Over to the Secret Room for a Night of TRUFFLES

December 10, 2019

An Italian family in the midst of a celebration, thrown into disarray by a missing prized truffle, looming money issues and an unsolved murdera??it really can't get better than this, am I right? What sounds like the next great television drama is given a musical flare and thus becomes a production that is equally as entertaining as it is creative. What we have here is Truffles: Music! Mushrooms! Murder!!!, an interactive theatrical experience that brings an unsuspecting audience into the world of the Donati family as they prepare for the annual auction of their two-pound truffle. A night destined to be filled with delicious food, big bucks and the deadly comedy of untold family grievances, Truffles returns for its second installment with a renewed zest that will leave audiences craving the songs and drama that only a prized truffle can inspire.
---
BWW Review: The Life and Death of Addiction in Pendleton King's COCAINE

November 24, 2019

Under the brilliant direction of Judith Feingold, with an exclusive three-performance run at the NuBox Theater (at the John DeSotelle Studio) in Hell's Kitchen, Cocaine is such an unexpectedly powerful piece that brings out the reality of addiction amidst the love of two young people, overcome by the life they are forced to live. As part of the John D. Sotelle Studio Series and exposing the beauty of Pendleton's neglected work, Cocaine is as succinct as it is a beautiful representation of what love looks like in the face of struggle.
---
BWW Review: The New Legacy of J.D. Salinger in Solnik's A LIFE IN THE RYE

November 11, 2019

Presented by Two Tough Broads, directed by Joe John Battista and now in performances at the historic Theater for the New City, A Life In the Rye is truly an inspirational piece of theater that not only brings new life to J.D. Salinger's own story, but does so in a way that brings such dimensionality to a brilliant yet troubled life. One hundred years after the author's birth and following the opening of an exhibit at the New York Public Library to commemorate Salinger's life and work, Solnik's play is an unbiased and beautifully-crafted ode to this man that shows both the playwright's admiration as it does the truthful complexity of Salinger's life.
---
BWW Review: Great Frights and Amazing Sights in Robinson's ALL HALLOWS EVE

November 6, 2019

Presented by Little Shadow Productions and Art Farm, and with music by Emmy Award-winning Paul Rudolph, ALL HALLOWS EVE is an immersive experience that compels its audience to adopt the belief of a child - to open up its collective mind and believe in something whose existence cannot be simply explained away like a magic trick. Although, this production is not just about suspension of belief; indeed, it is not meant for children at all.
---
BWW Preview: Under the Streetlamp to Perform as Part of On Stage At Kingsborough's 2019 Season

October 25, 2019

Popular vocal group Under the Streetlamp is set to give a one-night performance at Kingsborough Community College, bringing a repertoire of classic hits from the American Doo Wop, Motown and old time Rock 'n' Roll Songbook that is sure to delight audiences. As part of On Stage At Kingsborough's 2019 Fall Season, Under the Streetlamp brings Broadway stars to a Brooklyn stage for one night only to reminisce after the days when singers would gather under a street lamp to sing their favorite songs.
---
BWW Review: Living Life to the Fullest with Valerie David's THE PINK HULK

October 13, 2019

Written/performed by Valerie David and directed by Padraic Lillis and Maris Heller, THE PINK HULK is just about to finish its run at the 14th Street Y. Valerie's one-woman show was accepted into 26 different festivals in both the U,S. and Europe over the course of 2 1/2 years, and has received quite a number of great reviews and accolades. Now, THE PINK HULK is something quite special - not only because it is autobiographical and gives a rare opportunity to take part in the performer's life story as she bears all on stage, but because it is not shy of bringing a message of hope to anyone who ever needed someone to just say that things will be ok. And even if life doesn't quite turn out that way, she instills the belief in you that it's always just another obstacle that we have the strength to overcome.
---
BWW Review: The Preciousness of Life in Beckim's NOTHING GOLD CAN STAY

October 8, 2019

In NOTHING GOLD CAN STAY, Chad Beckim shows how a young woman's addiction to opioids affects not only her, but those who seek to help her. Impeded by her own doubts and insecurities, in a town where people are admired for their efforts to leave, the downward spiral of her life pulls in those who had the good intent of helping her. Relationships are pushed aside, hope is dashed and free will momentarily shines through in her attempts to get better, only to be swallowed up again by need. Beckim's play is an extraordinary story of ordinary people - a family already familiar with less-than-perfect circumstances, now faced with a loved one's illness that seeks to bring down everyone with her.
---
The Preciousness of Life in Beckim's NOTHING GOLD CAN STAY
October 7, 2019
---
BWW Review: Actions Speak Louder Than Words in Hlubny's THOUGHTS AND PRAYERS

September 24, 2019

Director Lauren Hlubny takes the idea of violence and molds it into something theatrically beautiful with her play Thoughts and Prayers, produced by Danse Theatre Surreality and now in performances at TADA! Youth Theatre.
---
BWW Review: EMERGENCY Has Hearts Racing at Hudson Guild Theater

August 29, 2019

Written by a father-son team (the perfect combination of doctor and composer), EMERGENCY features book, music and lyrics by Jeff Foy and Jacob Foy and is directed by Jeremy Quinn. In association with Visceral Entertainment, the production recently concluded a three-performance run at Hudson Guild as part of the New York Theater Festival's SummerFest series. Winner of the Ken Davenport Inner Circle Grant and the truly the perfect blend of comedy and the kind of drama that puts life into perspective, EMERGENCY wowed its audiences straight through to a standing ovation, and has undoubtedly left an impression on this critic's mind.
---
BWW PREVIEW: Elements Theatre Company to Present OLIVER! for a Limited Run

August 22, 2019

Based on Charles Dicken's classic novel a?oeOliver Twista?? and featuring such easily-recognizable songs like a?oeAs Long as He Needs Mea?? and a?oeConsider Yourself,a?? Oliver! is soon to be presented by Orleans' very own Elements Theatre Company. The beloved musical, which originally premiered in London in 1960, now has yet another chance to warm our hearts by bringing this young orphan from Victorian England to a Cape Cod stage.
---