Review: PRETTY GUARDIAN SAILOR MOON THE SUPER LIVE Launches the 2.5D Phenomenon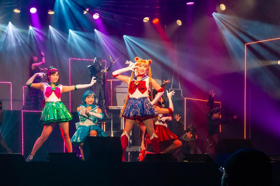 Back off Broadway standards and step aside movie adaptations --- there's a whole new dimension of live entertainment in town!
On March 24th at the Warner Theatre in Washington D.C. and March 29-30th at the PlayStation Theater sandwiched between multiple Broadway houses in the heart of Times Square, a new and exciting cultural phenomenon from Japan landed on U.S. soil for the first time. No, it's not the latest gadget or fashion, nor is it a "SQUIP" (the pill that can make you popular from the Broadway musical Be More Chill), it's an entirely different genre of stage performances based on Japan's most ubiquitous export --- anime and manga --- showcased onstage with "Pretty Guardian Sailor Moon" The Super Live.
Hailed as a "2.5 Dimensional Musical Entertainment", the show brings Naoko Takeuchi's beloved manga published by Kodansha (over 36 million copies sold worldwide) and massively popular anime series that debuted in the 1990s, to vivid life. Sailor Moon is often considered a "gateway" manga/anime for budding otaku (superfans). Its popularity in the '90's - along with other titles such as Dragon Ball and Pokemon - served as an introduction to Japanese manga (graphic novels) and anime (animation). Additionally, in many cases, encountering these unique and distinct offerings provoked the curiosity of fans to further investigate and explore other varieties of the art forms as well as Japanese culture in general. The global boom of anime and manga only continues to increase exponentially in a wide array of expressions worldwide for the multi-billion dollar industry. With animated and live-action film and television adaptations, conventions that gather otaku and cosplayers across the USA at any given weekend of the year plus the multitude of manga-, anime- and video game-inspired merchandise, it was only a matter of time before the stage spectacles would arrive on U.S. shores.
"Pretty Guardian Sailor Moon" The Super Live follows the foibles, fantasies and fights of Usagi Tsukino aka Sailor Moon (played by Tomomi Kasai with as much contradictory childishness, quirky charisma and courage as her cartoon counterpart) along with her four friends who comprise the Sailor Guardians (so-called for their schoolgirl-inspired superhero uniforms): the brainy Ami Mizuno aka Sailor Mercury (Momoko Kaechi), the fiery, passionate Rei Hino aka Sailor Mars (Yui Hasegawa), tall and powerful Makoto Kino aka Sailor Jupiter (Kanna Matsuzaki) and dreamy Minako Aino aka Sailor Venus (Yu Nakanishi), soldier of love and beauty. These are not your typical studious Japanese junior high girls --- they spend their extra-curricular time fighting evil forces, particularly the wicked yet seductive Queen Beryl (Makoto Aikawa), her henchman Kunzite (Reo Sanada) and their minion of demons, performed by an extraordinary ensemble (Atsumi Matsubayashi, Izumi Niihashi, Ayumi Higashikawa, Moeko Koizumi and Hinako Aikawa) who displayed almost superhuman feats in dance and fight choreography. And finally, the heroine's heart's desire --- Mamoru Chiba --- who is seemingly aloof and dismissive in the daytime, yet charming and heroic when his identity is obscured aka Tuxedo Mask (portrayed with exquisite perfection by Riona Tatemichi whose gravity-defying, flowing silken cape alone deserved due recognition for flawless authenticity).
The spectacle boasts high-tech interactive projection mapping, a multi-colored, moving LED apparatus that creates the appearance of light rays, outrageously enjoyable musical numbers with winks to Japanese pop culture and iconic Sailor Moon scenes, such as the heroine's tardiness to school turning into an encounter with zombie classmates (thanks to Kunzite's spells); Usagi's first encounter with Mamoru and subsequent fantasy complete with winged angels, heart-shaped goggles and Tuxedo Mask gift-wrapped; the flirtatious battle between Usagi and her unmasked crush at video game arcade; a girls shopping spree in the famed Harajuku fashion district of Tokyo; and, of course, plenty of high-heeled, butt-kicking, hair-flipping girl-power action resplendent with superhero effects you could both see and hear --- all to make the cartoon and comic come to vibrant multi-colored life. And that's just part one. The second portion of the show is a concert where those in the know waved colored penlights in honor of each Guardian's representative color. Here the company showed off their characters' spirited personalities with a variety of musical numbers including Tuxedo Mask's Big Band, Broadway-style showstopper. Of course, the pinnacle of fan frenzy was saved for last when the cast (and the audience along with them) sang the iconic title song "Moonlight Legend" from the anime series and descended into the crowd of hysterical glee giving high-fives to outreached hands. In that moment the audience and performers were united as one.
Such a brilliant fusion of performance styles blended to create a hybrid genre that takes live entertainment to the next level (a la "powering up" in a video game) and adds another dimension to what a theatrical experience can offer, requires a killer creative team. Director and choreographer TAKAHIRO was fresh from his work on Madonna's Sticky and Sweet Tour, which explains the smooth moves, music video influences and hypnotic, rapid-paced choreography; the music was provided by HYADAIN, a J-Pop composer who has written songs for numerous acts including the famed all-girl J-Pop idol group AKB48, and features a richly layered, catchy electro-pop and rock score with influences as varied as video game-style "chip tunes", eerie gothic high soprano vocals, Asian elements, Latin flair and tender piano ballads; Akiko Kodama was responsible for the book which might explain some of the inspirations borrowed from the 105 year-old ultra successful grand-scale, all-female Broadway-meets-Vegas-meets-opera (but better) Takarazuka Revue --- for Ms. Kodoma has written and directed for the renowned company.
The decades-long, multi-generational devotion and popularity of the Sailor Moon series proved to be the right choice to introduce American audiences to this new brand of Japanese entertainment (affectionately dubbed "2.5D" as reference to the 2D source material and 3D live performers). All four shows in both cities sold out within a couple of weeks and crowds flew in from over 40 states to see the Pretty Guardians in person. The eager attendees could not restrain their enthusiasm and broke into spontaneous, hysterical screams of glee when favorite characters appeared, memorable moments were re-enacted or epic battle scenes of girl-power and good overcoming obstacles and evil forces unfolded. This was a surprise and delight to the Japanese producers and cast, who are used to the much more polite, reserved expressions of support and enjoyment from fans on their home turf. Audiences in both Washington D.C. and New York City were diverse in terms of gender, cultural background, cosplay fashions (or not) and other factors, but the median age group were in their 30s. Admittedly, I was one of them, for Sailor Moon was my own introduction to anime and it was an extraordinary joy to watch cherished characters such as Queen Beryl, the Sailor Guardians and especially, Tuxedo Mask --- the first crush of many young female (and male) otaku --- in action.
Senior Managing Editor of Kodansha Comics USA, Lauren Scanlan, sees the characters in 2D on a daily basis for work, but couldn't wait to encounter the five fighting female friends she's adored since middle school --- who first lured her into the world of manga --- embodied by real-life actresses. Scanlan feels the incredible success of the live show will also give a boost of recognition and freshness to the nearly 25 year-old brand with no signs of stopping. Fumio Osano, Editor-in-Chief for Kodansha, has been involved with Pretty Guardian Sailor Moon since its inception in 1991 and has witnessed its many evolutions over the decades. He attributes the universal themes of loyalty and friendship between girls, the Romeo and Juliet- inspired love story and the relatability of the seemingly ordinary school-aged characters (who find themselves in extraordinary circumstances) to the brand's ongoing universal appeal. With so many recent Broadway and Off-Broadway hits (Mean Girls, Be More Chill, The Prom, and Clueless) centered around high school, the most common setting for many popular manga and anime has proven to be a very rich territory in recent years for those currently going through that short period of life, have yet to experience it, or long past those years of (relative) innocence.
Significant credit and responsibility for the achievements of the first 2.5D Musical Experience to come to America must be given to The Japan Foundation, a global organization with a vast worldwide reach whose mission is "to promote international cultural exchange and mutual understanding between Japan and other countries," and the New York producer --- Kumiko Yoshii of Gorgeous Entertainment --- a Broadway producer and long-time supporter of commercial and artistic performing arts in the East and West. With Gorgeous Entertainment and the support of organizations such as The Japan Foundation amongst others, Ms. Yoshii has also produced Japan Day @ Central Park since 2007. She announced at the Pretty Guardian press junket in New York that this year they are excited to present another special celebration of Japanese pop culture and entertainment --- Japan Night on May 12th showcasing four top music superstars: MISIA, Puffy Amiyumi, HYDE and WagakkiBand) back at the PlayStation Theater, ushering in the new Reiwa Era for Japan, which commences this May.
But years before the show's stateside debut, when it came to consider which of the many companies creating 2.5D adaptations to grant the official rights of one of Kodansha's hottest properties to, Mr. Osano felt there was only one person and entity whose creativity, innovation, passion and track-record for success could correctly craft the title into a worthy production --- Makoto Matsuda. As Chairman of Japan 2.5-Dimensional Musical Association and Theatrical Producer, Chairman and CEO of Nelke Planning Co., Ltd., Mr. Matsuda has set himself and his companies apart for being one of the true trailblazers and pioneers of the relatively new phenomenon. 2.5D stage sensations have been transforming the Japanese contemporary theatre scene since the early 2000s when Mr. Matsuda's thrilling adaptation of the popular sports manga, Prince of Tennis, was morphed into a musical in 2003, sparking a new revolution in theatrical expressions. In the show affectionately referred to by fans as TENNIMU, now in its 16th triumphant year, whirling spheres of light have replaced bouncing tennis balls and samurai-style sword-fighting skills have been repurposed to portray the battles of racquets on the court. The all-male cast continues to draw in (mostly female) sold-out crowds and has set the stage for many to follow, including Live Spectacle NARUTO, Musical: Touken Ranbu - Mihotose no Komoriuta and the upcoming "MY HERO ACADEMIA" The "Ultra" Stage , all productions from Japan 2.5-Dimensional Musical Association and Nelke Planning. This current all-female adaptation is a relatively new addition to their roster. "Pretty Guardian Sailor Moon" The Super Live held its world premiere in Tokyo, August 31, 2018 at the AiiA 2.5D Theater Tokyo and then enjoyed a warm reception in the City of Lights for its European debut in Paris as part of Japonismes 2018. Mr. Matsuda knew the formula utilizing performers of same sex to play both genders (same as Takarazuka Revue) would work well for a series devoted to celebrating powerful women. He also took inspiration from Takarazuka Revue's tradition of ending their productions with a lavish concert extravaganza and noted, "When you see their shows, you feel that you are given so much added value in the entertainment experience as an attendee."
With the remarkable and unprecedented success of "Pretty Guardian Sailor Moon" The Super Live launching a new dimension of entertainment in the states, the question is not if, but when and where the next showing of these sensational spectacles will occur.

The official poster for "PRETTY GUARDIAN SAILOR MOON" THE SUPER LIVE. Photo credit: ©Naoko Takeuchi PNP / Pretty Guardian Sailor Moon The Super Live Production Committee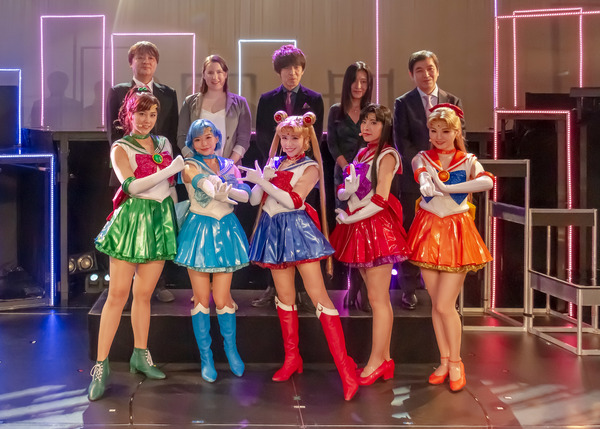 The "PRETTY GUARDIAN SAILOR MOON" THE SUPER LIVE Team at PlayStation Theater in NYC. (Top, L to R): Fumio Osano (Kodansha), Lauren Scanlan (Kondansha Comics USA), Makoto Matsuda (Japan 2.5D Musical Association & Nelke Planning), Kumiko Yoshii (Gorgeous Entertainment) and Takaharu Uera (Nelke Planning). Bottom (L to R): Kanna Matsuzaki as "Sailor Jupiter", Mokoko Kaechi as "Sailor Mercury", Tomomi Kasai as "Sailor Moon", Yui Hasegawa as "Sailor Mars" and Yu Nakanishi as "Sailor Venus". Photo by Shin Kurokawa.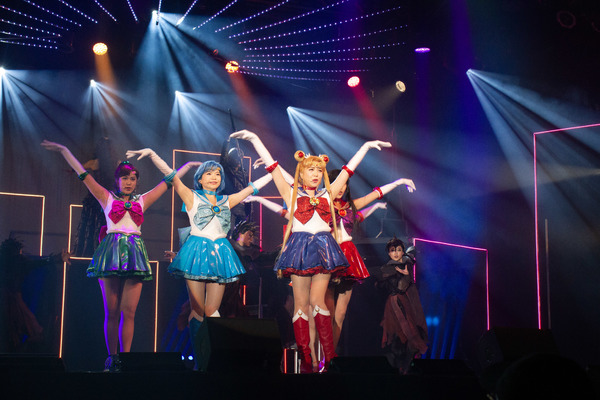 The Pretty Sailor Guardians at PlayStation Theater in NYC March 29, 2019 for the New York premiere of "PRETTY GUARDIAN SAILOR MOON" THE SUPER LIVE. Photo by Shin Kurokawa.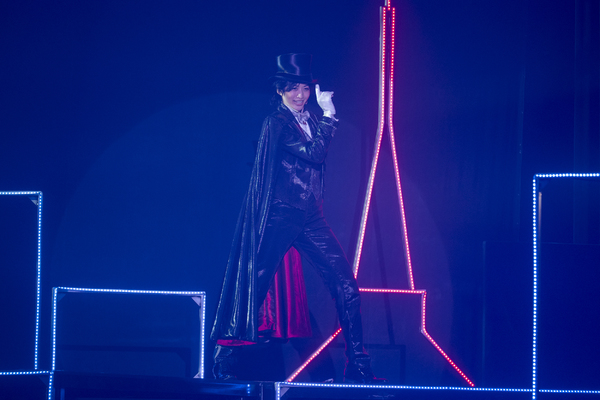 Riona Tatemichi as "Tuxedo Mask". Photo credit: ©Naoko Takeuchi PNP / Pretty Guardian Sailor Moon The Super Live Production Committee

Makoto Aikawa as "Queen Beryl" and Reo Sanada as "Kunzite". Photo credit: ©Naoko Takeuchi PNP / Pretty Guardian Sailor Moon The Super Live Production Committee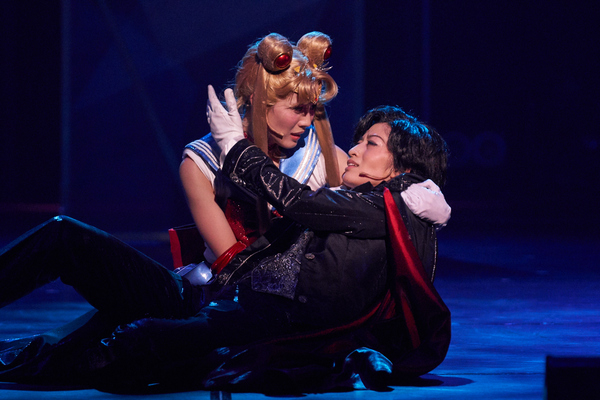 Tomomi Kasai as "Sailor Moon" and Riona Tatemichi as "Tuxedo Mask". Photo credit: ©Naoko Takeuchi PNP / Pretty Guardian Sailor Moon The Super Live Production Committee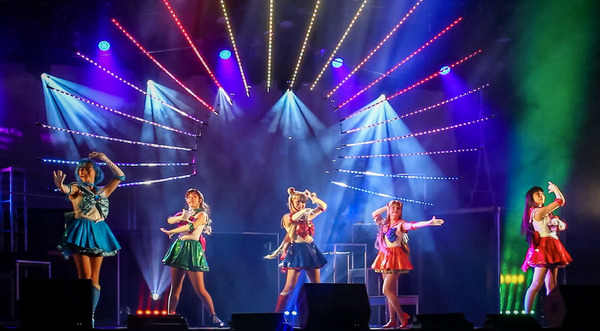 The Pretty Sailor Guardians onstage at PlayStation Theater in NYC March 29, 2019 for the New York premiere of "PRETTY GUARDIAN SAILOR MOON" THE SUPER LIVE. Photo by Shin Kurokawa.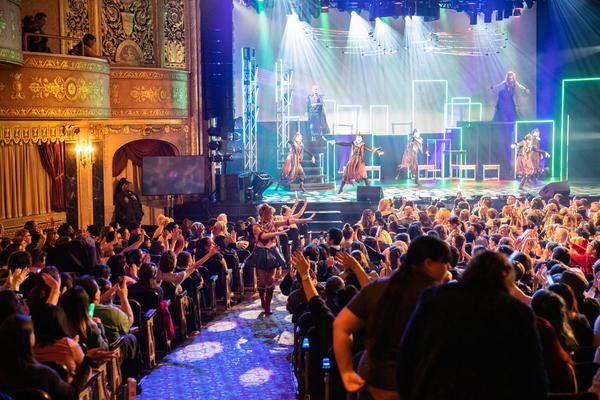 "PRETTY GUARDIAN SAILOR MOON" THE SUPER LIVE greets the crowd during concert part finale for the U.S. debut show at the Warner Theatre in Washington D.C. Photo credit: ©Naoko Takeuchi PNP / Pretty Guardian Sailor Moon The Super Live Production Committee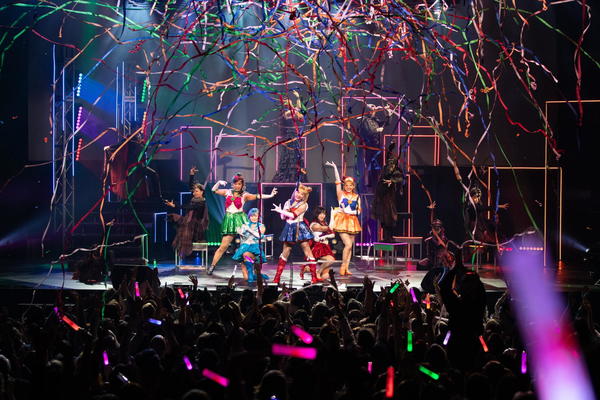 "PRETTY GUARDIAN SAILOR MOON" THE SUPER LIVE concert part finale for the U.S. debut show at the Warner Theatre in Washington D.C. Photo credit: ©Naoko Takeuchi PNP / Pretty Guardian Sailor Moon The Super Live Production Committee