BWW Review: Gender Takes Center Stage in THE IMPORTANCE OF BEING EARNEST
In Oscar Wilde's THE IMPORTANCE OF BEING EARNEST, Gwendolen says, "In matters of grave importance, style, not sincerity, is the vital thing." It seems that NY Classical's new production took this quip to heart as their stylizing replaces more nuanced characterization at times, at least in the gender-reversed version.
Challenging the gender of a character in a classic show is an old tradition dating back at least to Sarah Bernhardt taking on the role of Hamlet in 1899, as shown in BERNHARDT/HAMLET earlier this year. However, this production of Wilde's classic play directed by Stephen Burdman takes it a step further by gender-flipping the entire cast every night, alternating between conventional and reversed casting.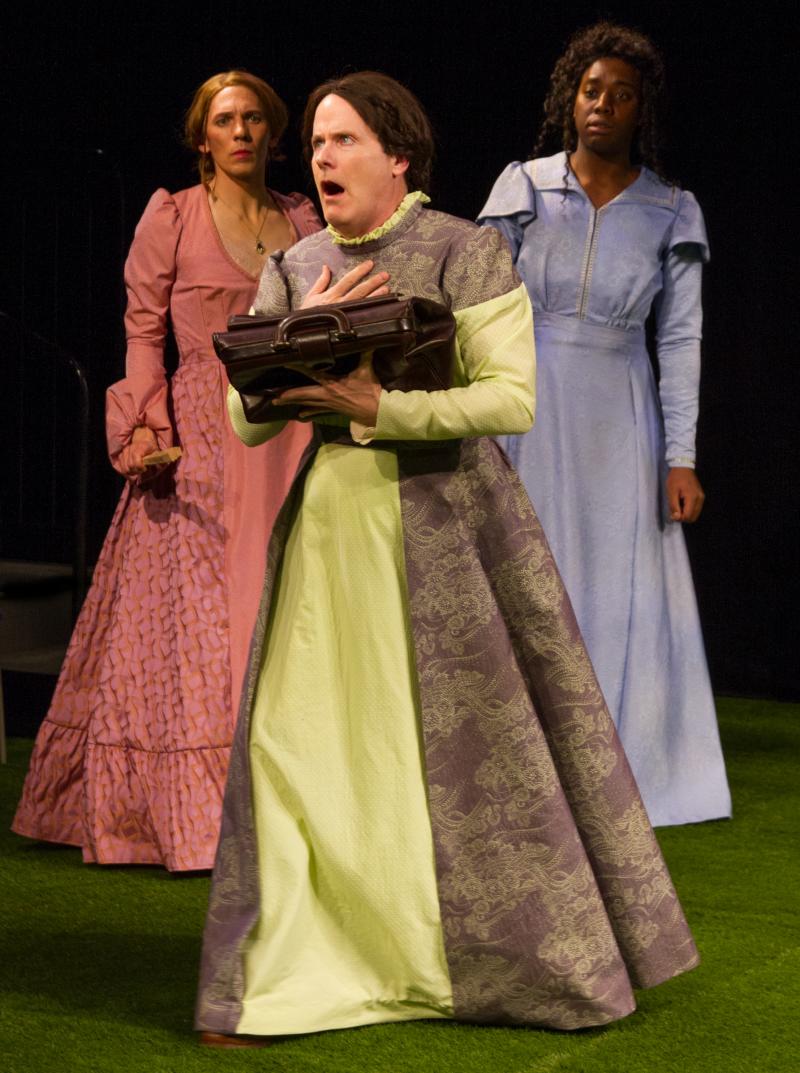 While this would seem like an opportunity to further explore the sexual politics of the piece or perhaps even examine it in a different period or setting, the result feels rather tame. Instead of actually converting the female characters to males and vice versa, the male roles are being played by women while the character's gender remains fixed set in traditional Victorian England with accents to match. Thus, every other night, the audience is treated to men in wigs and dresses and women in three-piece-suits.
Luckily, Wilde's delightfully satiric work does hold up and remains funny, but it sometimes feels like it does this in spite of the gender flipping. There were times where I wanted more sincerity in order to sell the comedy, rather than purposefully playing up the ridiculousness of the situation.
That said, Kristen Calgaro and Connie Castanzo shine as Jack/Gwendolen and Algernon/Cecily and deliver Wilde's quippy lines well. Tina Stafford also stands out as Dr. Chausible/Miss Prism and is able to bring a genuineness to her part(s) that helps ground the scenes she is in. At times however, it felt that some of the actors were too distracted by the gimmick of playing the opposite gender to play their actual character.
This is the debut of NY Classical's annual indoor performance at the Mezzanine Theatre at A.R.T./New York Theatres. The black box theatre is decorated sparsely by set designer Maddie Peterson with a grass-like substance laid on the floor all around to give the idea of a lawn and minimal props. The show is split up into three parts by five minute seat changes, before which an actor encourages the audience to move to a different section around the thrust stage. However, as there didn't seem to be any true "front" to the action, the moving felt a bit pointless.
The best gender swapped productions are those during which we can forget that the gender was ever another way, like the recent West End revival of COMPANY, or in which the new perspective gives us further insight into the original text. Unfortunately, the gender-reversed version of this production does neither. Which isn't to say it isn't entertaining or has its charms - it just might be advisable to stick to seeing it on a night with conventional casting.

Related Articles View More Off-Off-Broadway

Stories

Shows