BWW Review: Biting through the Dam with THE PROVIDENCE OF NEIGHBORING BODIES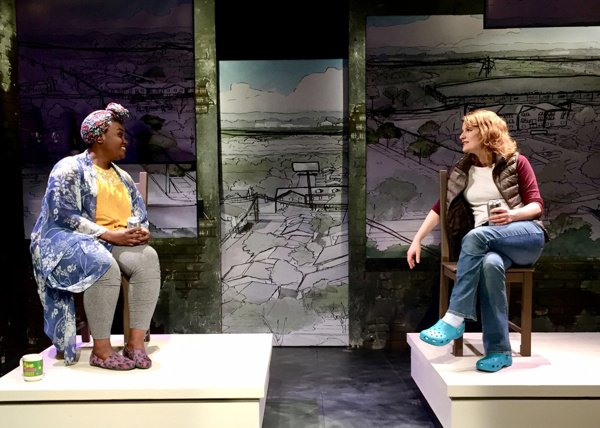 How very clever of them to write about Providence's former beaver problem in place of an actual show synopsis.
I've been to Providence on multiple occasions - well, mostly to see shows or take self-guided walking tours around the neighborhood. Not actually knowing anyone from there, I've always wondered what it would be like to live in the smallest state in the country. Sure there's lots of traffic, a Starbucks, a strip mall and a historic feel to it that makes it a relaxing (albeit not a touristy) place to visit. After seeing Dutch Kills Theater Company's The Providence of Neighboring Bodies, though, it made me question if Providence, RI is really that different a place from everywhere else? And, more importantly, does it really want to be?
Written by Jean Ann Douglass and directed by Jess Chayes, The Providence of Neighboring Bodies comes to Theater 511 (in association with Ars Nova) for its World Premiere in New York. Featuring a powerhouse cast of only three and a truly thought-provoking plot that gets more intricate the more I think about it, Providence brings a lot of great artistic decisions together in such a small space, and in so short a time. The play's two main characters are like two sides of the thought process: one side allowing the open-mindedness and electricity of life permeate its every fiber, while the other dwells on the certainty that everything about its life (in Providence) is just not very promising.
And THEN, what better way to turn such simplicity into a state of disarray than with a beer can through a car windshield?
There is so much about this play that really grows on you the more you try to weave your way through its seeming simplicity. I very much love the effort put into making the plot so easily grasped by audiences, but still begs us to think a little more about it yet. With a brief explanation of how Providence removed its pesky beaver population by transporting trapped beavers to neighboring states as the play's only forefront, it's questionable as to what the heck is about to happen on stage.
Two neighbors appear on their balconies in Providence, R.I.: Dora, whose name everyone always forgets or gets wrong, and Ronnie. While Dora is too optimistic and peppy to be believably human (one might also say delusional), Ronnie is awkward, withdrawn and pretty despondent about her world. Dora, a fast talker who relishes the simple joys and bad-assery of drinking more than a single cup of coffee and making mad, excited dashes for the morning paper against everyone else's lethargy, and Ronnie, an English teacher who is realistic about her life in Providence and considers going to Dunkin' Donuts an unwanted social excursion. Today is the day Dora finally decides she will say hello to Ronnie, whom she finds intriguing on some sort of cosmic, aura-based level. Yet Ronnie has just rented her couch out to a beaver, making Dora work that much harder for her neighbor's attention.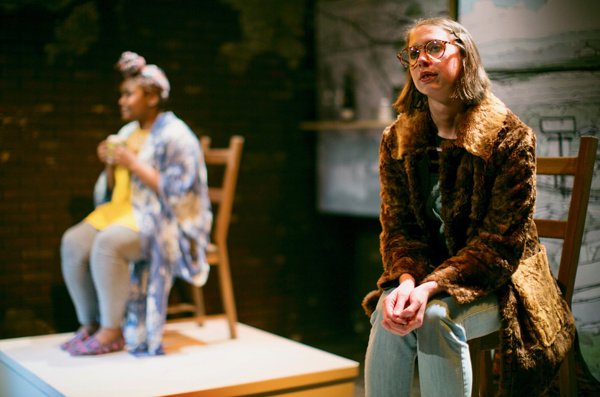 A play that asks the audience to think outside the box and not just see a beaver on a balcony, but all that the beaver can represent, Providence in my opinion packs quite a punch. I love how the audience must not only fully accept the fact that there is a beaver who can walk, talk and seek out its family history in Rhode Island, but also be so conflicted as to whether this beaver is friend or foe.
Judging by the description of the beaver as a nuisance, the audience is led to believe that this beaver is in the way of a blossoming friendship - that she is an outsider with the privilege of being included amongst "friends" for only so long. The irony of making this take place in Providence, placing a beaver in the protective care of two people not even friends but simply referred to as "neighboring bodies," is awesome. As Ronnie makes note of as she admits defeat in her early morning feat to be a photographer, can people really just get on as friend simply because they are there? Why the hell not if God put people together (even if only proximally speaking).
Dora deciding to play God herself by going all Tom Buchanan (I love Gatsby references) on this beaver to make things go back to the way they were for the last day is also pretty great. When a beer can through a windshield causes people to show their true selves, can Providence really refer to anywhere in this world where people don't want others ruining their view and control of what they see as reality? This play brings up so many different questions in so many little ways - it's like being in a really fun English class all over again.
Lori Elizabeth Parquet as Dora, Dinah Berkeley as Jane and Amy Staats as Ronnie all did a wonderful job keeping the steady momentum to a show whose tension grows more and more without very noticeable plights on stage. Lori and Dinah are perfect as the two characters who are awkwardly paired as friends (even more recent than Dora and Ronnie), only to be later oddly compatible...or is that just Dora's manipulation running rampant?
Staats, who only very recently stepped into the role, truly does a great job appearing awkward and very in tuned with but not in charge of her own anti-social behavior...perfectly portraying how many of us are ninety-nine percent of the time. She remains who she is in the middle of an oncoming whirlwind, and I really like her character. Berkeley is also very much out of place but in a more confident, goal-driven way that makes her one of three very different characters on stage, played by three very diverse actresses who do a wonderful job creating hidden conflict together.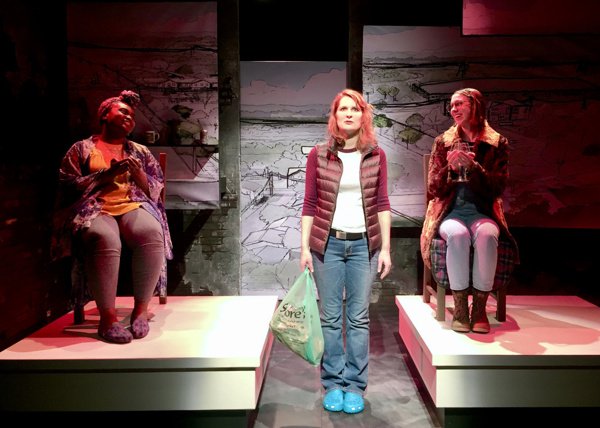 Kudos as well to Set Designer Carolyn Mraz, Costume Designer Evan Prizant, Lighting Designer Derek Wright, Sound Designer Asa Wember, Prop Designer Jess Adams, Chris Chappell for his original music and all other involved to make this a rather intriguing production which audiences will find as interesting during as after the show has ended.
Dutch Kills Theater Company's The Providence of Neighboring Bodies opened on February 13th at Theater 511 (located at 511 West 54th Street @ 10th Avenue), and will continue thru March 11th. General admission is $25 and tickets may be purchased by visiting http://dutchkillstheater.com or by calling 212-352-3101. Performances are February 17, 19, 23, 26, March 1, 3, 5, 8 & 10 at 7:00pm and February 15, 18, 22, 27, March 2, 4, 7, 9, & 11 at 9:00pm.
Enjoy the show!
Photo Credit: Christopher Genovese and Alley Scott