Review: Broken Box Mime Theater Explores The Fragility of Contemporary Life in SKIN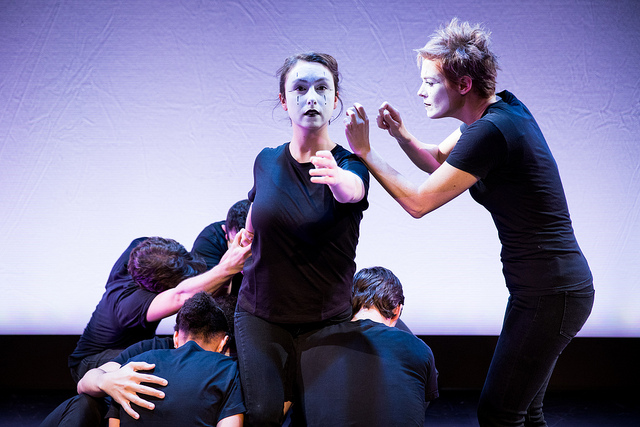 Nearly two years after an impressive debut at A.R.T., Broken Box Mime Theater is back with SKIN, a collection of fifteen short pieces which alternate between the playful and the political. See Reverse (which dazzled this reviewer), consisted of just ten pieces. This gave audience members more time to connect emotionally with a piece, even if--as often happens in this wordless medium--they didn't grasp its narrative or even general theme.

Interestingly, the reviews of SKIN, both by critics and theatergoers in forums like Show-Score, have been wildly enthusiastic. And it has received far more attention than prior work by the excellent company known as BXBX (several of whose members do not perform in the current production): Nick Abeel, Becky Baumwoll, Dinah Berkeley, Ismael Castillo, Duane Cooper, Geraldine Dulex, Blake Habermann, David Jenkins, Marissa Molner, Joel Perez, Tasha Milkman, Regan Sims, and Matt Zambrano.
These physical storytellers have a palpable bond, perhaps because they communicate outside the sphere of language. Acting depends upon listening, but in mime, the "listening" takes a more visceral and amorphous form. This accounts, I think, for the intimacy one witnesses in BXBR. It's easy for mime to miss the mark, at least if one associates meaning with hitting one's marks. These performers must trust each other to help make each action intelligible. One might say that meaning itself is collaborative.

There is much to admire in Skin, and under Becky Baumwoll's direction, the performers continue to amaze with their ability to convey such depth and precision of feeling with recourse only to facial expressions and body language. Of course, when you take away speech, music and lighting become critical to the creation of meaning. Jamie Roderick bathes the performers (dressed in black pants and t-shirts and wearing traditional white makeup) in an array of hues, moving the spotlight deftly to focus our attention on the primary action of the scene.
The music, mostly instrumental and somewhat obscure, runs the gamut from contemporary classical to percussive jazzy music one might hear on an NPR station Several pieces, including Jack McGuire's "Masterpiece," and the pop-rock Wes Braver's "We Out Here 2019 Lit Vibes Fan" were composed specially for this production. The latter opens the show on a light-hearted note: "Boys Syde" hilariously spoofs the corny choreography of 1990s boy bands.
At its conclusion, Fun Home's Joel Perez sheds his skin before tossing it to the audience, which functions as a conceptual overture to the subsequent pieces, most of which peel off the veneer of conventions that govern daily life. It also forms a bond between the cast and the audience. "Decentralizing white normative discourse" may be the explicit goal of SKIN, but it doesn't feel anywhere near so ponderous or didactic.

Yet for all the elements working well in SKIN, many of the pieces leave one confused. This is true especially of the political scenes. "Fall From Grace," ostensibly about a father and son grappling with their troubled past and "revising memories of the father through the lens of #MeToo" made little sense, even by mime's looser standard of meaning. The exceptional Blake Habermann and Nick Abeel are clearly involved in a psychodrama, and in retrospect, the treatment of women (or at least a romantic partner) is at issue, but it's pretty opaque.
"Hashtag," which explores consent (Aziz Ansari hovers in the background), features newcomer Regan Sims and the charismatic, athletic Duane Cooper. She's snapping selfies, brushing her teeth, and preparing for a date which clearly does not end well, but it was hard to tell why, or who was to blame. (If the muddiness was intended to draw out the absurdity of the Ansari incident, "Hashtag" represents SKIN's most nuanced commentary.)

A less ambiguous scene of intimacy is "Sunday," which depicts a couple in a TV-watching rut, on the fence about having sex or just zoning out on the couch. In one of the show's two explicitly sexual scenes, the muscular yet waif-like Marisa Molnar holds a partial handstand with her feet on Zambrano's chest. Anyone who has tried a handstand, even at a wall, will marvel at this feat.

"Would You Put Put A Hat On A Ball Of Sunshine? Naw, Cuz It's Too Damn Hot" is a whimsical delight (though I didn't get Pixar from the short vignette). The "16th Annual Brooklyn Beard Award," which pokes fun at hipsters, is another comic highlight, outdone only by "Coming This Fall," which gleefully transcends the realm of the human in its portrayal of an Emmy-nominated TV. Given the debased state of human relations, maybe Snail Cop is just what we need.

"Variable," the most lucid of the conceptually ambitious scenes in SKIN is like Rashomon with musical chairs. A couple orders drinks at a cafe, only to be interrupted by a third person, who has evidently caught his or her lover in an affair.
The demarcation of scenes in the third segment of the show (SKIN is a one-act but there are two one-minute rests) is blurred. The end of "Love Song" I took to be the beginning of "Lake" (an amusing, joyful vignette about skinny dipping). I'm not sure if this was deliberate, but think one should strive for greater, not lesser, clarity in work of this kind. The final piece, from which the show takes its title, was powerful visually, but didn't really tie the whole show together. SKIN, while less resonant overall than See Reverse, is a worthwhile production by a daring and unusual company.