Award Winning Comedian Ed Hill to Make Off-Off Broadway Debut With STUPID ED
The show runs March 30th to April 2nd.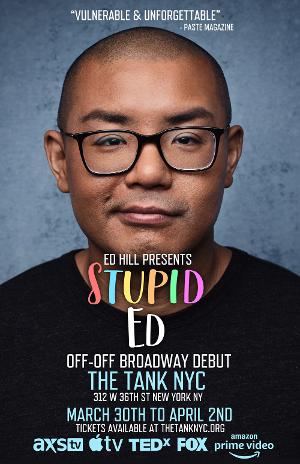 Award-winning Stand up Comedian, Ed Hill, will make his off-off Broadway debut with his new show "Stupid Ed" at the Tank NYC from March 30th to April 2nd.
Stupid Ed is Taiwanese-Canadian Comedian Ed Hill's one hour follow up show to his critically acclaimed one hour comedy special, Candy & Smiley on Amazon Prime.
Stupid Ed is intimate, insightful, and at times -- incredible. Comprised of introspections about Ed's relationships with the female figures in his life, the show explores the values that a first-generation Taiwanese Canadian immigrant has learned from his motherland, Canada. Stupid Ed is both a heartwarming and heartbreaking story. It is a close examination on the meaning of strength, a genuine reflection on the concept of fragility, and an honest observation on what connects all of us: Love.
In 2021, Ed became the first comedian of Taiwanese-Canadian descent to release a full one hour comedy special titled "Candy & Smiley" with Comedy Dynamics. The special was named "Top 15 Comedy Specials of 2021" by Paste Magazine and "Best of 2021" by NPR Radio. The special is currently streaming worldwide on Amazon Prime and Apple TV.
Noted as "Vulnerable and Unforgettable" by Paste Magazine, Ed has performed all over the world. He was voted "Best Vancouver Comedian of 2016" by Vancouver Courier Magazine, and "Best Vancouver Comedian of 2015" by Vancouver Courier Magazine and The Georgia Straight, and named "Comic to Watch" in 2018 by Reader's Digest Magazine and in 2015 by Canadian Immigrant Magazine.
"Stupid Ed" runs March 30th to April 2nd at the Tank NYC. Tickets are available at Click Here