Aixa Kendrick And Cast of BLACK SPARTA Return for New York and Pittsburgh Performances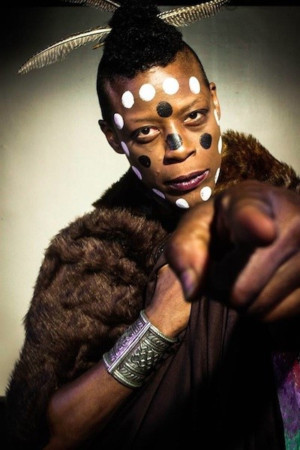 Award winning actress Aixa Kendrick and the cast of Layon Gray's critically acclaimed warrior drama Black Sparta will return to the New York stage for two performances only before heading to Pittsburgh Pennsylvania for the production's regional premiere.
Black Sparta will play in New York at the Actor's Temple Theater on Saturday November 3 at 3pm and Wednesday November 7 at 2pm.
The show then moves on to the Kelley Strayhorn Theater in Pittsburgh for a limited run of four performances from Friday November 9 through Sunday November 11, with shows at 7:30pm on Friday and Saturday, and matinee performances at 3pm on Saturday and Sunday.
Set in the late 1800's, Black Sparta tells the story of The Mino, an all female military regiment of the Fon people who served as protectors of the King and kingdom of Dahomey (present day Benin). The story traces the conflict that ensued as European superpower France began to annex parts of the Dahomey kingdom, only to be met with strong resistance by the Dahomean people and the Mino warriors.
In addition to Kendrick, the cast also features Setor Attipoe, Imani Breaux, David Roberts, Anthony Goss and Melvin Huffnagle.
The show - written and directed by Layon Gray - is returning to the New York stage by popular demand after a successful run that ended in July of this year.
According to Kendrick - a Best Actress AUDELCO Award winner for Baba David D. Wright's dance drama Oya- Warrior Wind Goddess- the production has struck a chord with audiences, many of whom were unfamiliar with the history of female warriors in Africa generally and of the Mino in particular.
"It's really inspiring to see how audiences have responded to Layon's incredible script and the production as a whole," she says. "And he has used the experience of our earlier run to rework some aspects of the show, which means that audiences in New York and Pittsburgh will witness an even deeper and more profound production this time around. I have always said it's a story that needs to be told, because far too few of us know about the long history of female military leadership in Africa. This is not only entertainment, but an informative and enlightening history lesson as well."
Since Black Sparta's initial run ended in July, the multi faceted Kendrick has directed and performed in the sociopolitical satire series BLACK ISSUES ISSUES with her collaborator Kanene Ayo Holder at Black Gotham and at Teachers College Columbia University . She also recently directed a staged reading at the Billie Holiday Theatre of the controversial new play Insex by Christian Elder, which explores the world of BDSM (Bondage, Domination, Sadism and Masochism).
She is currently filming the Sci-Fi action web series FIGHTERZ directed by Rhugid Lee.
The Actor's Temple Theatre is located at 339 West 47th Street between 8th and 9th Avenues in Manhattan.
The Kelley Strayhorn Theater is located at 5942 Penn Avenue in Pittsburgh.
See also- www.aixakendrick.com
More Hot Stories For You