217 BOXES OF DR. HENRY ANONYMOUS Extends Through May 11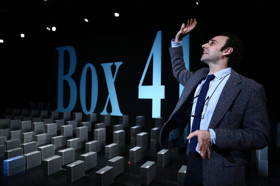 Dr. John Fyer is a seminal but little-known LGBT civil rights pioneer and is memorialized in the play 217 Boxes of Dr. Henry Anonymous written and directed by three-time Obie award-winning playwright Ain Gordon. Originally commissioned by the Historical Society of Pennsylvania and underwritten by The Pew Center for Arts & Heritage, the Pick Up Performance Co(s) production is presented by Equality Forum, a national and international LGBT civil rights organization. Initially set to run May 3 - 9, producers have added an additional two performance through May 11 to accommodate the demand at Baryshnikov Arts Center's Jerome Robbins Theater (450 West 37th Street). Tickets are $40 and can be purchased by visiting www.217boxes.com. More details to follow on partner organizations for upcoming nightly talkbacks.
Before 1972, homosexuality was considered a mental illness in the American Psychiatric Association's Diagnostic and Statistical Manual (DSM). Doctors prescribed a variety of reparative therapies including chemical castration, electric shock, mental institutionalization and lobotomies. The classification was used by government to justify statutes and regulations that marginalized homosexuals. Combing over the 217 boxes of notes and research left by psychiatrist Dr. John Fryer, 217 Boxes of Dr. Henry Anonymous is a compelling play about Fryer and his galvanizing testimony at the 1972 APA Annual Meeting which led to homosexuality's removal from the DSM, considered one of the most significant moments in the history of the gay-rights movement. Because of the grave consequences that could befall an openly gay psychiatrist including loss of medical license, Fryer used a pseudonym, mask and voice modulator to address his colleagues.
The American Psychiatric Association's (APA) Annual Meeting is taking place from May 5 to 9, 2018 at the Javits Convention Center, steps away from the Baryshnikov Arts Center and is expected to attract over15,000 national and international attendees. This year's meeting marks the 45th Anniversary of the APA removing homosexuality as an illness from its Diagnostic and Statistical Manual (DSM). The APA meeting will include a panel about Dr. Fryer and conversion/reparative therapy. Saul Levin, Medical Director, APA, the first openly gay head of the organization will participate in a Talk Back following the Friday, May 4th performance.
The cast includes Drama Desk, Outer Critics Circle and Obie Award winner Laura Esterman (Marvin's Room), Derek Lucci, and Broadway veteran Ken Marks (Mamma Mia!, Dear Evan Hansen, Dancing at Lughnasa, Hairspray) with a creative team that includesNick Ryckert (Lighting and Projection Design), Ed Fitzgerald (Production Stage Manager) Meredith Boggia (Associate Producer) and produced by Alyce Dissette and Ain Gordon.
217 Boxes of Dr. Henry Anonymous
Written and directed by Ain Gordon
Baryshnikov Arts Center's Jerome Robbins Theater is located at 450 West 37th Street
(between Ninth and Tenth Avenues)
Performance Dates:
All performances are at 7:30pm and run 70 Minutes
Thursday, May 3
Friday, May 4
Saturday, May 5
Monday, May 7
Tuesday, May 8
Wednesday, May 9
Thursday, May 10
Friday, May 11
Tickets are $40 and can be purchased by visiting 217Boxes.com or call Ovationtix at (866) 811-4111
For more information on Dr. John Fryer and 217 Boxes of Dr. Henry Anonymous please visit 217Boxes.com