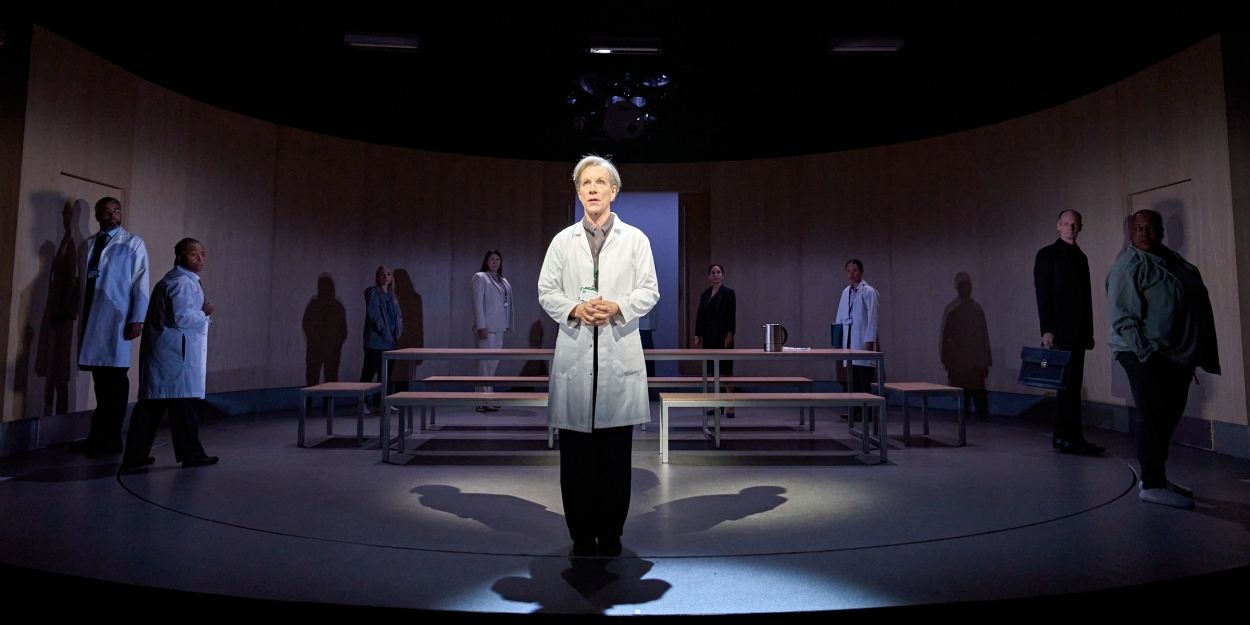 THE DOCTOR Starring Juliet Stevenson to Begin Performances in June at Park Avenue Armory
The North American premiere of The Doctor runs June 3 – August 19, 2023 .
This summer, Park Avenue Armory will stage the North American premiere of Robert Icke's multi-award-winning West End hit, The Doctor. The production, which will run for 12 weeks this summer in the Armory's Wade Thompson Drill Hall, marks acclaimed theater and film actor Juliet Stevenson's first appearance on the New York stage in 20 years in what she calls the "role of a lifetime." Stevenson leads the cast, reprising her award-winning performance as Dr. Ruth Wolff, a medical leader whose decision in the field ignites public debate that grips a divided nation. Based on Arthur Schnitzler's Professor Bernhardi, written in 1912, Icke breathes fresh life into what was revolutionary and controversial in its time for addressing pressing topics including antisemitism and abortion. Now on stage in New York, Icke reimagines the story and its moral arguments in a contemporary context, challenging the audience to question their presumptions of faith, race, gender, scientific reason-and the characters themselves.
"Stevenson's revelatory performance is shockingly relevant in a time when public debate often devolves into bedlam. The Doctor uses the medium of theater at its utmost capacity to insight dialogue and argument, drawing audiences into an enthralling moral dilemma sparked by the collision of race, religion, science, and gender identity," said Pierre Audi, the Armory's Marina Kellen French Artistic Director.
"Robert Icke has created a compelling work that traces how the collision of personal beliefs reverberates into public conflict in a polarized society. It's a story of our times drawn from one written over 100 years ago," added Rebecca Robertson, the Adam R. Flatto Founding President and Executive Producer of Park Avenue Armory. "Rob is one of Britain's most celebrated contemporary directors, and we couldn't be more excited to invite him back to build upon the fantastic productions he's brought to the Armory over the past two seasons."
Following a premiere at the Almeida Theatre, which won Stevenson the Critics' Circle Theatre Award for Best Actress and Icke the Evening Standard Award for Best Director, The Doctor opened on the West End in the fall of 2022 to further critical praise. The production headlined the Adelaide Festival and was translated in Dutch and German for premieres in Amsterdam and Vienna.
The Doctor is part of Park Avenue Armory's full 2023 season. Additional upcoming Drill Hall programming at the Armory includes: the world premiere of Doppelganger, a theatrical staging of Schubert's Schwanengesang performed by renowned tenor Jonas Kaufmann and directed by acclaimed German opera director Claus Guth; Mutant;Destrudo, a world premiere, multidisciplinary commission from groundbreaking pop sensation Arca; and a restaging of Pina Bausch's iconic The Rite of Spring, performed by an ensemble of dancers from across Africa and paired with common ground[s], a new work by Germaine Acogny and Malou Airaudo.   
Previous theatrical productions at the Armory include Robert Icke's repertory productions of Hamlet and Oresteia, as well as his interactive adaptation of Henrik Ibsen's classic morality tale Enemy of the People; Sam Mendes' hit production of The Lehman Trilogy which transferred to Broadway (2022 Tony Award recipient for Best Play) and has toured internationally, adapted by Ben Power and starring Adam Godley, Ben Miles, and Simon Russell Beale; Antigone, an acclaimed production that flooded the Drill Hall with water as it mixed the foundational principles of Greek tragedy, Japanese Noh theater, Indonesian shadow play, and Buddhist philosophy to tell the classic Greek tale; Macbeth, directed by Rob Ashford and Kenneth Branagh, and starring Branagh and Alex Kingston for which the Wade Thompson Drill Hall was transformed into a bloody, rainy Scottish heath; Ivo van Hove's chilling staging of The Damned; Simon Stone's critically acclaimed, Obie Award-winning, and four-time Drama Desk-nominated production Yerma, starring Billie Piper and performed within a glass encasement intersecting the audience; Obie Award-winning and eight-time Drama Desk-nominated play The Hairy Ape, directed by Richard Jones and starring Bobby Cannavale in a production where the audience was surrounded by a massive revolving stage; Christopher Shinn's adaptation of Judgment Day, directed by Richard Jones and starring Emmy Award-winning actor Luke Kirby; Obie Award-winning A Room in India (Une chambre en Inde) with Le Théâtre du Soleil under the direction of Ariane Mnouchkine; and the unprecedented residency of the Royal Shakespeare Company with five productions in repertory over six weeks in association with Lincoln Center Festival.  
PERFORMANCE SCHEDULE 
The Doctor
June 3 - August 19, 2023 
North American Premiere 
Originally produced by the Almeida Theatre and produced in the West End by Ambassador Theatre Group Productions
Very Freely Adapted from Arthur Schnitzler's Professor Bernhardi
Adaptation and Direction Robert Icke
Set and Costume Design Hildegard Bechtler 
Lighting Design Natasha Chivers
Sound Design and Composition Tom Gibbons
Previews: June 3 - June 12, 2023
Performances: June 13 - August 19, 2023 
Monday - Thursday at 7:00pm 
Friday at 8:00pm 
Saturday at 2:00pm and 8:00pm 
TICKETS 
Tickets start at $30 (plus fees) for previews and $45 (plus fees) for performances and can be purchased at armoryonpark.org / (212) 933-5812 
Park Avenue Armory  
643 Park Avenue at 67th Street, New York, NY 
ARTIST TALK: THE DOCTOR
Thursday, June 29 at 5:30pm 
Tickets: $20 (plus fees)
Robert Icke is a writer and director. His recent productions include Judas, Children of Nora, and Oedipus at Internationaal Theater Amsterdam, where he is Ibsen Artist in Residence; Enemy of the People (Park Avenue Armory); Animal Farm (Children's Theatre Partnership, UK Tour); Ivanov (Schauspiel Stuttgart); and The Doctor (Adelaide Festival, Almeida and West End, Burgtheater, Vienna). His work while Associate Director at the Almeida included adapting and directing The Wild Duck, Mary Stuart (also West End and national tour), Uncle Vanya, Oresteia (also West End and Park Avenue Armory), and 1984 (co-created with Duncan MacMillan, also Broadway, West End, national and international tours). As a director, his productions included Hamlet (also West End, BBC2, and Park Avenue Armory), The Fever, and Mr Burns. His awards include two Evening Standard "Best Director" Awards, the Critics' Circle Award, the Kurt Hübner Award for his debut production in Germany, and the Olivier Award for "Best Director" for Oresteia, of which he is the youngest ever winner. He is a Fellow of the Royal Society of Literature.
Juliet Stevenson trained at RADA and has been nominated for many Olivier and BAFTA awards. Her stage work includes: The Doctor (Almeida, West End), for which she has been nominated for an Olivier Award; Mary Stuart (Almeida, West End); Hamlet (Almeida, West End); Wings (Young Vic); Happy Days (Young Vic); Duet For One (Almeida, West End); The Heretic (Royal Court); A Little Night Music (Lincoln Center); Beckett Shorts (RSC Stratford/Europe); Les Liaisons Dangereuses; As You Like It; Troilus and Cressida; Measure For Measure; A Midsummer Night's Dream; The Witch of Edmonton; Money (RSC Stratford/Barbican); Henry IV, Parts I & II (RSC Stratford Tour); Once In A Lifetime; The White Guard (RSC Aldwych); Hippolytus; Antony and Cleopatra; The Churchill Play; The Taming of the Shrew; The Tempest (RSC Stratford); Alice Trilogy; The Country; Other Worlds (Royal Court); The Seagull; Private Lives; Hedda Gabler; Yerma (National Theatre); We Happy Few (Gielgud Theatre); Caucasian Chalk Circle (National Theatre/Complicité); The Duchess of Malfi (Greenwich, West End); Scenes from an Execution (Mark Taper Forum, LA); Death and the Maiden (Royal Court, West End); Burn This (Hampstead, West End); On the Verge (Sadler's Wells); The Trackers of Oxyrhynchtus (National Theatre Studio).
Stevenson's television work includes: Wolf (BBC1); The Man Who Fell to Earth (CBS); Death in Paradise (BBC); The Long Call (ITV); Out of her Mind (BBC); Riviera (Season 2, Sky); Atlantis; One of Us; The Village; The Enfield Haunting; The Accused; The Hour; White Heat; Dustbin Baby; Place of Execution; Hear the Silence; The Pact; Trial by Fire; Cider with Rosie; Stone, Scissors, Paper; The Politician's Wife; Out of Love; Stanley; A Doll's House; Life Story; Antigone; Freud; Bazaar and Rummage; The Mallens; Maybury; Great Journeys: Isabelle Eberhardt; Oedipus At Colonus.
Film work includes: The Last Planet; Let Me Go; Love is Thicker than Water; Departure; Diana; Desert Flower; The Secret of Moonacre; And When Did You Last See Your Father?; Breaking and Entering; Pierrepoint; The Snow Queen; A Previous Engagement; Every Word is True; Red Mercury; Being Julia; Mona Lisa Smile; Nicholas Nickleby; Food of Love; Bend It Like Beckham; The Search for John Gissing; The Road From Coorain; Play (Samuel Beckett); Emma; The Secret Rapture; Who Dealt?; The Trial; Truly, Madly, Deeply; Drowning by Numbers.