Photo Flash: Mario Fratti's TRIO at Theater for the New City
The playwright and drama critic Mario Fratti -- best-known for his adaptation from the Italian of the Tony Award-winning musical NINE - will present TRIO, three one act plays about sex religion and politics beginning previews October 7 prior to an official opening October 14 at Theater for the New City (155 First Ave. at 10th St.) in Manhattan.
Directed by Stephan Morrow, Tony nominee Rose Gregorio ("The Shadow Box") will head the cast of nine in TRIO.
TRIO is comprised of the following one-act plays: ANNIVERSARY, in which a father sees his daughter once a year to celebrate a birthday; MISSIONARIES, in which a young priest defends his love for a young nun, and BLINDNESS, in which a hero is celebrated for his military service in Iraq. A mystery, a tragedy and a sacrifice are revealed, respectively, in ANNIVERSARY, MISSIONARIES and BLINDNESS.
Mario Fratti is a playwright and drama critic, born in Italy, who has been living in NYC since 1963. His plays characteristically take on realistic subjects with a touch of European irony. His body of work (over 80 plays) includes such noteworthy plays, as The Cage The Victim, Suicide, Return, Che
Guevara, Eleanora Duse, Seducers, Refrigerators, Terrorist and Thirst. Most of Fratti's plays have been published and performed in 19 languages in over 600 theatres. Broadway audiences know him as the author of the adaptation of Federico Fellini's renowned Italian film "8 ½" that became NINE, the now legendary Broadway musical, recipient of seven Tony Awards, eight Drama Desk
Awards, the O'Neill Selection Award, the Richard Rodgers Award, the Outer Critics Circle Award, the Leone di San Marco Literary Award and the Heritage and Culture Award.
Stephan Morrow is an actor and director who has labored in the trenches of non-commercial theater in New York and Los Angeles for over 25 years. He had a long collaboration with Norman Mailer performing in his play "Strawhead- A memory play of Marilyn" at The Actor's Studio and his film 'Tough Guys Don't Dance'. More recently he co-directed and acted in Mailer's 'The Deer
Park.' He is presently in production with Murray Schisgal's play "Wall Street Fandango." As well, he directed a production of "Incident at Vichy" at the request of Arthur Miller. Mr. Morrow is Artistic Director and founder of The Great American Play Series.
In addition to the Tony and Drama Desk Award nominations for Michael Cristofer's THE SHADOW BOX in 1977, Rose Gregorio's other Broadway appearances include A VIEW FROM THE BRIDGE and M BUTTERFLY. TV audiences know her best as Helen Hathaway, mother of Carol Hathaway on the series ER for several seasons.
Scheduled through October 24, TRIO will perform Thursdays, Fridays and Saturdays at 8 p.m. and Sundays at 3 p.m. Tickets are $12 and can be reserved by calling 212 254 1109. www.theaterforthenewcity.net
Theater for the New City (TNC) is a Pulitzer Prize-winning community cultural center known for its high artistic standards and widespread community service. One of New York's most prolific theatrical organizations, TNC produces 30-40 premieres of new American plays per year, at least 10 of which are by emerging and young playwrights. Many influential theater artists of the
last quarter century have found TNC's Resident Theater Program instrumental to their careers, among them: Sam Shepard, Moises Kaufman, Richard Foreman, Charles Busch, Maria Irene Fornes, Miguel Piñero and Academy Award-winners Tim Robbins and Adrien Brody. TNC also presents plays by multi-ethnic/multi-disciplinary theater companies who have no permanent home. Among the
well-known companies that have been presented by TNC are Mabou Mines, The Living Theater, Bread and Puppet Theater, the San Francisco Mime Troupe and the Ma-Yi Theater Company. TNC also produced the Yangtze Repertory Company's 1997 production of BETWEEN LIFE AND DEATH, which was the only play ever produced in America by Gao Xingjian before he won the 2000 Nobel Prize for Literature. TNC seeks to develop theater audiences and inspire future theater artists
from the often-overlooked low-income minority communities of New York City by producing minority writers from around the world and by bringing the community into theater and theater into the community through its many free festivals. TNC productions have won the Pulitzer Prize for Drama and over 40 OBIE Awards for excellence in every theatrical discipline. TNC is also the only
Theatrical Organization to have won the Mayor's Stop the Violence Award. Samuel French has published Mark Morillo's ANGRY YOUNG WOMEN IN LOW-RISE JEANS WITH HIGH-CLASS ISSUES and ALL ABOUT THE MARRIAGE HEARSE, which each had runs at Theater for the New City. A scene from Crystal Field's new play LET IT GO is published in Applause Book's "The Best Women's Monologues for 21st Century."
Photo Credit: Peter James Zielinski.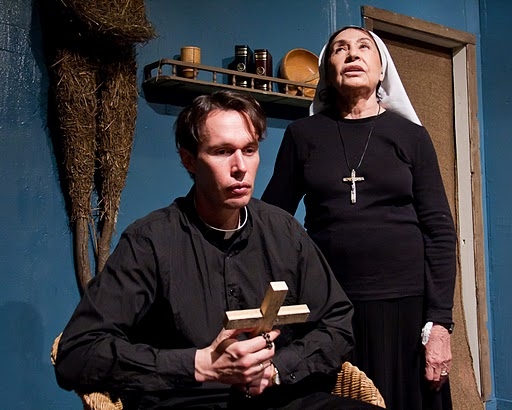 Christopher Kerson and Rose Gregorio

Rose Gregorio and Christopher Kerson

Rose Gregorio and Christopher Kerson