La MaMa To Present World Premiere Of THE PILL, A New Family Memoir Play Conceived By Marla Mase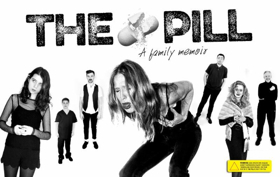 La MaMa (Mia Yoo, Artistic Director), the multiple Obie, Drama Desk and Bessie Award-winning Off-Broadway theater, announces the world premiere of The Pill, conceived by Marla Mase and written by The Family. A family memoir featuring original music by composer and producer Tomás Doncker of True Groove, performances of The Pill will begin Thursday, January 25. This strictly limited engagement will play through Sunday, February 4.
When Sylvia accidentally takes her anorexic daughter's antidepressant, panic and pandemonium ensue. A story about the cataclysms of depression, fear, and anxiety, and their dynamic intersections with eating disorder and suicidal ideation, The Pill is a true story written by 5 members of THE FAMILY - a comic and tragic mash-up of three generations take on living and dying in a post-truth dysfunctional world.
"Like Sylvia, I made the mistake of accidentally taking my daughter's medication," says musician, playwright and conceiver of the play, Marla Mase. "I freaked out. I had these irrational fears about medications - not for other people but for myself - so when I realized what I had done, I screamed and begged my daughter to help me throw it up. In the midst of all this chaos, Marla had the presence of mind to see that what was happening was both absurdly ridiculous and supremely funny.
"Here I am," Marla continues, "begging my anorexic/bulimic daughter to show me how to throw up. I told my kids, 'this is going into a play one day.'" Eight years later, her son Yanai heeded the call and retold the story of the event in teleplay form. After reading her son's teleplay Marla wrote her version and then asked her daughter and parents to write their own versions of what happened. Out of those five pieces a singular play emerged.
The Pill will be directed by Randolph Curtis Rand, and will feature an ensemble cast of actors led by 2017 NYMF Award-winner for Outstanding Performance Zoe Wilson (Play Like A Winner, "Orange Is the New Black") as the teenaged Leni and Obie Award-winner Winsome Brown as her mother, Sylvia Salk. The pair will be joined on stage by celebrated Australian comic tour-de-force Amanda Bishop, Joshua Turchin (A Christmas Story), Broadway veteran Roger Rathburn (No, No, Nanette), Drama Desk Award-winner Graham Stevens (In Transit) and Adam Patterson.
Tickets for the world premiere of The Pill are $25 for Adults and $20 for Students and Seniors (plus a $1 facility fee) and are available at www.lamama.org or by phone via OvationTix at 212-352-3101.
For more information about The Pill please visit www.ThePillThePlay.com ABOUT La MaMaLa MaMa is dedicated to the artist and all aspects of the theatre. The organization has a worldwide reputation for producing daring performance works that defy form and transcend barriers of ethnic and cultural identity. Founded in 1961 by award-winning theatre pioneer Ellen Stewart, La MaMa has presented more than 5,000 productions by 150,000 artists from more than 70 nations. A recipient of more than 30 Obie Awards and dozens of Drama Desk, Bessie, and Villager Awards, La MaMa has helped launch the careers of countless artists, many of whom have made important contributions to American and international arts milieus. La MaMa's 56th season highlights artists of different generations, gender identities, and cultural backgrounds, who question social mores and confront stereotypes, corruption, bigotry, racism, and xenophobia in their work. Our stages embrace diversity in every form and present artists that persevere with bold self-expression despite social, economic, and political struggle and the 56th season reflects the urgency of reaffirming human interconnectedness.
MARLA MASE (Playwright) is a writer/performer/singer/songwriter from NYC. Known for her gutsy, sexy, raw performance style and intelligent lyrics, Marla is regarded by her peers and fans as a true musical pioneer. Her songs, a mix of punk, funk, spoken word, power pop and classic rock-n-roll are infused with Global Soul, the Signature Sound of True Groove Records, the record label she founded with her partner/collaborator Tomás Doncker. Along with triumphant tours in China, Europe and the United States, Marla received a 'Messenger of Peace' Award from the Friends of the UN for her visionary work as a songwriter and performer. A long time creative force in groundbreaking NYC theatre Marla is best known for her play The Canarsie Line, her rock opera A Brief Night Out, and multi-media concert SPEAK (NYC Summerstage 2013). Her most recent work, Miracles~Lost & Found: A Rock-n-Roll Rumination, based on her 2016 album by the same name, is a multi-dimensional performance piece about living and dying in our world today. www. Marlamase.com
THE FAMILY (Contributing Writers). The Pill was conceived by Marla Mase, but incorporates retellings of the events that inspired the play written by Marla's son Yanai Feldman, her late daughter Lael Summer, her father Howard Mase, and her mother Roberta Mase.
Randolph Curtis Rand (Director) is a theatre artist, based in New York, and Wash. DC. His work encompasses directing, design, performing dramaturgy, and teaching. Most recently he played the lead in Dracula at Actors Theatre of Louisville, and directed an all-male production of 2 Gentlemen of Verona at The Scranton Shakespeare Festival. Other directing: Pantasmagoria; Or, Let Us Seek Death at LaMama, and his own adaptation of Uncle Tom's Cabin for The Drama Dept. Artists and companies he's worked with: Joseph Chaikin, Elevator Repair Service, Richard Foreman, Meredith Monk, New York Theatre Workshop, Orlando Shakespeare Theater, Pig Iron Theatre Company, The Public Theater, The Rude Mechs, and The Wooster Group, among others.
TOMÁS DONCKER (Composer/Sound Design) cut his teeth as a guitarist with such genre-busting groups as James Chance & The Contortions; Defunkt; J. Walter Negro & The Loose Jointz; and many more, making him a prime mover on New York's downtown "No Wave" scene in the early 1980s. Eventually he went international, touring and recording in Japan with jazz pianist Masabumi Kikuchi, and producing studio and songwriting sessions with Bootsy Collins, Yoko Ono, and Grammy-nominated Reggae vocal group The Itals, among others. Since then, Doncker has continued to work with such iconic artists as: Madonna, Ivan Neville; Bonnie Raitt; Meshell Ndegeocello; Corey Glover of Living Colour; former Parliament Funkadelic keyboardist Amp Fiddler; 2013 Grammy award nominee Shamekia Copeland. His ongoing collaborations with NYS Poet Laureate and Pulitzer Prize winner Yusef Komunyakaa (the critically acclaimed album "Big Apple Blues" and the highly anticipated 10 Anniversary release of "The Mercy Suite") are celebrated worldwide. His most recent theatre & film composition credits include: "Dick & Jack" a feature film by world renown artist John Ransom Philips, "Power of the Trinity" "Diablo Love" and "Speak", all produced at NYC Summerstage; "Miracles~Lost & Found", "Bounce: The Basketball Opera" (produced by Ardea Arts in conjunction with University of Kentucky) and "Lambs to Slaughter" by actor/director/writer Khalil Kain. He has produced hundreds of records and is the Founder and CEO of True Groove Records.
TRUE GROOVE (Artistic Development & Production) - Established in 2014, True Groove was initially an independent record label whose mission was to develop and produce artists whose music spoke about topics that matter to the masses. CNN cited True Groove's "Global Soul" ethos as the beginning of a new genre in contemporary music. Since that time, True Groove has expanded into Theatre and Film. "So many artists that we work with do music, but they also write plays, act and make movies. In these days you have to do it all and we look for these modern day poets who are desperately trying to connect us back to something. In a world that seems focused on disconnecting, we hope to help people reconnect in whatever we can." Miracles-Lost & Found : a rock-n-roll rumination (Dec 2017 debut), The Power of the Trinity( Summerstage 2012), Diablo Love (Summerstage 2013), Speak (Summerstage 2013), Lambs to Slaughter (in development), The Mess We Made (2016-2017 tour) are all theatre projects that True Groove has produced and helped to create. True Groove also scored Dick & Jack, a film by renown artist John Ransom Philips and is the Executive Producer/Producer of the upcoming Dylan Mars Greenberg film "Spirit Riser". www.truegroove.nyc
More Hot Stories For You