Cast Complete for American Premiere of ANGRY YOUNG MAN at Urban Stages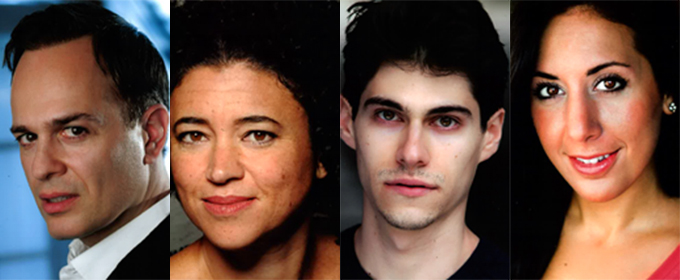 Urban Stages, Frances Hill, Founding Artistic Director, has announced the cast of the American Premiere of the award-winning drama Angry Young Man by award-winning playwright Ben Woolf, directed by Stephen Hamilton.
The talented cast includes Christopher Daftsios (NYC: In Bed With Roy Cohn. TV: "Royal Pains"), Rami Margron (Regional: Much Ado About Nothing. Macbeth), Max Samuels (Regional: A Christmas Carol, Oklahoma), and Nazli Sarpkaya (NYC: Debriefing; Tiger, Tiger).
A 5-star hit at the Edinburgh Fringe Festival and winner of Best Play Award at the Adelaide Festival, Angry Young Man is a fast-paced comedy, Angry Young Man is a fast-paced comedy, where a surgeon from the Middle East arrives in London in search of work and a new life. Instead, through a series of hilarious mistakes and hapless missteps, he runs afoul of both white nationalists and liberal hypocrites discovering some surprising truths about the way we view the immigrants amongst us.
The design and production team for Angry Young Man includes Sebastian Paczynski (Lighting Design), Frank Oliva (Set Design), Yuka Silvera (Costume Design), David M. Lawson (Sound Design), Doug Mills (Technical Director), Taylor Alyssa Marun (Production Stage Manager), Brian Clemente (Assistant Stage Manager), Stephanie Klapper (Casting), Peter Napolitano (Associate Producer), Antoinette Mullins (Development & Literary Director) and Olga Devyatisilnaya (Company Manager/Financial Administrator).
This limited engagement at Urban Stages (259 West 30th Street), begins performances on March 17, opens on March 23 and runs through April 9, 2017. The show then moves to the John Drew Theater at Guild Hall in East Hampton(May 31 - June 18). Tickets for Urban Stages are $40 ($25 during previews) and may be purchased via OvationTix at www.urbanstages.org or by phone at 1.866.811.4111.
Ben Woolf (playwright) is an award-winning writer and director. Ben trained with directors Peter Gill, Peter Hall, Michael Grandage, Paul Miller and Rob Ashford. Working for companies including the National Theatre, Donmar Warehouse, Bush Theatre, Watermill Theatre, Theatre Royal Bath, Old Vic, Ambassador Theatre Group and Dreamworks. He was Associate Director of Ivanov with Kenneth Branagh, Tom Hiddleston, Andrea Risborough and Gina McKee and Serenading Louie (both Donmar); Elling with John Simm; Sunset Boulevard (West End); Shrek the Musical (West End); and Staff Director of The History Boys (NT West End).As writer and director plays include: Angry Young Man (Trafalgar Studios, Adelaide Festival) - Critics Pick in The Times, Evening Standard and METRO; Western (Wimbledon Theatre, Prague Festival, Edinburgh); Monologue for an Ensemble (Edinburgh Festival, Oman - British Council). As director shows include The Billie Holiday Story (Charing Cross Theatre), Mojo (Underground Theatre), Festival of the Spoken Nerd (Edinburgh, Bloomsbury, Vaudeville), Twelfth Night (Alma Tavern).As a filmmaker he has directed documentaries for broadcasters including BBC, Channel 4 and MTV. He has made commercials for clients including McDonalds, Nokia, Burton Snowboards, lastminute.com and Yahoo.Awards include Best Short Film and Young Director Award (Cannes Lions Festival); the Best International New Director (Kinsale Sharks); Best Short Film (Kinsale Sharks); Best Play and Best Show Overall (Adelaide Fringe Festival). He is the Artistic Director of the Fringe First winning MahWaff Theatre Company.
Stephen Hamilton (Director) Director: All My Sons with Alec Baldwin and Laurie Metcalf at the John Drew Theatre in East Hampton, NY. Gross Points, by Ira Lewis with Alec Baldwin at Bay Street Theatre (world premiere), Yasmina Reza's "Art" at the John Drew Theatre and Neil LaBute's The Furies at 59 E.59 Street. Also at the John Drew: The Night Alive, Uncle Vanya, The Cripple of Inishmaan, RED. Opera: Acis and Galatea at the Catskll Mountain Foundation. In 1991, Steve co-founded Bay Street Theatre in Sag Harbor, NY with Emma WAlton Hamilton, and Sybil Christopher. In his seventeen years as Executive Director of Bay Street, Hamilton oversaw over 50 productions including Jon Robin Baitz' adaptation of Hedda Gabler (Tony nomination, Kate Burton), Sandy Wilson's The Boy Friend (Julie Andrews' directorial debut and National Tour). Other new plays under his tenure included work from Paula Vogel, Lanford Wilson, Cynthia Ozick, Terrence McNally, Marsha Norman, Chris Durang, and Rick Dresser featuring performances by Cherry Jones, Alan Alda, Diane Weist, Richard Dreyfus, Mercedes Ruehl, and Twiggy. He has performed as an actor Off-Broadway and in regional theaters across the country, including Lincoln Center Theatre, Circle in the Square, Soho Rep, The Actor's Studio, Ensemble Studio Theatre, Capitol Rep, ALLIANCE THEATRE of Atlanta, and the Arizona Theatre Company. Hamilton currently serves as Director of Southampton Theatre Conference, Stony Brook Southampton and coaches privately from his studio in Sag Harbor Steve and his wife, author/educator Emma WAlton Hamilton, live year-round in Sag Harbor. They have two children, Sam and Hope. stevehamiltoncoaching.com
URBAN STAGES (Producer) is an award-winning, not-for-profit, Off-Broadway Theatre Company founded in 1984 by current Artistic Director Frances Hill. For over 30 years, Urban Stages has produced dozens of world, American and NYC premieres including Pulitzer Prize Finalist Bulrusher (2007) by Eisa Davis. We have been honored with awards, nominations and recognition from the Drama Desk, Obie Awards, Audelco, Outer Critics Circle and much more. For instance, our world premiere of the musical Langston In Harlem by Walter Marks (music and book) and Kent Gash (book and direction) garnered a Drama Desk Nomination, a Joe A. Calloway award and 4 Audelco awards including Best Musical Production of 2010. More recently, Unseamly by Oren Safdie (2015) was a NY Times Critics Pick, Jim Brochu Character Man (2014) was nominated for a Drama Desk and an Outer Critics Circle award for Best Solo performance and Honky (2013) by Greg Kalleres saw a regional run at San Diego Rep and was televised nationally on PBS in late 2015. After production, most plays move on to larger venues. Men On The Verge Of A Hispanic Breakdown by Guillermo Reyes and Minor Demons by Bruce Graham both moved to commercial theatres. Chili Queen, a play by newscaster Jim Lehrer, transferred to the Kennedy Center in Washington, D.C. (1989). My Occasion Of Sin (2012) by Monica Bauer won critical acclaim when it moved to Detroit Rep. Bill Bowers has toured the United States and the world with his two Urban Stages premieres blending mime and theatre - Beyond Words (2012) and Under A Montana Moon(2002)! Some Urban Stages premieres have even been developed into film and television projects such as Scar by Murray Mednick, Conversations With The Goddesses by Agapi Stassinopoulos, and Cotton Mary by Alexandra Viets. In addition to plays and musicals, annually we hold a music festival - Winter Rhythms - that features famous and up-and-coming Cabaret, musicians, lyricists and other music artists. In 2016, Winter Rhythms was honored with the Bistro Award for Outstanding Series, and in 2015, it received the Ruth Kurtzman Benefit Series MAC Award from the Manhattan Association of Cabarets and Clubs.
Frances Hill (Founding Artistic Director) began her theatrical career in California as an actress. Since 1983, Ms. Hill has overseen more than 600 staged readings/workshops and 90 productions of new works for the stage. She has directed over 30 workshops and productions. Her favorite directing credits include: Gino DiIorio's Apostasy, Roma Greth's Our Summer Days, Jim Lehrer's Chili Queen, (directed at Urban Stages and Kennedy Center), John Picardi's Seven Rabbits on a Pole and The Sweepers (directed at Urban Stages and Capital Rep); Comfort Women by Chugmi Kim (Urban Stages 2004), 27 Rue De Fleurs and My Occasion of Sin. Two of her plays have been produced, Our Bench and Life Lines. Under the guidance of Ms. Hill, Playwrights' Preview Productions/Urban Stages have moved two plays into commercial Off-Broadway successes. Minor Demons opened the new Century Center Theater and Men on the Verge of His-Panic Breakdown won an Outer Critic's Circle Award while playing to capacity audiences at the 47th Street Theater. Urban Stages' African American Poets as Playwrights won eight Audelco Nominations and Coyote On a Fence received two Drama Desk nominations and a Pilgrim's Project Award. Eisa Davis's Bulrusher was one of three nominated for a Pulitzer Prize. 2010 production of Langston in Harlem won several drama desk nominations, a John Calloway award, and several Audelco nominations including a win for best music production of the year (2010), along with several other awards.
The John Drew Theater at Guild Hall, with its familiar trompe l'oeil circus-tent ceiling, is a beloved landmark of East Hampton. In its early years the theater served as a summer testing ground for productionsen route to Broadway. Playwrights such as Tennessee Williams and Eugene O'Neill credited Guild Hall with helping to establish their reputations and Norah Ephron and Delia Ephron tried out "Love, Loss, and What I Wore" before its long Broadway run. The 360-seat theater evolved into a vital year-round institution with over 100 presentations per year, including plays, opera, concerts, film, readings, comedy, dance, lectures, and symposia. Recent renovations retained the theater's original 1931 charm while providing state-of-the-art technical standards with an automated lighting grid and fully digital audio. The roster of world-class performers who have made recent appearances at the Drew includes Academy, Emmy, Grammy and Tony Award-winning luminaries Audra McDonald, Steve Martin, Blythe Danner, Laurie Metcalf, Alec Baldwin, Marlo Thomas, Leslie Odom Jr., Patti LuPone, Liza Minnelli, Wynton Marsalis and The NY Philharmonic; dance companies Alvin Ailey, and The NYC Ballet; performance artists Laurie Anderson, John Leguizamo and Meredith Monk; directors Robert Wilson, Susan Stroman, Tony Walton and Julie Taymor; comedians Louis CK, Joy Behar, Jerry Seinfeld, Martin Short, JB Smoove; and legendary rockers Mavis Staples, Patti Smith and The Beach Boys. About Guild Hall Founded over 80 years ago, Guild Hall is the Hampton's year-round visual and performing arts center wholly dedicated to serving the residents, members, families, and artists of the East End. The center offers the community, as well as visitors and tourists, enriching experiences by presenting relevant and meaningful programs and events, working in collaboration with artists, and providing a meeting place for the community. For more information and to become a Guild Hall member, visit www.GuildHall.org. Like us on Facebook and follow us on Twitter.