BWW Review: SINCERELY, OSCAR Resurrects the Source and His Material at Acorn Theatre
"Sometimes the obligations of success are so cumbersome that we no longer have the freedom to dream." Oscar Hammerstein II
"With freedom comes responsibility." Eleanor Roosevelt
Therein lies the tension in Sincerely, Oscar, the meandering mindbender at the Acorn Theatre where two's company, three's a crowd, and thirty songs take us on a jazzed-up journey through Show Boat, Oklahoma!, Carousel, State Fair, Allegro, South Pacific, The King and I, and The Sound of Music. Intriguing conceptually but lopsided musically, the clunky show presents an amped-up glow-and-tell cabaret with a technological twist.
Solos and duets by Doreen Taylor (a Billboard-charting singer who conceived and wrote the show) and Azudi Onyejekwe (The Great Comet, Violet) are interspersed with musings by a talking holographic image of Oscar Hammerstein II (Bob Meenan). This raises a question: why not an actor-as-narrator? In this era of swirling digital Frozen snowscapes and a King Kong puppet thundering down an animated street, opting for a projection of a performer onstage raises the stakes. And if it works, it can work big.
Rewind to 2012: the late Tupac Shakur joins Snoop Dogg and Dr. Dre onstage at Coachella to perform before a stunned crowd. Tupac, technically, was not a hologram (a three-dimensional image formed by the interference of light beams). He "performed" by way of Pepper's Ghost, a projection technique named after 19th-century British scientist John Henry Pepper. It involves the projection of an image onto an angled piece of glass, which is reflected back onto the stage, providing the audience with the illusion of a ghostly presence.
In Sincerely, Oscar however, the novelty of (and need for) an illusion of the legendary librettist wanes with each subsequent appearance, particularly once we recognize that he's not going to interact with the performers directly, but rather extoll the virtues of his creative craft at or near his desk.
No need to roast the ghost, though. Via voiceover and direct address to the audience, Hammerstein's epistolary ephemera (derived from and inspired by his personal correspondence, unpublished lyrics, interviews and rare memoirs) helps articulate what's behind the words: his heart, his mind, his imagination, and his ability to elicit deep emotion from seemingly simple lyrics.
The musical storytelling begins to take shape when Taylor and Onyejekwe (each listed in the Playbill as "Performer") croon and swoon in monochromatic era-neutral costumes.
They have to maneuver carefully (perhaps that explains why she's in flats, not heels) across overlapping and shifting platforms that connect/separate whenever Oscar appears; obvious because each is preceded by a distracting whir-click of the "invisible"-yet-visible screen lowering into place.
With two performers in the show, duets would seem to be a natural. That is not the case. Enumeratively, it's Taylor's passion project. She soars consistently in her songs, and climbs every note in Climb Every Mountain with ease. Onyejekwe--smirky, quirky, with some slick choreography to boot--commands the stage vocally with Ol' Man River while a massive paddle wheel churns in the background. When he lets loose vocally it's thrilling, but he's not given enough to do.
We wait for him to reappear to (re)establish his relationship with Taylor, but she dominates the set list, including the encore.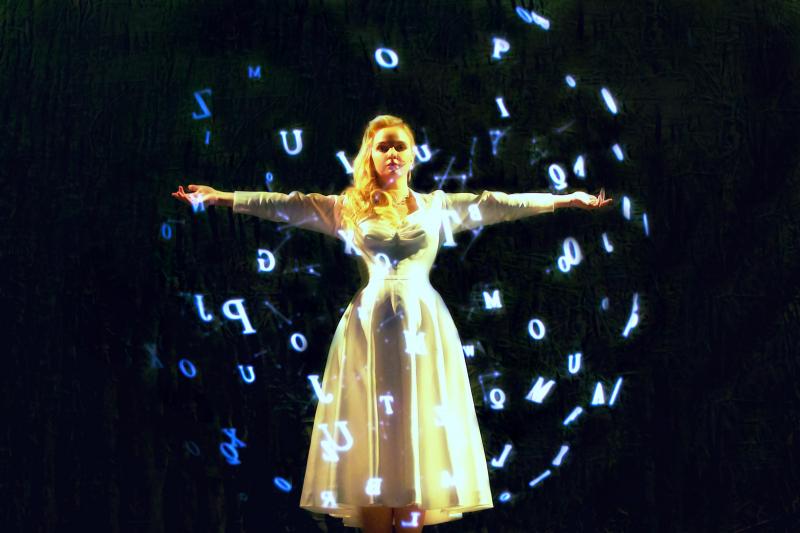 And if 30 songs and a hologram aren't enough, typography letters take flight and word clouds blossom: tolerance, harmony, fish, birds. The projections work best when they provide context (a rippling river, a blazing sky) vs. overwhelming onstage action with wallpapery roses and raindrops.
Eventually, Taylor steps into Oscar's writing space, where the man and his material are on the same plane with the Performer. At last, we see what Hammerstein has been telling us all along: words matter, dreams matter, love matters-in relationships.
Sincerely, Oscar rings most true in the elusive moments when it hits the right notes of compelling narrative and unobtrusive design. The rest of the time, the hologram rings hollow.