Derek McCracken
MOST POPULAR ARTICLES
LAST 365 DAYS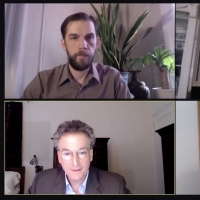 BWW Review: On Edge, Online: Spin Cycle and JCS Theater Company's ADJUST THE PROCEDURE Exposes Real College Crises, Virtually
Posted: Feb. 21, 2021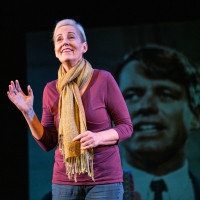 BWW Review: San Francisco Playhouse Streams Julia Brothers' I WAS RIGHT HERE
Posted: Apr. 13, 2021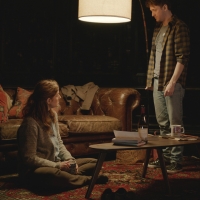 Review: THE SOUND INSIDE Reverberates Online at TheaterWorks Hartford
Posted: Apr. 20, 2021


BWW Review: THE SOUND INSIDE Reverberates Online at TheaterWorks Hartford

April 20, 2021

Ethical boundaries and emotional bonds fray in playwright Adam Rapp's THE SOUND INSIDE, a cryptic and creative trope-defying drama exploring a symbiotic and suspenseful Ivy League professor-student friendship. The 90-minute filmed-to-stream production from Producing Artistic Director Rob Ruggiero and Hartford filmmaker Pedro Bermudez brings the audience to a tense audio-visual threshold where an academic power dynamic morphs into an unconventional space of negotiation, conflict and resolution.     
---
BWW Review: San Francisco Playhouse Streams Julia Brothers' I WAS RIGHT HERE

April 13, 2021

Minutes into the train trip that propels the play I WAS RIGHT HERE, author/actor Julia Brothers reflects on the reflection of an across-the aisle passenger: "It's like I'm watching a movie of his heartbreak." Although simple, this cinematic analogy sets the entire kaleidoscopic 70-minute sequence of memory-linked scenes into motion. Brothers personifies and ponders the people, places, and relationships that reside in the liminal space between meaning and  mystery.
---
BWW Review: On Edge, Online: Spin Cycle and JCS Theater Company's ADJUST THE PROCEDURE Exposes Real College Crises, Virtually

February 21, 2021

Health efficacy and academic bureaucracy clash in ADJUST THE PROCEDURE, a timely pandemic play about a group of deans and directors at an NYC college who meet to disclose, debate and deny a rash of compounding crises.
---
BWW Review: COLOR STRUCK at Theater for The New City

March 2, 2020

With his wide grin, open arms and humble humor, actor-activist-comedian Donald E. Lacy, Jr. takes the stage and builds a rapport with the audience almost immediately. At its core, Color Struck is an 80-minute genre-transcending show that effectively blends comedy, drama, improvisation, dancing, tone poems, hip-hop and commentary. Although relatability is Lacy's jam (we see him, hear him, laugh with him, and trust him), don't let his vim and visage fool you. Just as we get comfortable with his unique brand of dramedy, he shifts from 'what it's like to be Black but pass for white' into fresh-and-fierce takes on colorism and institutional racism.
---
BWW Review: A PEREGRINE FALLS at The Wild Project

February 9, 2020

A Peregrine Falls at The Wild Project doesn't need to travel at breakneck speed to make an impact. Clocking in at two hours/two acts/four scenes, it moseys between three locales over three years: a Texas hospital, a hospital court, and a car dealership. Along the way, it makes an unexpected avian/automotive connection, all while hatching the story of how abuse stuns and wounds a family, collectively and individually. These birds of a feather may flock together, but their suffering is subjective.
---
BWW Review: THE SHADOW BOX Hurts So Good at Gene Frankel Theater

February 3, 2020

Who knew that demise could border on delightful? Although any one of the mortality-mindful tales portrayed in The Shadow Box would serve as a viable brink from which one could face death, three stories converge to create a powerful and entertaining metanarrative nexus where life meets loss, love challenges longing, and truth holds fast in the shadows. In both dramatic form and visceral feeling, The Shadow Box from Regeneration Theatre takes hold early and never lets go.
---
BWW Review: A CITY OF REFUGE Offers Communion Amidst Crisis at The Center At West Park

December 20, 2019

Inspired by true events, A City of Refuge from Primitive Grace Theatre Ensemble brings the audience squarely to church, a haven-as-melting-pot that reaches its boiling point and beyond. As a motley crew of community members collectively tries to absorb the shockwaves of what's happening outside (the Washington Heights riots), they must individually bear witness to each other, as well as to their own fears, biases, and the need for personal strength amidst relentless violence, shared vulnerability, and dwindling resources.
---
BWW Review: NEAR TO THE WILD HEART at The New Stage Theatre Company

December 6, 2019

Dark, deep, mysterious and moving, Near to the Wild Heart echoes the voice and valor of the award-winning 1943 novel by Jewish-Brazilian author Clarice Lispector. Like the digital aquatic imagery that often spans the upstage perimeter, the play ebbs and flows through one woman's interior and exterior selves as she reflects on the reality of her relationships.
---
BWW Review: THE WHITES Inverts Race at Theater For The New City

November 29, 2019

As creatively ambitious as it is confounding, THE WHITES illuminates a race-inverted space where Black is white, the Whites are 'black' and...vice versa? Visually, narratively and dramatically, this play is far from subtle; familial archetypes and societal stereotypes collide, challenging us to recognize the Other while coming to grips with our self-awareness of implicit bias, privilege, and social injustice.
---
BWW Review: Keen Company's MOLLY SWEENEY at Theatre Row

November 10, 2019

Set in contemporary Ballybeg, Ireland, the image-laden story of MOLLY SWEENEY commands our attention as we listen closely to visualize what is being described to us from contrasting perspectives. In words and movement, the measured cadence of this economically directed nested narrative metes out minor revelations, each shedding a little more light on how agency and ambition create conflict in an ocularcentric society.
---
BWW Review: AMERICAN FABLES at HERE

October 27, 2019

In Eric Fallen's timely AMERICAN FABLES, all is fair in love and war as battle lines are drawn in five taut morality tales.
---
BWW Review: NOTES ON MY MOTHER'S DECLINE Echoes Grief at Fourth Street Theatre

October 17, 2019

With a certain and subdued beauty, NOTES ON MY MOTHER'S DECLINE softens the blow that expectations, memory and loss deal to a contemporary mother/son relationship. Even as vivid descriptions of remembered sights, smells, tastes and textures fill their liminal space, a void of grief remains.
---
BWW Review: World Premiere of THE FLOORSHOW at Theatre 71 by Combustion Collective

October 4, 2019

Written by Dann Berg and Avital Asuleen (Director/Choreographer), THE FLOORSHOW intersperses song-and-dance numbers into the dramatization of the personal and professional hurdles that an all-female performance troupe faces in 1951 New York City. Moving between onstage and backstage at The Gilded Palace, THE FLOORSHOW nests an emotionally rich female-sisterhood narrative within a framework of creative competition and sexism.
---
BWW Review: Martin Moran Lets Loose in ALL THE RAGE at The Barrow Group

September 16, 2019

As ALL THE RAGE begins, warm stage light casts shadows across a simple set: a lamp, a globe, a long table, and a pair of blackboard maps. From this apt academic environment we get schooled in emotional geography by writer/storyteller Martin Moran. This timely revival of his award-winning 2013 performance retains its potent blend of compassion, catharsis and droll humor.
---
BWW Review: QUILTING THE SUN Shines at Theater For The New City

September 9, 2019

Step aside, Joseph; your amazing technicolor dreamcoat has some serious competition. When Harriet Powers' beautiful bible quilt appears onstage in QUILTING THE SUN, it's an applause-generating showstopper for a play where common threads of dreams, rituals, faith and family are stitched together against a backdrop of religion and racism.
---
BWW Review: SEE YOU at The New Ohio Theatre from The Bridge Production Group

September 10, 2019

Swipe, scan, pause, like. Swipe, scan, pause, like. Feel familiar? Part of the attraction and addiction to scrolling through social media is its mind-numbing repetition. A similar effect infuses the U.S. premiere of SEE YOU: a group of verbose 20-somethings vying for superior digital cultural status weight the risks and rewards of creating and sustaining a digital presence. For these seemingly self-absorbed characters, their lives are defined by (and basically depend on) how well they curate compelling online personas. Thus, what begins as an egocentric free-for-all eventually dovetails into how a deliberate data breach among friends (with benefits) exposes secrets, truths and consequences.
---
BWW Review: CONTACT HIGH from Theater 511 Soars at Ars Nova

August 20, 2019

The whole of Contact High from Theater 511 is greater than the sum of its parts, which is a good thing in light of this show's plethora of moving parts within its kaleidoscopic plot. The result is a timely coming-of-age pop-rock musical that tells a lyrical and satirical story of drug addiction, the need for human connection, and hope.
---
BWW Review: World Premiere of PATIENCE Explores Competition and Commitment at The Paradise Factory

August 13, 2019

In Patience, Daniel (Joshua Gitta) is a former prodigy who is now the world's #1 professional solitaire player. He's also going through a millennial 'mid-life' crisis. Young, black, talented, and restless, he inhabits a solo space in a game/sport that values reactions not reflections, shuffling between self-doubt and confidence with a gravitational pull on the people orbiting his success. With his happiness, posterity and legacy all at stake, he navigates his day-to-day existence and choices in light of his long-term trajectory. Playwright Johnny G. Lloyd deals us a winning hand: a compelling ensemble of relatable characters within a wryly written house-of-cards story that doesn't collapse under its own thematic weight.
---
BWW Review: Identity Politics Twist in MONICA: THIS PLAY IS NOT ABOUT MONICA LEWINSKY at 59E59

July 29, 2019

This review is not about Monica Lewinsky. Monica: This Play Is Not About Monica Lewinsky, stars Caroline Kinsolving as the complex, archetype-defying quasi-Monica. This clever time-shifting one-act play succinctly captures the tension between holding on and letting go of one's identity in an era where private lives are frequently made public either strategically or by scandal.
---
BWW Review: A WHITE MAN'S GUIDE TO RIKERS ISLAND at The Producers Club

July 29, 2019

A White Man's Guide to Rikers Island transports the audience from the privilege and prominence of a New Jersey golf club to the cacophony and brutality of New York's Rikers Island. Occasional moments of levity stand in stark contrast to the overall gravity of the violence-laden narrative, one that explores how Richard Roy (a straight, white, cisgender male) adapted to life as a racial minority in the world's largest penal colony that is 92% Black or Hispanic. Roy spares no detail of his personal lived experience at Rikers; guilt, shame, terror and sadness permeate the play and haunt him still.
---