Derek McCracken
MOST POPULAR ARTICLES
LAST 30 DAYS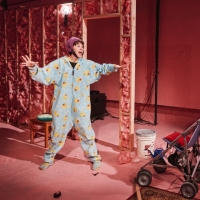 BWW Review: BUGGY BABY Zigzags Down A Humor-Horror Rabbit Hole at APAC
Posted: Jun. 6, 2022


LAST 365 DAYS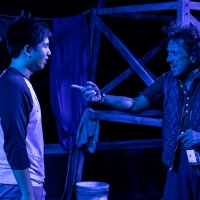 BWW Review: Game on! Cultures Clash in 1-2-3 MANHUNT at Theater for the New City
Posted: Oct. 14, 2021


BWW Review: ADDRESSLESS from Rattlestick Playwrights Theater is Interactive and Illuminating
Posted: Jan. 18, 2022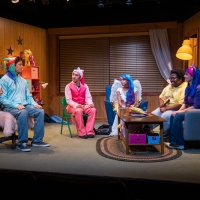 BWW Review: Cosplay and Camaraderie Are Magic at Dutch Kills Theater Company's THE ANTELOPE PARTY
Posted: Nov. 11, 2021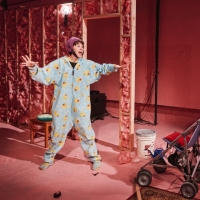 BWW Review: BUGGY BABY Zigzags Down A Humor-Horror Rabbit Hole at APAC
Posted: Jun. 6, 2022


BWW Review: THE LEMON GIRLS OR ART FOR THE ARTLESS at La MaMa
Posted: Mar. 16, 2022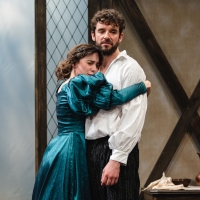 BWW Review: JANE ANGER at New Ohio Theatre Gets Even and Gets Laughs with a Shakespearean Twist
Posted: Mar. 14, 2022


BWW Review: COSMICOMICS at The New Stage Theatre
Posted: Apr. 19, 2022


BWW Review: BUGGY BABY Zigzags Down A Humor-Horror Rabbit Hole at APAC

June 6, 2022

Surreal and surreptitious, the comedy-horror BUGGY BABY centers on some displaced immigrants in London seeking normalcy despite the lunacy in their lives. Written by Josh Azouz and directed by Rory McGregor, the US premiere of this twisted tale also features a multi-talented toddler character and a pair of dastardly rabbits.
---
BWW Review: COSMICOMICS at The New Stage Theatre

April 19, 2022

Thematically expansive within its intimate performance space, the paradoxical primordial soup swirling in COSMICOMICS blends the essential elements of earth, air, fire, and water with music, storytelling, ballet, and absurdist humor.
---
BWW Review: THE LEMON GIRLS OR ART FOR THE ARTLESS at La MaMa

March 16, 2022

These ladies don't lunch; they launch, twist, lurch, pop and topple. Meet Lorca, Topo, Nivea and Pinny: the more-sweet-than-tart troupe in LEMON GIRLS OR ART FOR THE ARTLESS. The comedic performance-art-within-a-play follows a group of New York City senior (70ish) girlfriends, all alumnae of Lemon Elementary. As they find their footing in a youth-paced world, they step outside their comfort zones and onto the stage. Artistically in it together even if they're not always sure what "it" is, the Lemon Girls show us that age is just a number: '5-6-7-8!'
---
BWW Review: JANE ANGER at New Ohio Theatre Gets Even and Gets Laughs with a Shakespearean Twist

March 14, 2022

Mixing history, mystery, sword play and word play, JANE ANGER takes a jab at right-sizing Shakespeare and does so with hilarious results. Billed as a "Jacobean feminist revenge Comedy," the one-act play written by Talene Monahon provides ample opportunity for us to hate on the egotistical bard while still swooning for the versatile actor who plays him (Michael Urie).
---
BWW Review: ADDRESSLESS from Rattlestick Playwrights Theater is Interactive and Illuminating

January 18, 2022

Imaginative, interactive and illuminating, ADDRESSLESS humanizes the plight of three homeless and nomadic New Yorkers who are forced to keep couch surfing, shelter hopping, street roaming and panhandling to survive winter and beyond. While the trio of actor-avatars encounter systemic barriers at the socio-political intersection of age, race, gender, ability, employment, income and health, the at-home audience is invited to help them choose their next move...which could directly impact their immediate or long-term well-being.
---
BWW Review: Cosplay and Camaraderie Are Magic at Dutch Kills Theater Company's THE ANTELOPE PARTY

November 11, 2021

Brony-bonded and fully invested in cosplay camaraderie, the diverse ensemble of actors in Dutch Kills Theater Company's THE ANTELOPE PARTY at The Wild Project take playwright Eric John Meyer's prescient character-driven dramedy on a wild ride.
---
BWW Review: Game on! Cultures Clash in 1-2-3 MANHUNT at Theater for the New City

October 14, 2021

Fists fly and cultures clash atop a tenement building in New York's Lower East Side in playwright Tony DiMurro' 1-2-3 Manhunt, where two outsiders on the edge of different generations pledge allegiance to a combustible mentorship to save what's sacred.
---
BWW Review: THE SOUND INSIDE Reverberates Online at TheaterWorks Hartford

April 20, 2021

Ethical boundaries and emotional bonds fray in playwright Adam Rapp's THE SOUND INSIDE, a cryptic and creative trope-defying drama exploring a symbiotic and suspenseful Ivy League professor-student friendship. The 90-minute filmed-to-stream production from Producing Artistic Director Rob Ruggiero and Hartford filmmaker Pedro Bermudez brings the audience to a tense audio-visual threshold where an academic power dynamic morphs into an unconventional space of negotiation, conflict and resolution.     
---
BWW Review: San Francisco Playhouse Streams Julia Brothers' I WAS RIGHT HERE

April 13, 2021

Minutes into the train trip that propels the play I WAS RIGHT HERE, author/actor Julia Brothers reflects on the reflection of an across-the aisle passenger: "It's like I'm watching a movie of his heartbreak." Although simple, this cinematic analogy sets the entire kaleidoscopic 70-minute sequence of memory-linked scenes into motion. Brothers personifies and ponders the people, places, and relationships that reside in the liminal space between meaning and  mystery.
---
BWW Review: On Edge, Online: Spin Cycle and JCS Theater Company's ADJUST THE PROCEDURE Exposes Real College Crises, Virtually

February 21, 2021

Health efficacy and academic bureaucracy clash in ADJUST THE PROCEDURE, a timely pandemic play about a group of deans and directors at an NYC college who meet to disclose, debate and deny a rash of compounding crises.
---
BWW Review: COLOR STRUCK at Theater for The New City

March 2, 2020

With his wide grin, open arms and humble humor, actor-activist-comedian Donald E. Lacy, Jr. takes the stage and builds a rapport with the audience almost immediately. At its core, Color Struck is an 80-minute genre-transcending show that effectively blends comedy, drama, improvisation, dancing, tone poems, hip-hop and commentary. Although relatability is Lacy's jam (we see him, hear him, laugh with him, and trust him), don't let his vim and visage fool you. Just as we get comfortable with his unique brand of dramedy, he shifts from 'what it's like to be Black but pass for white' into fresh-and-fierce takes on colorism and institutional racism.
---
BWW Review: A PEREGRINE FALLS at The Wild Project

February 9, 2020

A Peregrine Falls at The Wild Project doesn't need to travel at breakneck speed to make an impact. Clocking in at two hours/two acts/four scenes, it moseys between three locales over three years: a Texas hospital, a hospital court, and a car dealership. Along the way, it makes an unexpected avian/automotive connection, all while hatching the story of how abuse stuns and wounds a family, collectively and individually. These birds of a feather may flock together, but their suffering is subjective.
---
BWW Review: THE SHADOW BOX Hurts So Good at Gene Frankel Theater

February 3, 2020

Who knew that demise could border on delightful? Although any one of the mortality-mindful tales portrayed in The Shadow Box would serve as a viable brink from which one could face death, three stories converge to create a powerful and entertaining metanarrative nexus where life meets loss, love challenges longing, and truth holds fast in the shadows. In both dramatic form and visceral feeling, The Shadow Box from Regeneration Theatre takes hold early and never lets go.
---
BWW Review: A CITY OF REFUGE Offers Communion Amidst Crisis at The Center At West Park

December 20, 2019

Inspired by true events, A City of Refuge from Primitive Grace Theatre Ensemble brings the audience squarely to church, a haven-as-melting-pot that reaches its boiling point and beyond. As a motley crew of community members collectively tries to absorb the shockwaves of what's happening outside (the Washington Heights riots), they must individually bear witness to each other, as well as to their own fears, biases, and the need for personal strength amidst relentless violence, shared vulnerability, and dwindling resources.
---
BWW Review: NEAR TO THE WILD HEART at The New Stage Theatre Company

December 6, 2019

Dark, deep, mysterious and moving, Near to the Wild Heart echoes the voice and valor of the award-winning 1943 novel by Jewish-Brazilian author Clarice Lispector. Like the digital aquatic imagery that often spans the upstage perimeter, the play ebbs and flows through one woman's interior and exterior selves as she reflects on the reality of her relationships.
---
BWW Review: THE WHITES Inverts Race at Theater For The New City

November 29, 2019

As creatively ambitious as it is confounding, THE WHITES illuminates a race-inverted space where Black is white, the Whites are 'black' and...vice versa? Visually, narratively and dramatically, this play is far from subtle; familial archetypes and societal stereotypes collide, challenging us to recognize the Other while coming to grips with our self-awareness of implicit bias, privilege, and social injustice.
---
BWW Review: Keen Company's MOLLY SWEENEY at Theatre Row

November 10, 2019

Set in contemporary Ballybeg, Ireland, the image-laden story of MOLLY SWEENEY commands our attention as we listen closely to visualize what is being described to us from contrasting perspectives. In words and movement, the measured cadence of this economically directed nested narrative metes out minor revelations, each shedding a little more light on how agency and ambition create conflict in an ocularcentric society.
---
BWW Review: AMERICAN FABLES at HERE

October 27, 2019

In Eric Fallen's timely AMERICAN FABLES, all is fair in love and war as battle lines are drawn in five taut morality tales.
---
BWW Review: NOTES ON MY MOTHER'S DECLINE Echoes Grief at Fourth Street Theatre

October 17, 2019

With a certain and subdued beauty, NOTES ON MY MOTHER'S DECLINE softens the blow that expectations, memory and loss deal to a contemporary mother/son relationship. Even as vivid descriptions of remembered sights, smells, tastes and textures fill their liminal space, a void of grief remains.
---
BWW Review: World Premiere of THE FLOORSHOW at Theatre 71 by Combustion Collective

October 4, 2019

Written by Dann Berg and Avital Asuleen (Director/Choreographer), THE FLOORSHOW intersperses song-and-dance numbers into the dramatization of the personal and professional hurdles that an all-female performance troupe faces in 1951 New York City. Moving between onstage and backstage at The Gilded Palace, THE FLOORSHOW nests an emotionally rich female-sisterhood narrative within a framework of creative competition and sexism.
---