BWW Review: ALONE IT STANDS at 59E59 Theaters is an Incredible Story Wonderfully Told
The exciting NYC premiere of Alone It Stands, written and directed by John Breen, is now on stage at 59E59 Theaters through January 27 as part of the Origin's 1st Irish Festival. The show opened at the Gaiety Theatre in Dublin in 2000 and then transferred to the West End. This highly acclaimed production has since gone on to tour throughout the world. The story is based on a historic match between a local Irish rugby team, Munster and New Zealand's All Blacks. While rugby is central to the plot, it is a play that will appeal to a much broader audience than sports buffs.
The All Blacks, a powerhouse team, was certainly favored to beat Munster in the thrilling match that took place in October of 1978. With over 10,000 spectators in the stands at Thomand Park in Limerick on game day, there were high hopes for the Irish team at a time when Ireland was in the throws of an economic recession. National identity and team spirit play a big part in this story. This portrayal of the vigorous, suspenseful game also artfully weaves in the personal stories of the players. It a fast paced, wonderfully performed piece of theatre that both engaging and inspiring.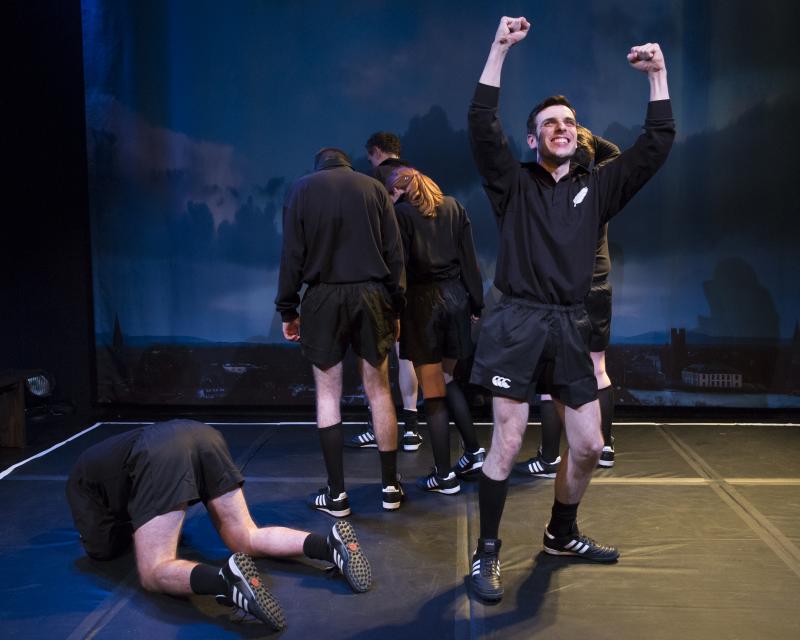 The top-notch troupe features Chase Guthrie Knueven, Ed Malone, Rob McDermott, David O'Hara, Henry Raber, and Sarah Street. The six actors perform a stunning depiction of rough and tumble rugby moves while seamlessly assuming many different roles to portray other characters that include the players' family members and local townspeople. Athletic training, the birth of twins, and the death of a player's father bring a sense of humanity to the account of the momentous competition.
The Creative Team has done an splendid job. They include lighting design by Michael O'Connor; Alexander Grover is the Design Coodinator; and Yve Carruthers is the Stage Manager.
Alone it Stands is being performed in the Upper East Side's theater's intimate space giving audience members a close-up theatre experience. Come in out of the cold and enjoy the show while it is at the Upper East Side theater for a limited time.

Alone it Stands is produced by Gyre and Gimble Productions. It runs for 90 minutes with one 10-minute intermission. It will be presented on a limited engagement through January 27 at 59E59 Theaters located at 59 East 59th Street (between Park & Madison Avenues). The performance schedule is Tuesday - Saturday at 7:30 PM; and Sunday at 2:30 PM. Single tickets are $25 - $35 ($24.50 for 59E59 Members). Tickets are available by calling the 59E59 Box Office on 646-892-7999 or by visiting https://59e59.org/.
Photo Credit: Photo by Heidi Bohnenkamp, 2019