BWW Interview: Machine de Cirque Founder, Vincent Dubé, On Bringing Award-Winning Circus from Quebec to the New 42nd Street New Victory Theater This Fall!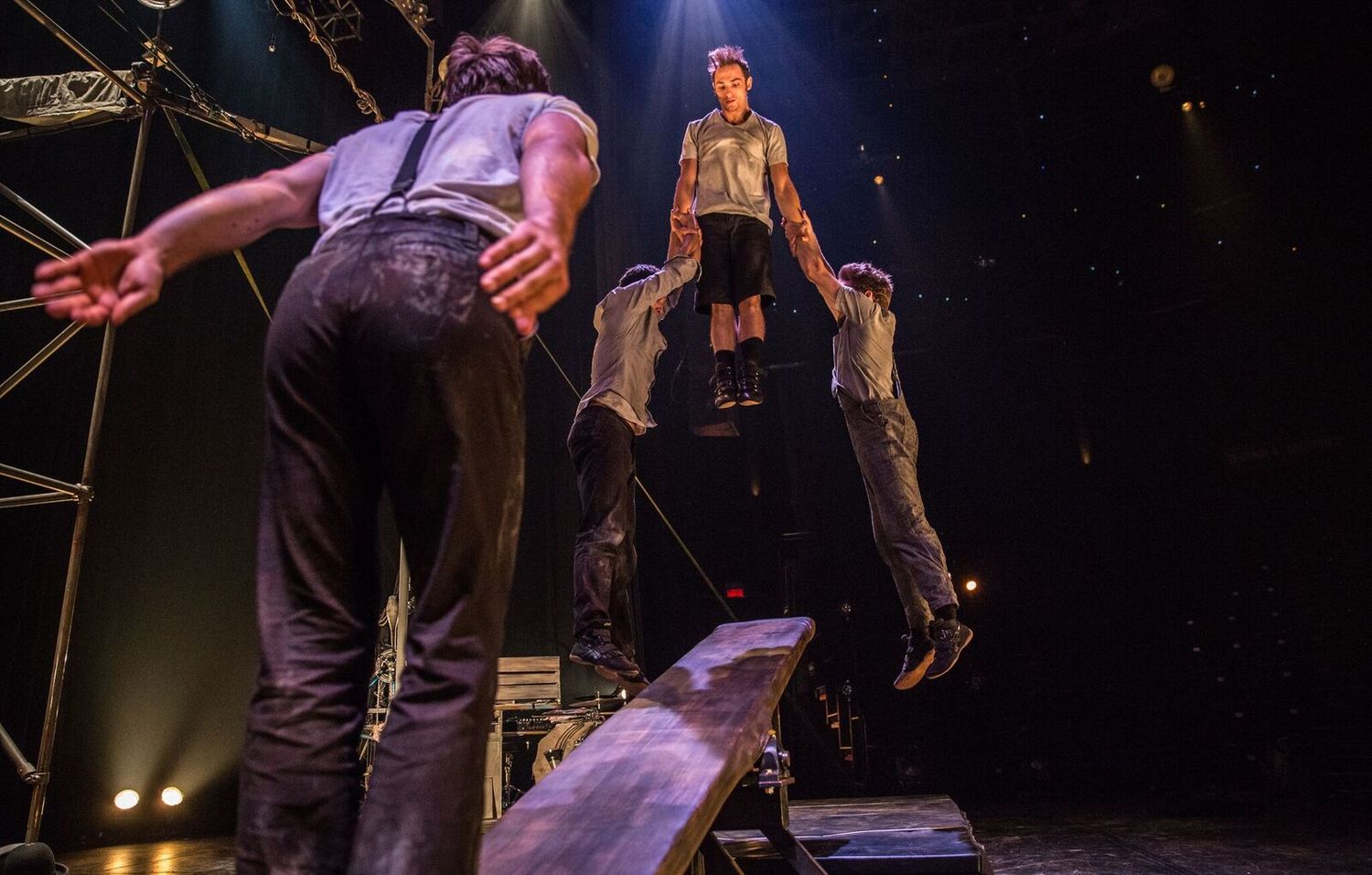 Family fun will be reaching new heights this fall, as Machine de Cirque lands at the New 42nd Street New Victory Theater this September! This award-winning circus from Quebec features awe-inspiring moves, such as teeterboard backflips, trapeze work, juggling, and bicycle tricks, while set to live percussion. Not only will children be swept up in the sights and sounds, but adults will also be captivated!
BroadwayWorld had the chance to speak with founder, Vincent Dubé, about bringing Machine de Cirque to NYC; how the talented performers have trained for this production; and why taking the time to experience joy and wonder is essential in a busy world.
Can you describe in your own words, what the mission of Machine de Cirque is and the span of its impact over time?
The mission of Machine de Cirque is to combine the skills of people from different fields, or people from circus, theater, dance, technology, to produce unique circus shows. We like to use all of the brains available to us. Also, another mission of ours is to share resources with the local artistic community. So, when we have one of our collaborators who is an expert in something, we'll be more than happy to facilitate a workshop at the circus school.
About the span and impact over time - it's a little early to say! We're a pretty young company and were founded October 2013. The premiere of the show was in May 2015. But still, since the beginning of the company, we've done a little over 600 public shows with 3 different projects, and at the last wrap party, we realized it was pretty easy to invite a little over 60 people who are frequent collaborators on the different projects. So, there's already a lot more people involved in the projects than we originally thought!
What is the most rewarding part about founding an organization that brings so much joy and wonder to all those who experience the unique artistry?
The most rewarding part is when the artists and employees and all the people involved in the organization like their job, when they feel it's their project and their company. It's very rewarding because you feel like you found your family. Another very rewarding part is when people who don't usually like circus or like theater in general come to you after the show and you feel you changed their perception. They may never go to theater but end up really loving it. That is something that is very touching, when we can open minds.
How do you hope NY audiences will embrace Machine de Cirque and what do you think will resonate most with them?
I would say most of the people who come to the show, come for the spectacle and the acrobatic performance. But it's not what really sticks in their minds after the show. It will be more of the theatrical moments, the comedy, the drama -- the very special relationship between the characters. It's a group of guys who've spent so much time together in the storyline - they survive the apocalypse, and they've been living for 10 years as a very small community. But what touches people is how special their relationships are. They really take care of each other and provide support. They have some very strong ties that we don't see a lot in "guy" relationships. It goes a lot deeper than that. I think that's what will resonate with most of the audience.
Can you talk a little bit about the performers and how they've trained for the production?
First, there's the duet consisting of Yohann Trépanier and Raphaël Dubé who are jugglers and acrobats. They've studied for 3 years together at the National Circus School. They're the ones who are famous for the "Naked Towel Act" on YouTube where they got millions and millions of views. They were part of the project even before the company was created. They co-founded the company. We did a session of research and creation prior to the creation of the company itself in 2012 and 2013. Then, when we were ready to create the show, there's another duet of acrobats -- Maxim Laurin and Ugo Dario -- who specialize in teeterboard, or Korean plank. They studied at the National Circus School at the same time as the other duet of Raphaël & Yohann. So, they all know each other from back in circus school, and they always wanted to create something together, so when we were about to create the show, they got a phone call from Maxim and Ugo, who were just saying, "Hey, we would like to be part of what you're working on. We'd like to create a show with you. We're ready guys!" so they joined the project.
On top of that, the fifth performer is Frédéric Lebrasseur who is a self-taught musician. He's somebody who learned a lot from experience. He's a fantastic drummer, but he also plays a lot of other instruments. He's very active in different areas of different projects. He was also part of the research and creation portion before the creation of the company. So, it's a fantastic team and I'm very happy. They stick together and all of them are considered co-founders of the company, and they are part of the artistic direction team of the company. So, with every new project, we meet and decide where we are going with a project, how we'll do it, what do we want to talk about, how do we want to talk about it. It's very special that at the New Victory, you'll be seeing the very core of the company -- the people who founded it.
To train, we did a lot of research before the creation of the company. I would say we did this for 2 months, and then we did a little presentation at the end of that. Then we created the company, and we worked for 2 weeks in July 2014, then we did about 12 weeks in 2015, to do the premiere of the show. But, we always keep working on it. We always try to improve things so in between shows, we have rehearsal and we try to make it better, make it tighter, make it make more sense for us. It's a show that's still evolving a lot.
Why is a venue like the New Victory ideal for this type of performance?
The great thing about The New Victory Theater is that there's plenty of room on stage. We have enough floor room and we have enough ceiling clearance to do the show at its best. We don't have to cut any acrobatic movement, we can do everything! Sometimes in other locations, we have to adapt to some spaces which are lower or have smaller stages. We'll have plenty of space on this stage. Also, something which is great is that it's not such a big room - there's max 500 people. In a room with 800 people, you have to work a lot to reach the last row. So, the great thing about that is we'll have the show at its maximum effect because everything on stage will be at its best, with no restrictions. And, we'll be able to make something intimate because people are not far away. They are very close. When the show explodes, it REALLY explodes because it's made to reach the last row in a thousand seat theater. So, the person in the last row, or the 400th seat will really get something. It's like in kung fu-- when you hit something, you try to go for something that is further than the surface you will hit. That way, you will hit it stronger. It's the same concept - we'll go as if it's a thousand seat theater, but it's a 500-seat theater. It's going to be perfect!
What does the future look like for Machine de Cirque and how do you hope it will continue to expand?
We have three projects right now - the first show, which is the show we'll have at the New Victory. We have another show which will be made for theater as well, that will be created this year, to be premiered in the summer. We have an outside traveling show for festivals that we did this summer and we want to do every summer. In the future, the co-founders of the company will start performing in less shows, in order to start different projects that they will direct. We'll have a lot of different projects of different scales. There's a project for a show with 3 performers, another one with 4 performers. We'll have a lot on our plates! Actually, the goal is not to be "bigger," it's to be "greater," and better at what we do. We want to be able to stay on a human scale and be able to exchange strategies in between our projects, and to grow into these projects. We want to be better people and better artists.
For more on Machine de Cirque, visit: http://www.machinedecirque.com/en/
For tickets, visit: newvictory.org
Photo by: Loup-William Théberge