AMONG THE FURIES Wins New York Summerfest Theater Festival; Full List!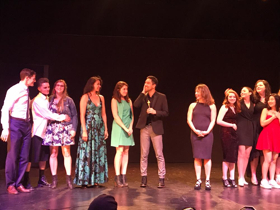 AMONG THE FURIES, written & directed by David Scala, took home the top playwriting prize Tuesday night at New York City's Hudson Guild Theatre, during the New York Summerfest Theater Festival's closing night award ceremony. The play also won Best Actress for Claire Ganshert, and Best Set Design by Andrew McCourt.
86 total productions (64 plays and 22 shorts) were selected to perform in the NY Summerfest this year, with 7 being nominated for the night's highest honor, Best Play or Musical, worth a cash prize of $3500. Following a series of surprise ties throughout the night, it was announced the final category would be split as well, with Best Musical going to SOCIAL STUDIES by Ryan Pifher and Jon Provan, and Best Play to AMONG THE FURIES.
David Scala is an award-winning film director and screenwriter, and AMONG THE FURIES marks his playwriting and stage directing debut. The production enjoyed an extended, sold-out run at the festival, starring Joseph R. Thomas as Henry, Claire Ganshert as Vera, Scott T. Freeman as Aaron, and Toni Benedict as Penny. The show was produced by Katherine Paige, with Kat Norton as stage manager, Andrew McCourt as set designer, and CharLes Davis as lighting and sound technician.
The full list of 2017 NY Summerfest Award Winners are:
Best Stage Manager (Tie):
Rebecca Werner from the play Anderson Lena and the Things That Don't Matter by Ayden Skye
Adam Carpenter from the Play A Word Of Love by Michael Gurevitch
Best Set Designer:
Andrew McCourt from the play Among The Furies by David Scala
Best Choreography:
Allison Scott from the musical Social Studies by Ryan Pifher and Jon Provan
Best Lighting Designer:
Zach Pizza from the musical Social Studies by Ryan Pifher and Jon Provan
Best Music Score:
Jon Provan from the musical Social Studies by Ryan Pifher and Jon Provan
Best Singer (4-Way Tie):
Sam Brady, Edie Crowley and Ginger May from the musical Social Studies by Ryan Pifher and Jon Provan
Katie Hutch from the play A Word Of Love by Michael Gurevitch
Best Actor:
Thomas Leverton from the play My Swollen Feet by Carrie Robbins
Best Actress:
Claire Ganshert from the play Among The Furies by David Scala
Best Director (Tie):
Rachel Tuggle Whorton from the play My Other Job
Ryan Pifher from the musical Social Studies
Most Creative Play or Musical (Tie):
Gynx by Alicen Grey
A Word Of Love by Michael Gurevitch
Best Short Play or Musical (Tie):
The Trapped Language of Love - by Ronan Colfer
Bystander - by Ed Levy and Eric Grunin
Best Play or Musical of the Summerfest 2017 (Tie):
Best Play: Among The Furies - by David Scala
Best Musical: Social Studies - by Ryan Pifher and Jon Provan
Festival Website: http://www.newyorktheaterfestival.com