THE LISTENERS is Now Playing at Den Norske Opera
Performances run through 9 October.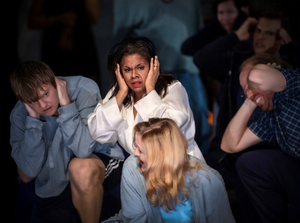 People around the world hear a low-pitched and unexplainable sound. When they band together, they are dismissed as crazy. Missy Mazzoli and Royce Vavrek's brand new opera is a thriller about social rejection, the abuse of power and echo chambers. Based on an original story by Jordan Tannahill and inspired by an actual phenomenon.
This highly pertinent opera is about searching for a sense of belonging, about understanding the incomprehensible - and about how charismatic leaders can easily exploit our constant longing for connection.