COCOONDANCE - HYBRIDITY REMIXED Will Be Performed as Part of CODA Dancefest 2021
Performances will run 26-27 October 2021.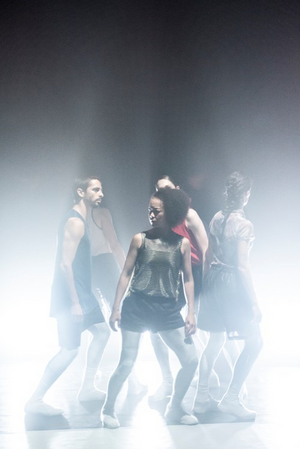 The Norwegian premiere of Hybridity marks a meeting between romantic ballet and martial arts; the sublime and the warlike. Choreographer Rafaële Giovanola pushes the boundaries of the human body and transforms her dancers into hybrid creatures, transported to a state close to trance. In collaboration with local youths from Rom for Dans Ung, the choreographer has created a piece which will be performed directly before Hybridity, exclusively for CODA.
Before the performance Hybridity by CocoonDance, we meet 6 young dancers from Rom for Dans Ung/Room for Dance, Young in a 15-minute curtain-raiser performance.
For a week, the young people have worked with choreographer Rafaële Giovanola and the directors of Rom for Dans Ung to create this performance that is inspired by the same ideas as the choreography, Hybridity; How do ballet and Thai boxing meet in one body?
Behind wafts of mist, against backlighting a group becomes visible, or rather a tangle of bodiless legs. Electric tones are increasing to an ever louder and pulsating beat cycle. From the twitching to a free flow of muscles and tendons, a mysterious hybrid being takes centre stage, and is seemingly tangible but never approachable.
HYBRIDITY is the third part of a work cycle by the CocoonDance Ensemble, focusing on its search for the still 'unthought' body. The starting point for this piece is Thai boxing meeting the romantic ballet of the early 20th century.
CocoonDance is one of the most exciting contemporary dance companies in Germany. The ensemble built around choreographer Rafaële Giovanola and dramaturge Rainald Endrass has created more than 35 productions, travelled to five continents and has been invited twice in a row to the Tanzplattform, the most important showcase for contemporary dance and choreography in Germany.
Performances will run 26-27 October 2021. Learn more at https://operaen.no/en/Productions/coda-dancefest21-cocoondance/