BWW Review: ELECTRIC BILLY T JAMES at Q Theatre Auckland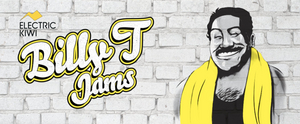 Reviewed by Glenda Pearce
A comical slice of life

The best humour presents a slice of everyday life to which the audience can collectively connect.
A joke shared, and understood, is the best joke. The Electric Kiwi Billy T Jams is both a tickling teaser and a tantalising taster for the upcoming Comedy Fest , running 30 April - 24 May, serving to display the very real talents of the five nominees of the Billy T Jams award. This initiative of the New Zealand Comedy Trust aims to recognise and support up-and-coming NZ comedians with outstanding potential and commitment to their comedy career. All five presented us with personally invested, part confessional, part stand-up physical theatre of a very high standard. Laughter was easy and the vibe on the stage was infectious.
MC for the evening was last year's winner Kura Forrester, who warmed the audience well with her witty family stories, her facial expressions and physicality capturing the very commonplace humour inherent in backing a trailer, emptying the dishwasher, coping with a mother who doesn't want to be a pain, and the very amusing internal voice of a pet dog. Moderating the language at times to drive the jokes home could be worthwhile considering. Using strong language has become an easy "go to" for many comedians, so it was refreshing that none of the nominees felt it overly necessary to embroider their stories with this. This will make their shows more appealing to a wider range of audiences.
The first of the line-up for the evening was Josh Davies, who played the blind disability card, and his first line "you better laugh because smiles mean nothing" had us immediately. He pointed that it's "awful to be rejected as a blind person, because you know it's not your looks, but entirely on your personality." His dry style, told with a straight face, recalled (mock) experiences as a counsellor at a Blind Camp, which is like a real camp but it's "a big game of chicken no one knows they're playing". Second up was the seriously witty persona, as presented by Ray O'Leary. His deadpan style presented subtle humour in a deliberately slow-witted style, a "brave" performance spiced with delightful punchlines such as "Berocca is a disappointing Fanta."
Situational humour was presented at its best by Brynley Stent. Opening initially with a sketch as a "Chase" contestant, with impossible questions, she linked into ads with "Hungry Eyes". However, it was her amusingly simple take on the frustrations at the "non-judgemental" supermarket self-checkout to which the audience could readily relate. The recorded voice over that presented the devious automaton was played against with perfect timing. The "sketch" style performance, with mime elements and superb absurdity, was both physical and verbal entertainment at its best. The end was a superb twist. Her show "Self Carnage" will, undoubtedly be one not to miss in the Festival.
But the final two performers were also outstanding. James Mustapic, a delightfully unapologetic gay, had one offhand gag after another , dark jokes focused on the culture of the gay and straight communities. Bemoaning his father, he pointed out that it's great to be gay, "because you can find a new Daddy." Attempting an impression of a straight person, he told us that you can "recognise gays because they don't watch Game of Thrones". Lana Walters brought us life from the perspective of the "bigger female figure", its trials and tribulations with put downs: "Don't sit in that chair - it's fragile" and misunderstandings: "A hike is just a walk uphill." Her effervescent comic style was natural, freshly spontaneous and chatty. She pointed out that it's great to have a boyfriend who's a cop. Not only does she not have to lose weight, but they can "role play" - " It's the Police - open up!". Although, she complains, there's not a lot of that "because there's too much paperwork." Both comedians ensured that the punchlines were well formulated, with the rug pulled away from us at the last minute.
The final performance of the night was Tom Sainsbury with his beaming face, wicked eyes, and social commentary on the absurdity of the media, and his "Ten Things to Do In Tauranga" (Number 1 - take a day trip to Rotorua) has us all in stitches. His sharing of ridiculous Facebook comments from the Christchurch City Council's site sent up social feedback at its best/worst? "With the coronavirus, is there much point in recycling?"
All in all, this "electrifying comedy showcase" was pure fun and entirely enjoyable. The high-voltage laughter was genuine and shockingly easy. All five nominees were exceptional and presented us with their own individualised well-crafted "slice of life", entwined with fragments of their personal stories. Go along and see their individual shows! Check out what's on offer for the entire Comedy Fest.
Bookings at comedyfestival.co.nz