BWW Previews: BEAUTY AND THE BEAST at Playhouse Theatre Glen Eden
There's always a definite vibe within the walls of a theatre; it's the nature of its purpose; to create an atmosphere, sparking the emotions and stimulating the senses.
When I walked into a dress rehearsal of Playhouse Glen Eden's youth production of Beauty and the Beast there was a very clear and distinctive vibe greeting me at the stage door; an energetic enthusiasm that could only have been created by the inhabitants.
Enthusiasm permeated throughout the place. The hurried walks, the intense swish of paintbrush strokes across the newly painted set, the cast, the production team, the buzz of the chat from stage management; the enthusiastic responses of the cast.
The voice; tone, timbre, pace, and annunciation of Director Matt Billington resonated with enthusiasm. For one who has spent a lot of time inside a theatre and had had a long day, I was surprised by how his energy infiltrated me. Matt's company had left me wanting and excited about opening night.
This young man is inspirational. A natural leader, it's no surprise he was head boy. He's an entrepreneur having produced the first almond milk ice-cream and cream at the tender age of 15. He has a string of awards to his name for this. He works for Unfiltered; an online business education platform launched by New Zealander Jake Millar, 22, and launched into the US market after a successful $1.2 million fundraising campaign.
This is Matt's first time up as Director but his energy, attention to detail, confidence, and command of the busy-ness before my eyes was enviable. I found myself making a mental note to sharpen up on my own enthusiasm skills! He's no stranger to a production team usually taking on a tech role in lighting.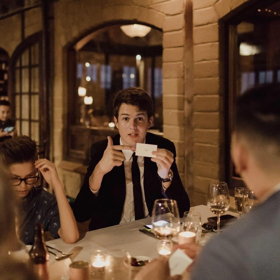 I'd arrived at the end of the rehearsal when the notes were being delivered and discussed with the cast. A couple of numbers were to be rehearsed again and I was privileged to be witness to beautiful voices and the choreography of James Grant with whom I also snatched a few moments with. He just loves to dance and he loves theatre. He's already had a NAPTA award for Volunteer of the Year and without asking him I can tell he doesn't find this domain onerous. There's a graceful simplicity about him and this is reflected in the way his cast move.
Musical Director Josh Williams literally doesn't miss a beat or a breath, calling the cast to make sure that they take that one clear, sharp belly breath so the last line is strong and effective. It's rehearsed again, just to be sure.
The cast is skilled and of course enthusiastic. I'm not going to reveal much because you need to come and see the fruits of their work.
I got a sneak peek of the costumes, they're fabulous. The set is detailed, original and eye-catching; both clever in design and intention.
This show has all the ingredients of a great night at the theatre. It would be a shame to miss out on the energy, effort, and talent of this collective group of youthful, clever and theatrically-dedicated performers and production team.
I've just viewed the bookings and it's selling fast. Get it quick!
Beauty and the Beast
Playhouse Theatre Glen Eden 20-28th April
Bookings:https://www.iticket.co.nz/events/2018/apr/disneys-beauty-and-the-beast-jr#/buy-tickets